» » »
Best MagSafe Duo alternatives with USB-C to charge an iPhone 15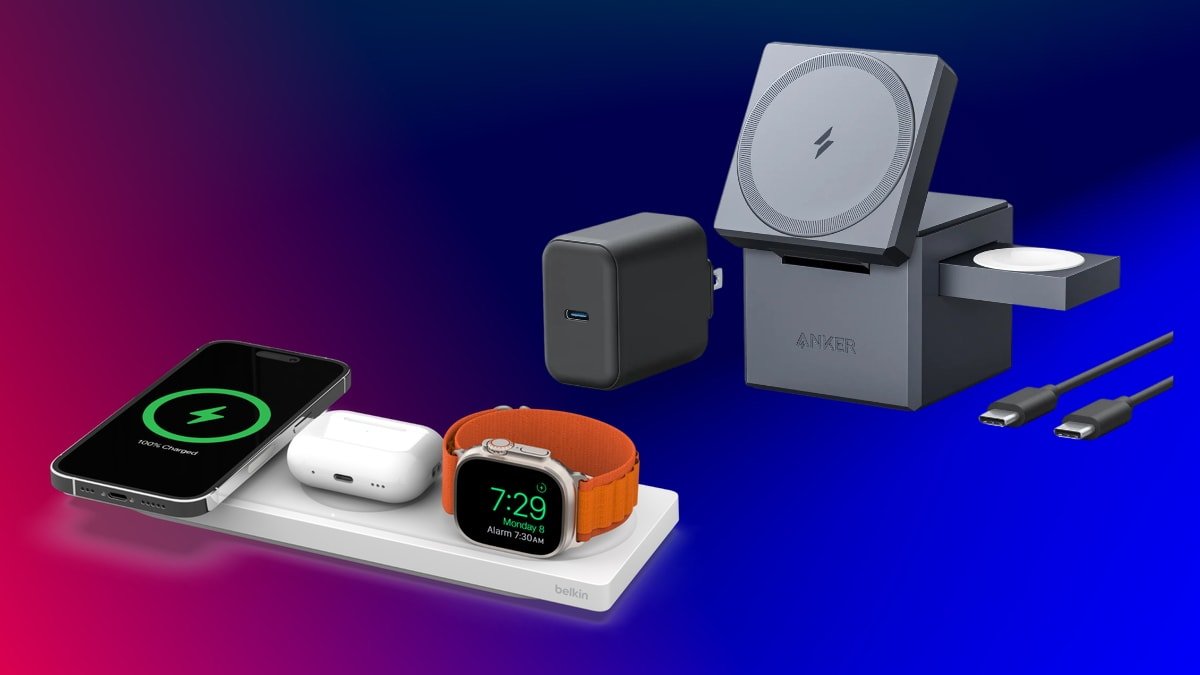 Apple's MagSafe Duo charger, now discontinued, was a go-to for dual charging an iPhone and Apple Watch on the go. Here are some of the best USB-C alternatives to consider.
The MagSafe Duo is an accessory from Apple designed to charge an iPhone and an Apple Watch simultaneously. It features a foldable design for easy portability and includes two charging pads: one for the iPhone and another for the Apple Watch.
The company stopped selling the MagSafe Duo when it released the iPhone 15. Apple has added a USB-C port to the iPhone 15 lineup, and although it may add a similar port to the MagSafe Duo charger, customers are left looking for alternatives.
Anker PowerWave+
The PowerWave+ offers a quick 7.5W wireless charge for iPhones. Its adjustable design allows the watch stand to be folded for easy storage or elevated to find the perfect angle for the Apple Watch's Nightstand Mode.
Regarding compatibility, the PowerWave+ is designed to work seamlessly with phone cases. It can charge through rubber, plastic, or TPU cases less than 5mm thick.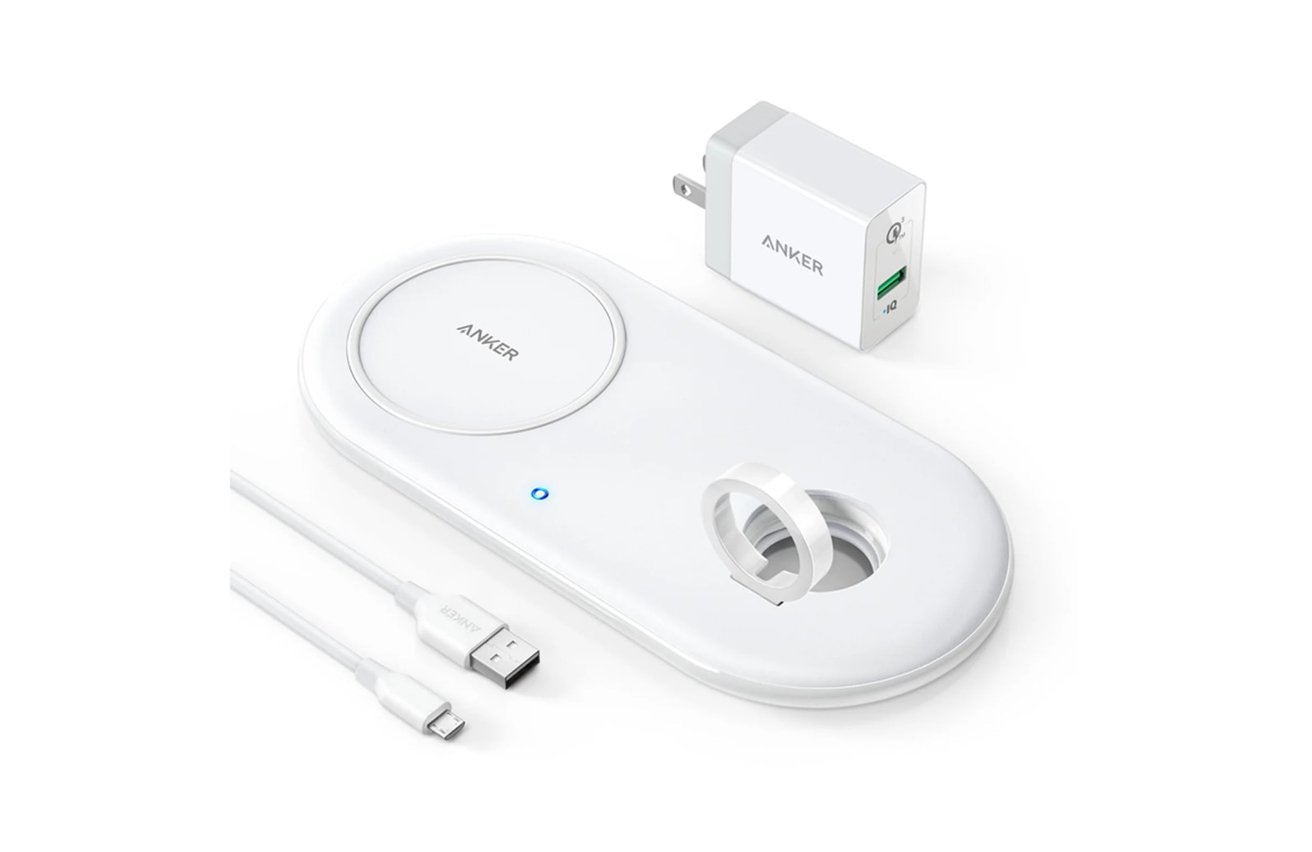 Belkin BoostCharge Pro
The Belkin BoostCharge Pro 3-in-1 Wireless Charging Pad is designed as a one-stop charging solution for Apple users. It features official MagSafe technology, providing up to 15W of fast wireless charging for Apple Watch, iPhone, and AirPods.
It offers a seamless charging experience for AirPods and is compatible with official MagSafe cases. The device's modern, minimalist design and lay-flat form factor make it aesthetically pleasing and travel-friendly.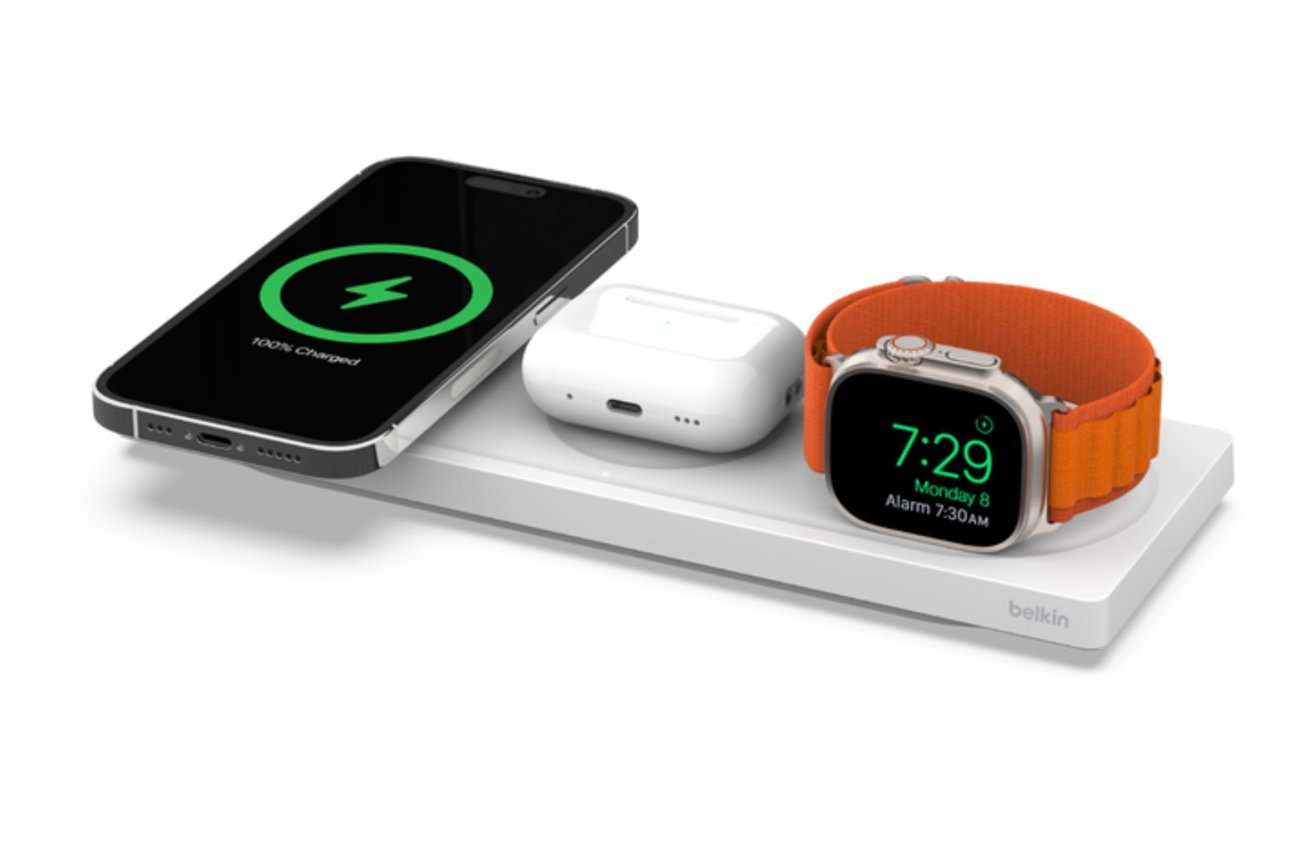 It's available to purchase from Belkin for $149.99 and can occasionally be found on sale.
Monoprice MagSafe 3-in-1 Wireless Charger
Monoprice's charger is an all-in-one charging station that is a convenient hub for an iPhone, Apple Watch, and AirPods, helping users stay organized and clutter-free. The package includes a matching wall adapter, and the station features magnetic wireless charging technology, ensuring perfect coil alignment for optimal charging.
The station allows users to rotate their phone to any viewing angle while it charges. Additionally, the charging pad is detachable and magnetic, and there's a special charging spot on the base that can provide up to 15W of wireless power for AirPods or phones.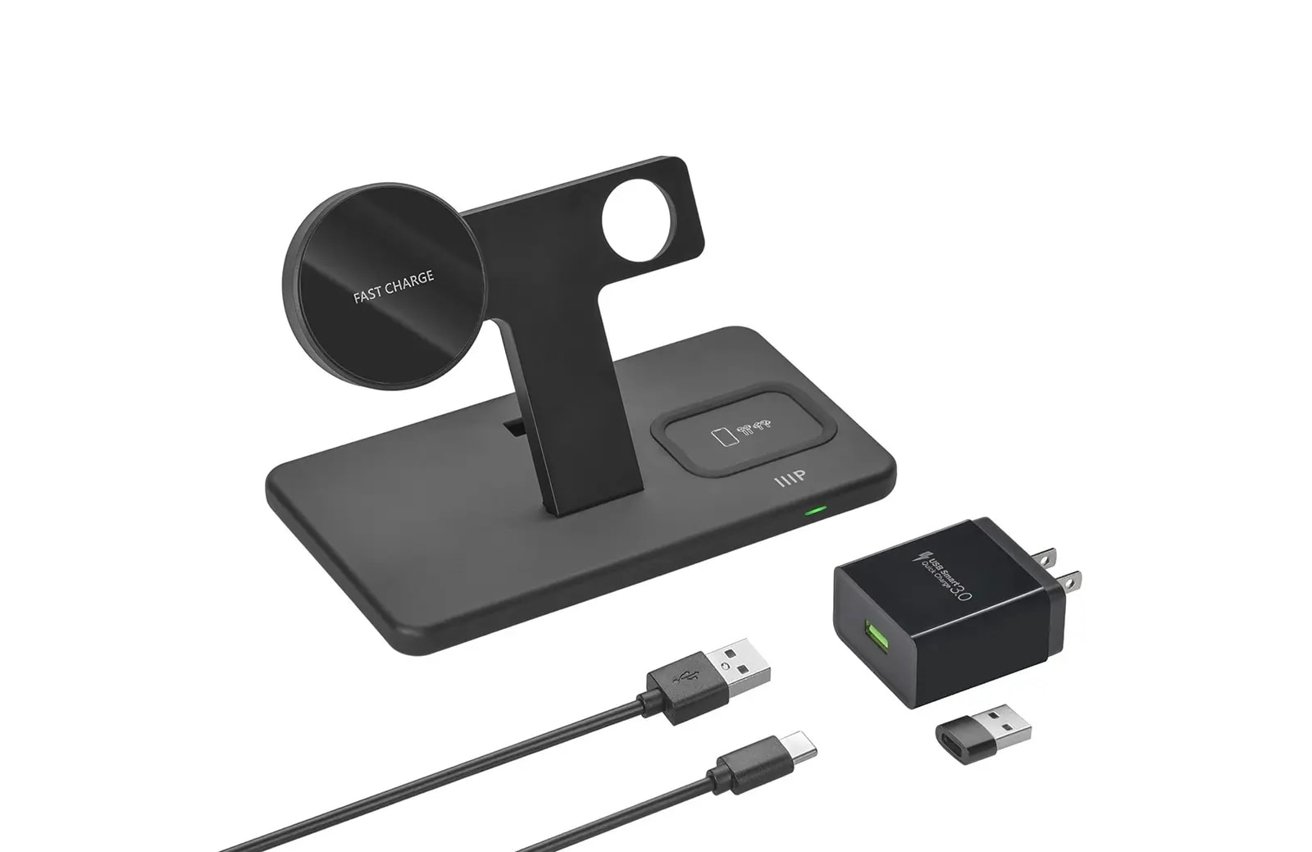 CaseMate Fuel 3-in-1 Foldable Charger
The Case-Mate Fuel 3-in-1 Foldable Power Station is designed to be a versatile charging solution for multiple devices. It can rapidly charge up to three devices simultaneously and is compatible with Qi-enabled devices, including Apple, Samsung, and other brands.
The power station also features an integrated watch charger for the Apple Watch. Its foldable design makes it travel-friendly, and it comes with a 45W wall charger for fast charging capabilities.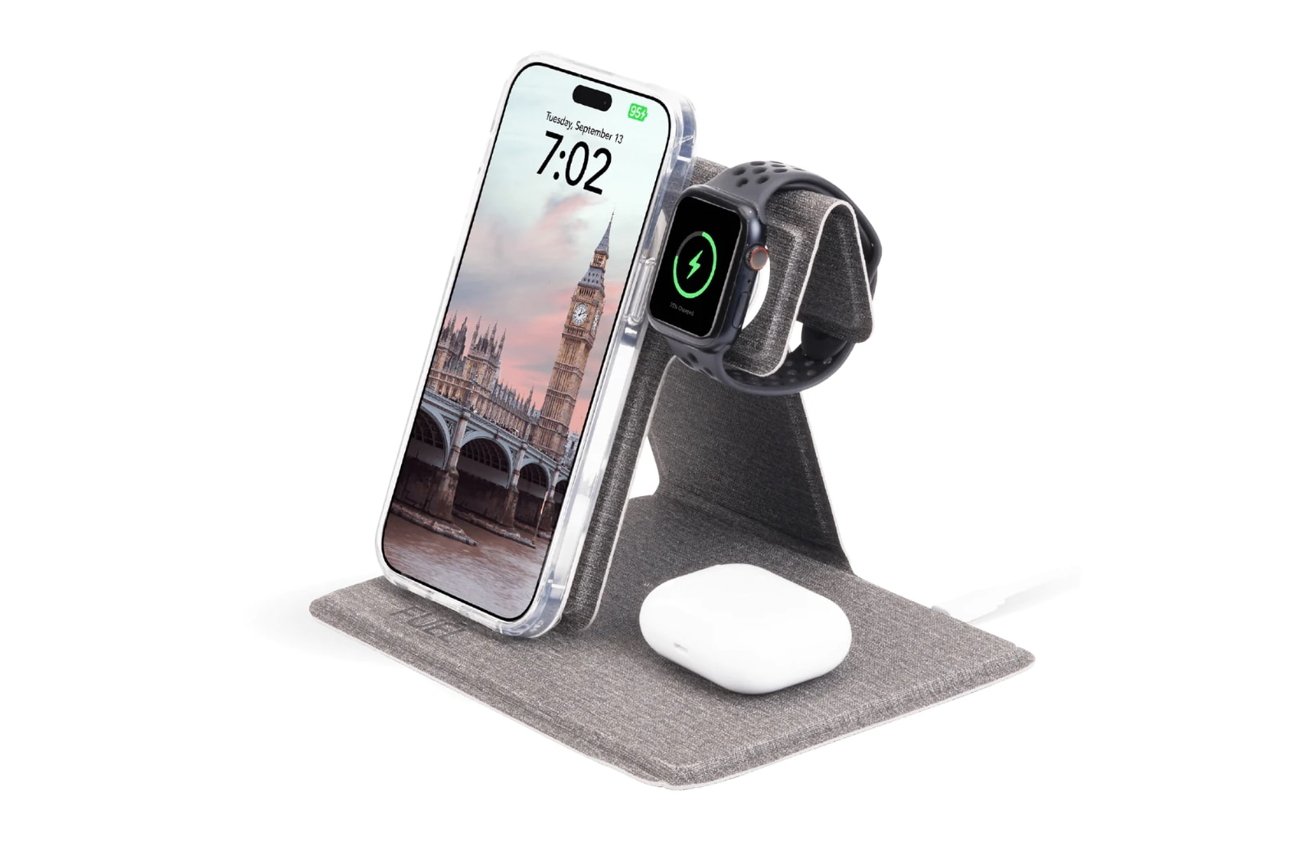 CaseMate's charger is available for $150.
Anker 3-in-1 Cube with MagSafe
The Anker 3-in-1 Cube with MagSafe is designed exclusively for Apple devices, offering a comprehensive wireless charging solution for an iPhone, Apple Watch, and AirPods. It boasts 15W ultra-fast charging capabilities for iPhone 15/14/13/12 series through Apple MagSafe.
The charger is travel-friendly with its foldable and ultra-compact design. It also features an adjustable viewing angle of up to 60 degrees, allowing you to switch between landscape or portrait mode while charging a phone.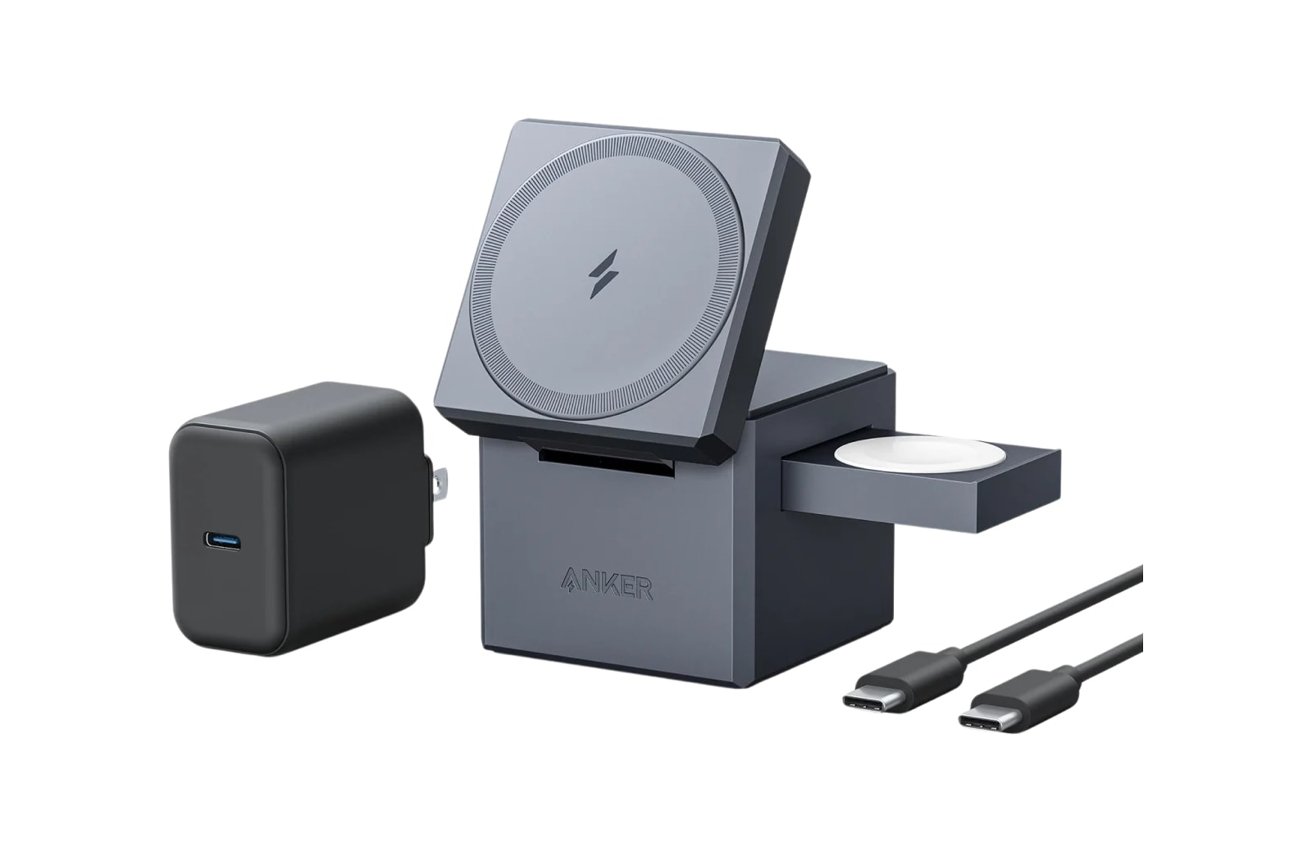 Anker's 3-in-1 Cube has a 30W charger and a 5ft (1.5 m) USB-C to USB-C cable. It offers multiple safety features, including foreign object detection, over-temperature protection, radiation shielding, and short-circuit protection, and is available for $149.95.