» » »
The best Continuity Camera mounts and stands for your iPhone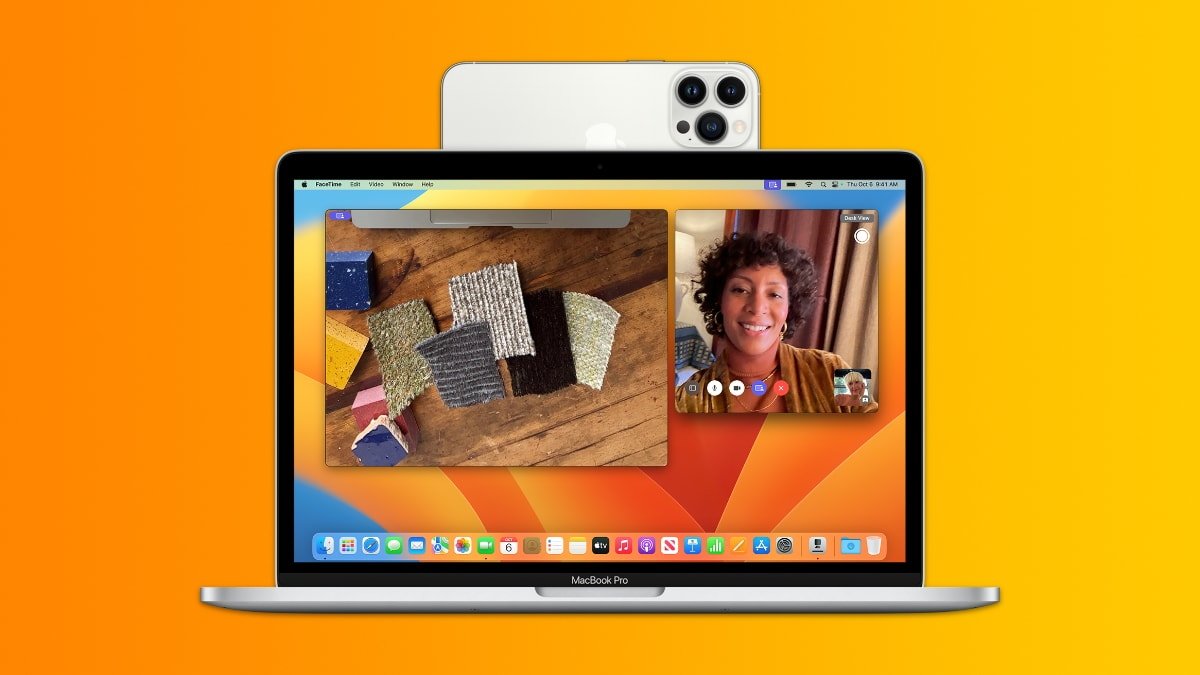 With an iPhone running iOS 16 and a Mac running macOS Ventura, it's possible to use the iPhone as a webcam. It's still early days for this ecosystem, but here are the best mounts and tripods for the feature.
Apple introduced Continuity Camera with iOS 12 and macOS Mojave. It lets users insert photos and scans into documents on their Mac using an iPhone or iPad.
Apple expanded the feature's capabilities in macOS Ventura released in 2022. Now it allows people to connect an iPhone to a Mac wirelessly to be used as a webcam in apps like FaceTime.
It uses the Ultra Wide rear camera on the iPhone to keep users centered during a call with Center Stage. There are photo effects to blur the background and increase the lighting of the webcam video too.
Using Continuity Camera in this manner requires a mount or tripod to keep the iPhone in a position facing the user. Here are our favorite products to enable the feature.
Belkin iPhone Mount
The Belkin mount clips a MagSafe iPhone to the top of a MacBook, sitting above the front camera. The magnetic attachment lets users rotate the iPhone between portrait and landscape modes.
When it's not connected to a MacBook, the Belkin mount doubles as a ring grip and kickstand for viewing videos or other content on the iPhone.
Moft Flip Laptop iPhone Mount
Moft is known for its foldable accessories for Apple products, and the Flip iPhone mount is no different. It can flip an iPhone in a few positions for webcam usage.
The mount sticks to a MacBook's lid using an adhesive, so unfortunately, users cannot reposition it. However, thanks to the Snap Phone Sticker, people can use it with non-MagSafe iPhones.
Elephant Card
The Elephant Card is a unique Continuity Camera product the size of a credit card. It unfolds into a mount that hangs onto a MacBook lid, and users can fold it back up when they're finished.
It was developed in Vienna and is compatible with all iPhone models, with or without a case, whether the iPhone has MagSafe or not. It's available for the low price of $9.99 at Amazon.
Joby GripTight ONE GorillaPod
Tripods such as the GorillaPod are more versatile than the previous iPhone mounts. For example, tripods can keep an iPhone close to any Mac capable of running macOS Ventura instead of being confined to a MacBook lid attachment.
Joby is known for its high-quality mounts, and the GorillaPod is a popular choice for videographers, photographers, and other content creators.
The Joby GripTight ONE GorillaPod retails for $34.95, although shoppers can currently find it highly discounted at Amazon.
UBeesize Phone Tripod
The flexible legs of the UBeesize mount are made of metal and reinforced with a rubber coating and sturdy foam. The non-skid rubber feet keep the iPhone stable during accidental bumps.
The clip and tripod head can be rotated 360 degrees and holds an iPhone in vertical and horizontal modes. It also comes with a Bluetooth remote to control the phone from up to 30 feet away.
The UBeesize tripod is available to purchase for $18.99, but buyers can currently find it on sale for under $15.