» » »
Compared: Apple Studio Display vs LG UltraFine 5K Display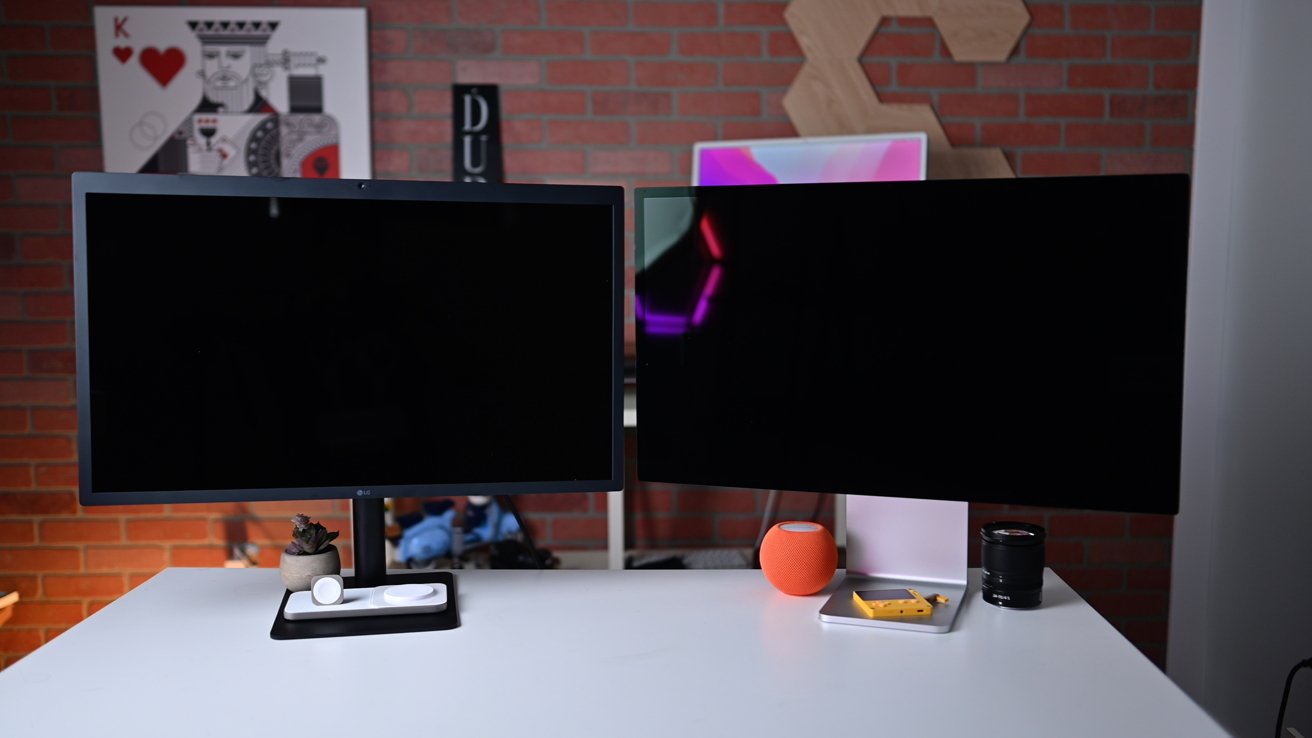 The Studio Display and LG UltraFine 5K Display occupy similar places in the market, but Apple's monitor costs $300 more. We've got both monitors in our studio to help you decide which is best for you.
Six years is a long time in the technology universe, and that's how long it has been since Apple sold a branded display that didn't cost $5,000. In the interim, Apple partnered with LG to sell the LG UltraFine lineup that catered specifically to Mac users. In 2019 Apple stopped selling those LG monitors in favor of the Pro Display XDR, leaving a noticeable hole in the market for affordable Mac-friendly displays.
Apple announced a new $1,599 monitor called the Studio Display in March 2022. It is a 27-inch 5K display with Thunderbolt 3 and works with macOS for an integrated experience. If that sounds familiar, they were the same tentpole features found in the LG UltraFine 5K Display released in 2016.
If you already own the LG UltraFine 5K, there are a few reasons why you may want to upgrade to Apple's new monitor. However, if you're in the market for a new monitor and not looking to spend $1,600, there may be plenty of used LG UltraFine 5K Displays available from Apple fans upgrading their equipment.
Here's what you need to know about these monitors and how they compare.
Apple Studio Display vs LG UltraFine 5K Display - Specifications
| Specs | Studio Display | LG UltraFine Display |
| --- | --- | --- |
| Size | 27-inch | 27-inch |
| Resolution (pixels) | 5120-by-2880 | 5120-by-2880 |
| Color range | P3 | P3 |
| Peak brightness | 600 nits | 500 nits |
| True Tone | Yes | Yes |
| Webcam | 12MP ultra-wide | 1080p |
| Audio | 6-speaker system | Stereo |
| Microphone | Yes, array of three | Yes |
| Nano-texture | Yes, Optional | No |
| Stand options | tilt, tilt + height, VESA | tilt + height, VESA |
| Price | $1,599 | $1,299 |
The spec sheet shows near-identical display panels, but that's where the similarity stops. The Studio Display has a superior webcam, more speakers, a three-microphone array, and a brighter screen.
Apple Studio Display vs LG UltraFine 5K Display - Design and dimensions
Apple said it partnered with LG to build the UltraFine 5K Display, but the design looks more LG than Apple. It has an all-plastic body, stand, and base with large bezels and a thick display enclosure.
The Studio Display uses an aluminum enclosure similar to the 24-inch iMac that is a uniform thickness throughout. The display glass covers the entire front panel with slim bezels around the screen.
Despite being made of solid aluminum, the Studio Display is about five pounds lighter than the LG UltraFine 5K Display. This may be attributable to the height-adjustable stand that uses a large hydraulic actuator to control height in the LG display.
Both displays have similar dimensions since they are the same 27-inch screen size. They both measure about 18 inches high by 24.5 inches wide, with the LG monitor coming in twice as thick as the Studio Display when not accounting for the stands.
That "hump" on the back of the LG display contains the monitor's power supply. While the Studio Display also uses an internal power supply, it manages to do so with less additional bulk.
However, bear in mind that the power cord for the Studio Display is designed to be permanently attached and not removable by users. It is possible to remove the cable, but at the danger of damaging the connecting pins.
Apple Studio Display vs LG UltraFine 5K Display - Other features
The LG UltraFine 5K Display features are limited in scope since it is just a Thunderbolt display with a webcam, mic, and speakers. It doesn't have any intelligent features on its own and has a processor built only to interact with the Mac it connects to.
The Studio Display has an Apple Silicon processor which opens up new possibilities like Center Stage, Spatial Audio, microphone noise cancellation, and tight integration with macOS. There's also the chance that Apple could utilize the A13 for more features in later software updates to the monitor, making Apple's display more future-proof.
Apple Studio Display vs LG UltraFine 5K Display - macOS integration
Both monitors have enough built-in intelligence to integrate with Mac system controls and features like True Tone. One of the touted features of the LG Display was the ability to control brightness and other settings without special software or physical controls on the monitor.
The Studio Display takes this integration even further thanks to its A13 processor that powers the monitor. It gets features like "Hey Siri" and access to display reference modes that are built directly into macOS.
Since features like Spatial Audio and Center Stage are tied to macOS, other computers won't be able to take advantage of these features. Deep Apple integration also translates to system lock-in. The LG UltraFine 5K Display only lost True Tone when used with other computers.
Apple Studio Display vs LG UltraFine 5K Display - Ports
USB-C was novel when the LG UltraFine 5K Display was announced in 2016, so it was an annoyance for some customers when it had three of these ports and no others. The LG monitor has a Thunderbolt 3 port for connecting to the Mac and providing power up to 94W. The three USB-C ports were USB 3.1 gen 1, which is 5GB/s data transfer.
The Studio Display has a similar port arrangement with a single Thunderbolt 3 port and three USB-C ports. The Thunderbolt port provides data and power up to 96W, which is enough to fast charge the 14-inch MacBook Pro. The USB-C ports are USB 3.1 gen 2, which translates to 10GB/s data transfer.
Apple Studio Display vs LG UltraFine 5K Display - Cameras
As we mentioned LG's built-in webcam isn't as capable as Apple's. It lacks Center Stage and Portrait Mode which are great features to have.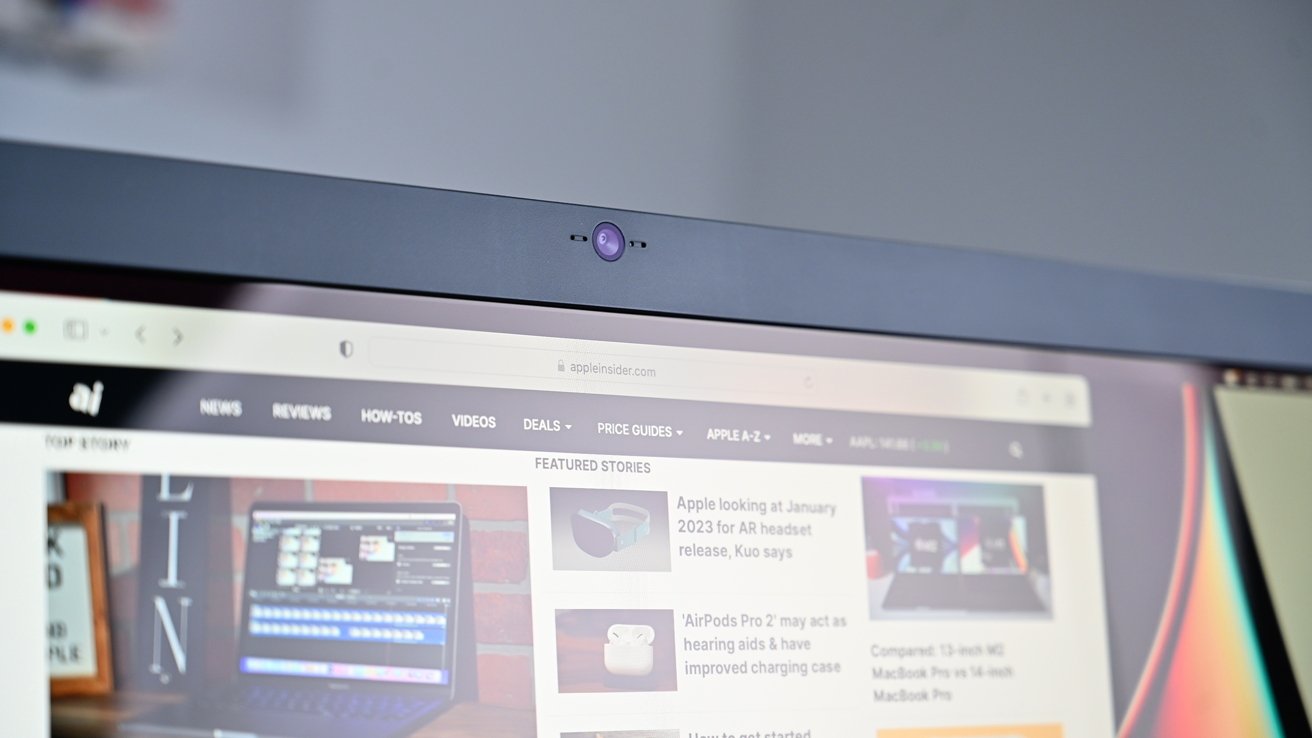 The quality of the image though is up for debate. You can see a still from the cameras below to judge for yourself. They were captured at the same time in identical lighting conditions.
To us, the Studio Display is too bright and washed out though if you watch the embedded video above, you'll see that the LG struggled to maintain a smooth frame, jumping a bit as we moved around the screen and the exposure quickly tried to adjust.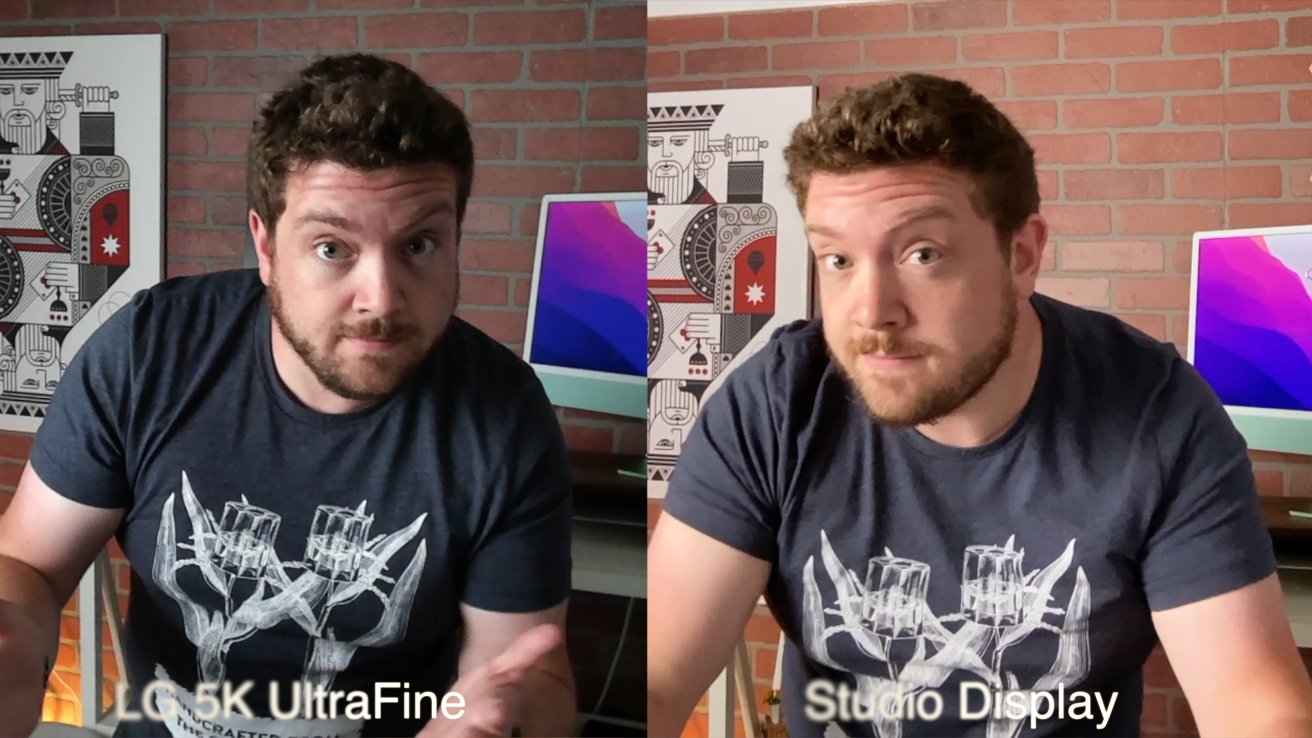 Neither camera is ultimately impressive but good enough for your typical FaceTime calls or Zoom meetings.
Apple Studio Display vs LG UltraFine 5K Display - Price and availability
Apple stopped selling the LG UltraFine 5K in 2019, and retailers often show "sold out" for the monitor when buying new. The used market may prove more fruitful, but that's if you're looking for a heavily discounted monitor with fewer features, bulky design, and even had shielding issues in the first models. It was priced at $1,299 new.
The Studio Display is available for purchase starting at $1,599 with optional upgrades like a $400 tilt- and height-adjustable stand or a $300 Nano-texture upgrade. It comes with a braided Thunderbolt cable for connecting the monitor to your Mac.