Morgan Stanley compares Apple to Nintendo while raising estimates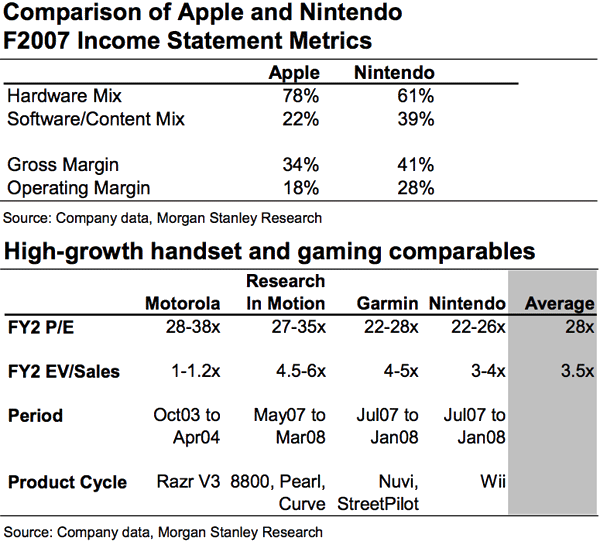 AppleInsider is supported by its audience and may earn commission as an Amazon Associate and affiliate partner on qualifying purchases. These affiliate partnerships do not influence our editorial content.
Apple's iPhone 3G product cycle and high margin revenue from associated services and software can elevate the company's valuation closer to that of Nintendo, says Morgan Stanley, which sees growing similarities between the two firms' business models.
"Apple has a proven record of taking share while simultaneously expanding the markets it pursues," analyst Katy Huberty advised clients in a report issued Wednesday. "Similar to how Nintendo reignited video game interest in 2006, we believe the iPhone's lowered price point will be central to growing an installed base primed for content purchases."
In particular, Huberty foresees "healthy" margins coming from Apple's new MobileMe and App Store services, both of which are closely tied to its iPhone 3G product plans. Therefore, she said, its most suitable to compare they Cupertino-based company's ambitions the "console+games model" of Nintendo rather than any other high-tech hardware firm.
Based around that thinking, the investment banking analyst has formed a new three-tier case scenario for shares of Apple during the 2009 calendar year. Her base case — or most plausible model — estimates that sales of 27 million iPhones will drive the company's annual revenues beyond $42 billion and its per-share earnings to $7.50. To arrive at her new 12-month price target of $210 per share (up from $185), she applied a 28 times price to earnings multiple, or what she calls the midpoint of where companies like Nintendo have historically traded.
Central to Huberty's thesis is that Apple will generate average revenues of $550 for every iPhone 3G it sells, assuming 8.5 percent of buyers attach the company's new $99 per-year MobileMe service and one out of two iPhone owners also pays to download one application per year from the Apps Store where Apple keeps 30 percent of the revenues. Those estimations are likely conservative, she notes, as the iPhone's related software and services business has potential for higher sales and margins over time.
More broadly, the analyst's base case scenario estimates that iPhone 3G will help Apple capture 12 percent of the worldwide smartphone market in 2009, up from 3 percent in 2007, and that its Mac unit share hits 4.1 percent, up from 2.9 percent in 2007.
Huberty's more bullish scenario assumes Apple shares will trade at a 30 times multiple to calendar year 2009 earnings, helped by a Mac share that edges higher to 4.5 percent and the company's slice of the global smartphone market hits 14 percent. In this scenario, which would have shares trading at $278, related services and software sales penetration from MobileMe and the App Store would help grow the company's revenues 37 percent, "with roughly twice the base case 2009 operating margin expansion."
"Apple's share price could benefit from the news flow during the 22-country iPhone launch on July 11th (similar to the 2G launch last year)," the Morgan Stanley analyst added. "In [the third quarter], focus shifts to back-to-school driven Mac sales, for which we maintain our unit growth forecast of 46 percent year-over-year."