New Macs, iPhone expansion predicted to boost Apple revenue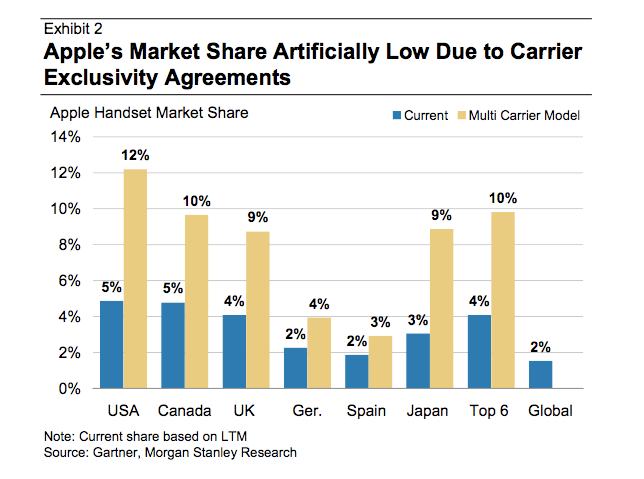 AppleInsider may earn an affiliate commission on purchases made through links on our site.
With Apple expected to introduce new Macs at any point and the iPhone switching to a multi-carrier model in multiple countries, analysts believe the company's profits could climb even higher.
In notes to investors issued Friday by both Morgan Stanley and Kaufman Bros., analysts have raised the price target for AAPL stock and expect big things from the Cupertino, Calif., company in the coming months.
With recent announcements that both Vodafone and Orange would soon sell the iPhone in the U.K., along with Apple's non-exclusive agreement with China Mobile, it would appear that the standard of one-carrier iPhone exclusivity is coming to a close. To that end, analyst Kathryn Huberty with Morgan Stanley believes the iPhone is now poised for significant growth in the next year.
In the latest note to investors, Huberty said that the top six iPhone markets, where 70 percent of iPhones are sold, still remain in single-carrier contracts. If Apple were to move away from that model, it could increase its market share to 10 percent on average — up from the current 4 percent total held by Apple.
"We expect Apple to broaden iPhone carrier distribution over the next two years and believe this opportunity is under-appreciated by the investment community," Huberty said. "This total opportunity is substantial — it adds up to an incremental 20.3 million iPhone units and $3.76 in adjusted (earnings per share), 100 percent and 41 percent of iPhone units and adjusted EPS respectively over the last 12 months."
The note predicts that Europe, China and Korea will all see near-term multi-carrier expansion, while the U.S. is viewed as a long-term opportunity.
Citing the French market as a case study, the report details how Apple's handset marketshare grew 77 percent after French regulatory authorities ended Orange's iPhone exclusivity in the first quarter of 2008. After the handset went to a multi-carrier model, wireless operators were forced to compete and offer greater discounts on the hardware for consumers.
"This has important implications for demand, particularly on the service plan pricing frunt," Huberty wrote. "We know from our past survey work that service plan pricing is one of the top barriers to iPhone adoption — 35 percent of respondents in our November 2008 Apple survey said so."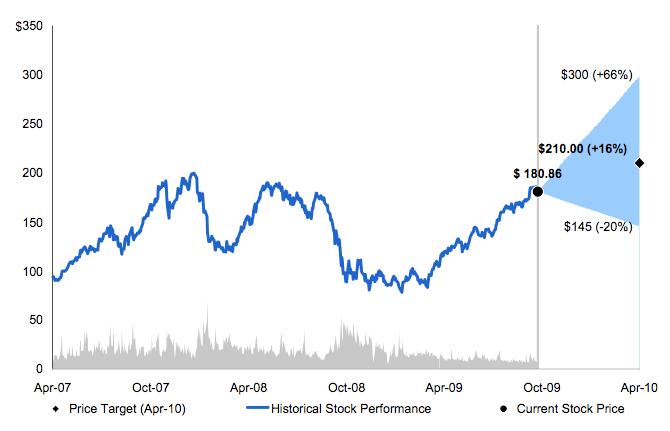 Analyst Shaw Wu has picked up on persistent rumors and evidence that Apple will release new Macs very soon. Sources have told AppleInsider that the iMac, Mac mini, and MacBook are all due for a refresh. In addition, unusually low inventory on hardware has bolstered the belief that new hardware is imminent.
"This likely means better-than-expected demand and/or a refresh is coming," Wu said. "At this point, we are sticking with our 2.8 million Mac forecast which we believe is already at the higher-end of expectations. We have been picking up strong evidence of new iMacs with quad-core (or very high-powered dual core) and a new subnotebook form factor for some time. Perhaps we may see these in the near future or the next quarter or two."
Wu said sources have also indicated that iPod sales are strong, particularly with the new iPod nano with video camera. The $199 iPod touch is said to also be a strong seller, particularly as a gaming system.
Tack on strong sales of Snow Leopard and Wu sees Apple garnering $9.1 billion in revenue for the just-finished September quarter and $1.41 earnings per share. For the 2010 fiscal year, Kaufman has forecast $41.5 billion in revenue and $6.70 earnings per share, with a 12-month AAPL price target of $214.