Apple posts QuickTime video of CEO Steve Jobs' 'iPad' keynote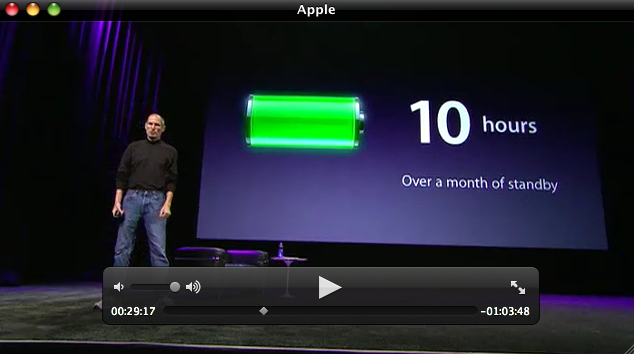 AppleInsider may earn an affiliate commission on purchases made through links on our site.
Apple Wednesday evening made available through its Web site a QuickTime video stream of its media event during which its new tablet device, dubbed the "iPad" was introduced to the public by CEO Steve Jobs.
The Cupertino-based company used a near hour-and-a-half presentation to announce its new media device, the iPad. Standing with a foot in both the iPhone and the Mac worlds, the iPad is, according to Jobs, "our most advanced technology in a magical and revolutionary device at an unbelievable price."
"iPad creates and defines an entirely new category of devices that will connect users with their apps and content in a much more intimate, intuitive, and fun way than ever before," said Jobs.
The iPad sports a 9.7 inch display and includes a 1GHz Apple-designed A4 processor with integrated graphics processing.
Jobs said the device can get up to 10 hours of battery life when watching video and will last up to a month on standby.
The iPad comes in capacities of 16, 32, and 64GB, starts at $499 and comes with optional 3G support for an extra $130.
Live coverage from Apple's Jan. 27 event