First Look: Pairing the new 2010 17 inch MacBook Pro with iPad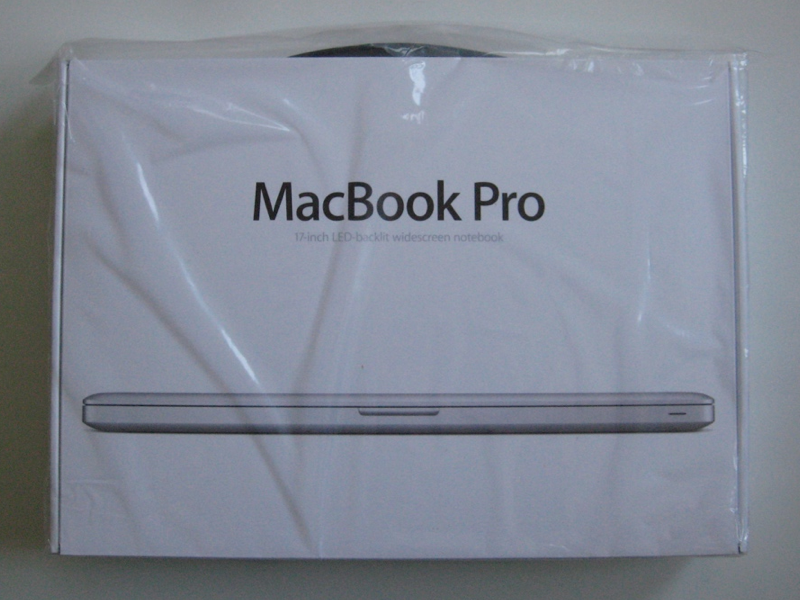 Apple's latest revision of its 17" MacBook Pro boasts better performance and a lower price tag. With an iPad companion for working on the go, is it now less important to have a highly portable notebook?
Ever since Apple delivered its first 17" notebook back in 2003, the model has tempted users with a high resolution, dazzling screen that was also significantly more expensive and less mobile than the more mainstream 15" model. Often dubbed the "aircraft carrier" due to its expansive width necessary to accommodate its widescreen display, Apple's high end notebook model has historically served a professional niche that cared more about lots of pixels than weight or cost.
With the 2010 model however, Apple has dropped the base price of the 17" MacBook Pro by $200, despite its getting a significantly faster CPU and GPU. This makes it just $300 more than the similarly equipped 15" model, which has not changed in price relative to its last revision. Externally, the new unibody MacBooks look identical to the previous batch from last summer.
The MacBook Pros ship in a simple box with little more than a power adapter and the usual regulatory papers and Apple stickers. There's also the customary two DVDs for restoring Mac OS X and the included apps.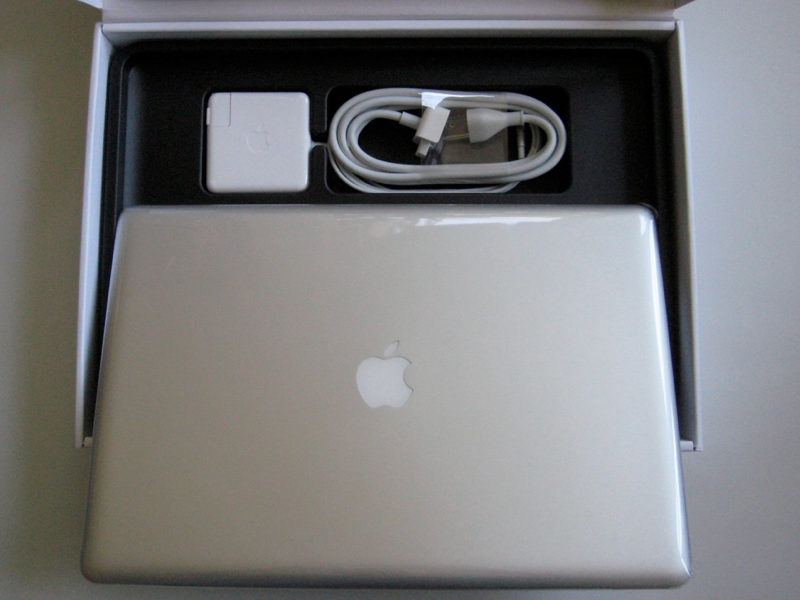 Mini Me: 17" MacBook Pro and iPad
In addition to the 17" model now being tantalizingly closer in price to the 15" model, there's also a new reason for notebook users to worry less about how much their machine weighs and how big it is: iPad. Having positioned iPad as a new product category between the handheld iPhone and the full powered MacBook line, Apple appears to be working to make the high end MacBook Pro that much more attractive to users on the go with mixed needs.
Pairing the 17" MacBook Pro with an iPad gives you a vast, beautiful desktop experience that can travel between the office and home, while also enabling increased handheld mobility when you're doing things that don't demand the full notebook experience, such as browsing the web from the couch or watching movies while commuting or flying across country.
The two machines sport very similar lines, with the same glossy screens, the same minimalist aluminum bodies, and the same rounded off edges to their rigid unibody designs milled from blocks of metal. They look like they belong together.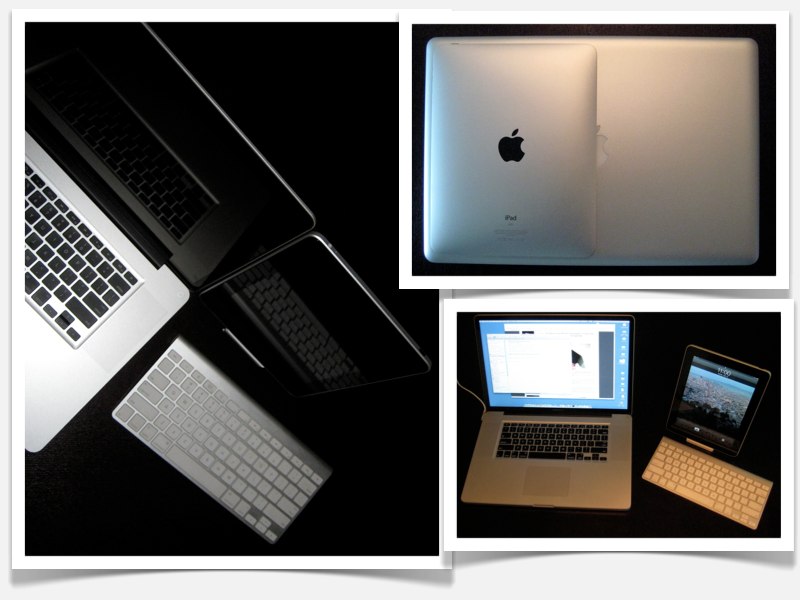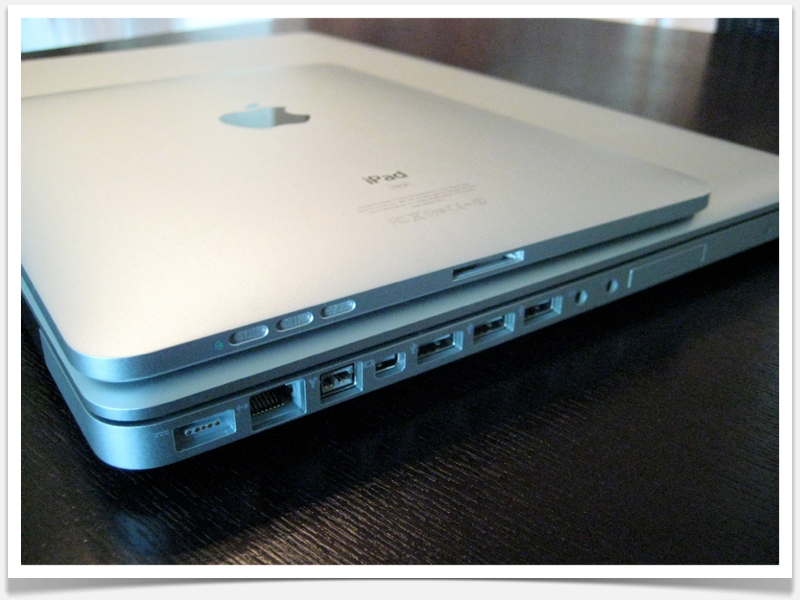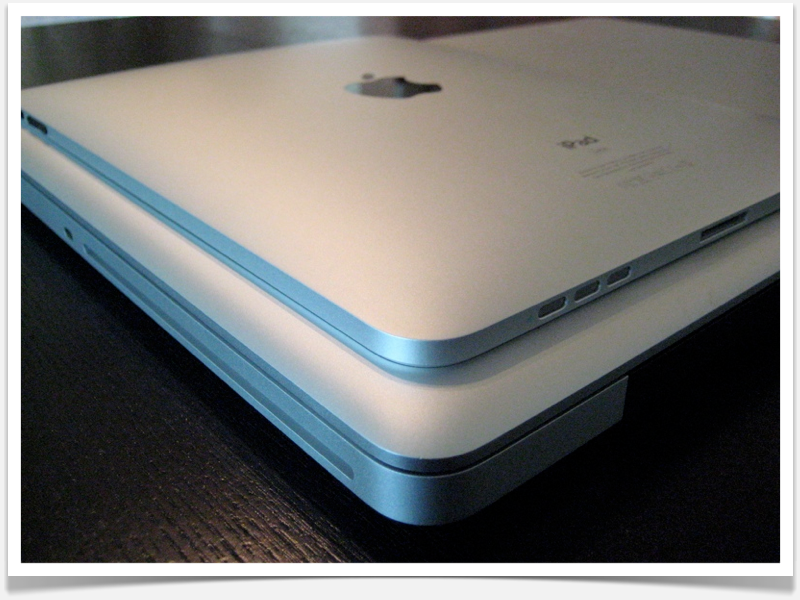 Advantages of the 17" MacBook Pro
If you subscribe to Apple's vision for pairing the MacBook with an iPad, then the high end 17" version becomes even more attractive: it delivers a beautiful, vast 1920x1200 resolution display that debuted in January 2009 with the unibody construction version of the big screen MacBook Pro (previous 17" models had delivered a 1680x1050 screen).
That gives the 17" MacBook Pro the same high pixel density as iPad: 132 PPI. That's the greatest pixel density of any notebook or desktop Mac (the new high resolution 1680x1050 option for the 15" model takes it to 128 PPI, and costs $100 extra, one third the cost of upgrading to the 17" version.)
If you work with lots of documents on screen at once, or simply value seeing the most real estate possible when using Final Cut Pro or Photoshop or simply browsing the web, the 17" MacBook Pro gives you the most pixels per inch (and the most pixels!) of any Mac. And you can still carry it around.
The other unique features of the 17" model are its three USB ports (rather than two on the 15" model) and its ExpressCard/34 slot (rather than just an SD Card slot on other MacBook models.) If you want an SD Card slot reader, you can get one for the 17" model's ExpressCard slot for about $20. The card slot comes in handy if you want to use 3G WWAN card or have some specialized need for an interface like eSATA or additional Firewire ports, although Apple's says its surveys show that only 10% of users ever actually use the ExpressCard slot. If you're in that minority of users who need it, the 17" is the only way to get it on a MacBook.
Like other new MacBook Pro models, the 17" now ships with the right angle MagSafe power connector similar to the MacBook Air. While you can still use existing adapters with square MagSafe connectors, the 17" and 15" models' power adapters supply 85 watts, so if you use older versions (or the 60 watt adapter intended for the 13" MacBook Pro), it will take longer to charge. The new MagSafe design looks a bit slicker, directs the power cable backward, and appears to be a little more resistant to wear and tear than the original square design.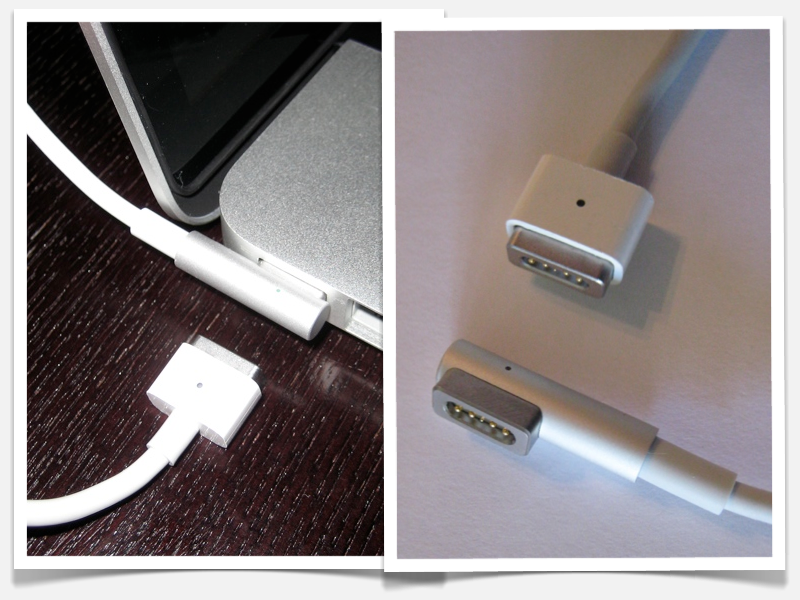 On page 2 of 2: Disadvantages, build to order options.
Disadvantages of the 17" MacBook Pro
Apart from being $300 more, the 17" version is a pound heavier than the 15" model and 1.1" wider and 0.7" deeper (it's also a hair thicker). It won't fit into sleeves for 15" models, and won't fit into a variety of bags or backpacks intended for "regular sized" laptops.
If you want a highly mobile notebook, the 17" will test your ability to lug around that extra size and bulk just to enjoy a wider, denser screen. But again, depending on your circumstances and needs, you might be able to balance your desire for a larger display with the increased mobility of an iPad.
Apple also offers a cheaper 2.4GHz Core i5 520M version of the 15" for $200 less (it also ships with a smaller 320GB hard drive rather than a 500GB disk), while the 17" model is only available starting with a 2.53GHz Core i5 540M. Both models offer the option to upgrade to the even faster 2.66GHz, Core i7 620M for $200 more.
However, all models of the 17" MacBook Pro come with 512MB of graphics memory for the NVIDIA GeFore GT 330M. Only the high end i7 option on the 15" model includes 512MB; the first two models only provide 256MB of RAM. So there is a difference between the "similarly equipped" 15" and 17" MacBooks when it comes to graphics performance from dedicated video RAM, even if the CPU and GPU are the same.
The 17" model has a slightly larger battery but carries the same rating of "8-9 hours of wireless productivity." All together, the only real disadvantage to the 17" model is its size and weight and a slightly higher price tag. So if you've had your eye on the 17" notebook but were worried it was just too big to take everywhere, the $300 discount might convince you to pair it with an iPad and use them together to balance your needs for power and pixels with lightweight portability.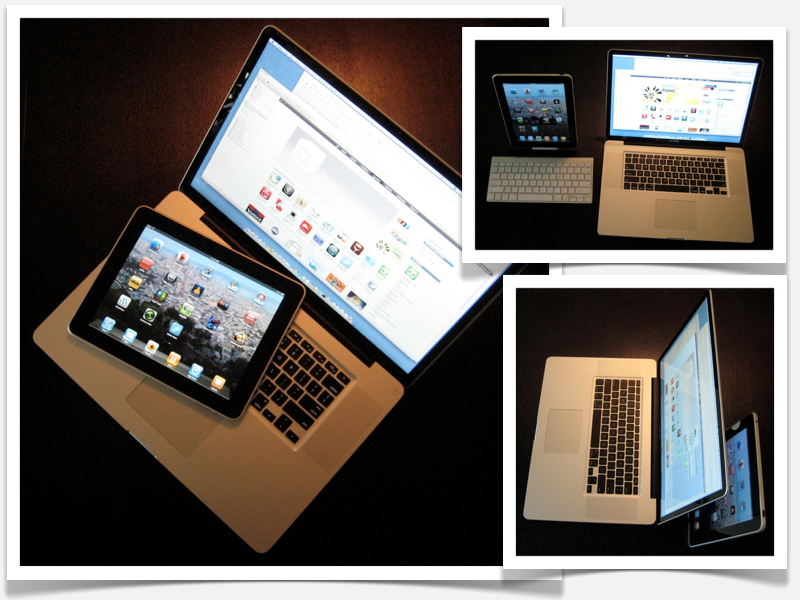 Build to order options on the 17" MacBook Pro
When ordering the 17" model, there are a few configuration options. The Core i7 processor costs $200 more. According to Anandtech, the i7 MacBook Pro upgrade delivers a noticeable performance boost of about 10-15%, thanks to its 11% increase in clock speed and a 33% increase in L3 cache, making it a reasonable option for users who want the most bang for their buck.
For an extra $400, Apple will replace the standard 4GB of RAM with a maxed out 8GB. Third party RAM dealers will sell you an 8GB kit for around $350, plus they're give you $50 back for providing your 2x2GB parts. That's about a $100 (25%) savings if you don't mind doing the simple upgrade yourself. Apple's RAM prices aren't egregiously ridiculous, so if you want to just pay for it and have it done in one step, you can do so at a premium that at least isn't completely absurd as was once the case, but if you're on a budget, you might want to get the stock RAM and upgrade later as RAM prices continue to drop.
Apple's disk storage options are slightly less reasonable and compelling, with the only hard drive option being an upgrade to a 7200 rpm, 500GB disk (the standard configuration is a 5400 rpm, 500GB drive) for $50. The only reason for using a 5400 rpm disk would be power consumption or perhaps heat, because a 7200 rpm drive really only costs about $30 more. Either Apple is being cheap about the stock configuration, or its offering an overpriced upgrade option, or both. For $120, you can buy a faster replacement disk and keep the drive you notebook shipped with for use in an external USB or Firewire enclosure.
Apple's upgrade fees for SSD drives are very expensive, but that's largely because the drives are still very pricey. Even so, the company's upgrade prices are close to the component costs of drives you can find online, so if you pay Apple's upgrade fees, you're essentially throwing away the value of the stock drive (nearly $100). If that doesn't matter to you, then you might want to shell out $200 for the 128GB SSD, $650 for 256GB drive, or a whopping $1300 for a 512GB SDD. Otherwise, you might try to make do with your conventional HDD and wait for SSD prices to come down.
If you prefer the matte finish screen to Apple's default super glossy display, you can order that for a $50 premium. On the 15" model, you have to opt for the high resolution display in order to get the matte finish screen, so all together it costs a $150 premium over the base price.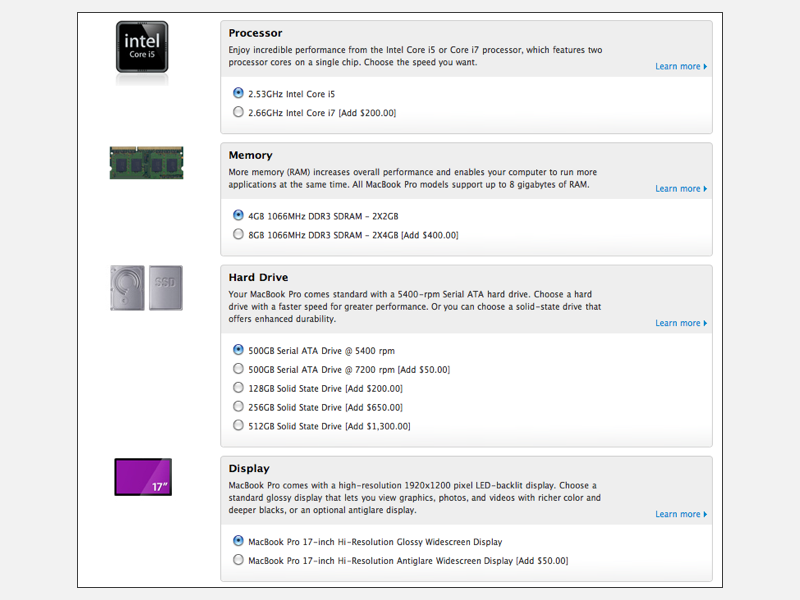 More about the MacBook Pros
Watch for the AppleInsider full review of the latest generation of MacBook Pros, their new Arrandale Core i5/i7 CPUs, and the new Intel HD and NVIDIA GeForce GT 330M graphics architecture.
Several Apple Authorized Resellers are offering discounts of up to $250 on Apple's new MacBook Pros through the addition of rebates and instant discount coupons exclusively for AppleInsider readers, all of which can be seen in our Mac Price Guide. The segment of the price guide listing the current MacBook Pros can be seen below, though resellers are also offering up to $450 off previous-generation models as detailed in the Previous Generation Macs (2009) section of the guide.