Review: Apple's redesigned, late 2009 13-inch MacBook

Apple's new 13-inch MacBook delivers a lower cost option to the company's MacBook Pro line of aluminum notebooks, while providing a similar unibody construction, much improved display, glass trackpad, and environmentally friendly design.
Position in the MacBook family
The new 13-inch MacBook brings the company's "white plastic" model in line with the rest of its notebook offerings, but remains distinguished from the 13-inch MacBook Pro by its slightly larger and heavier polycarbonate body, limited upgrade options for CPU and RAM, and a few significant missing features: no FireWire, no backlit keyboard, no SD card reader, no external battery level indicator, and no IR receiver for using an Apple Remote.
Previous versions of the lower-end MacBook cut costs by supplying a whimper GPU or video output options and supplying a slower processor, but today's version uses the same NVIDIA GeForce 9400M graphics chip supplying the same output display features, and supplies the same 2.26GHz Core 2 Duo processor with a 1066MHz front side bus and the same 2GB of fast DDR3 RAM as the entry level MacBook Pro. The new MacBook also delivers a much improved, LED backlit display that's much closer in quality to the 13.3-inch MacBook Pro.
This makes the new low end of Apple's notebook lineup a compelling buy for users who want to spend less but don't want to end up stuck with a much less capable machine. For users willing to spend more, the 13-inch MacBook Pro offers a variety of options including a faster 2.53GHz processor option and up to 8GB of RAM expansion; the white MacBook is limited to a maximum of 4GB of RAM.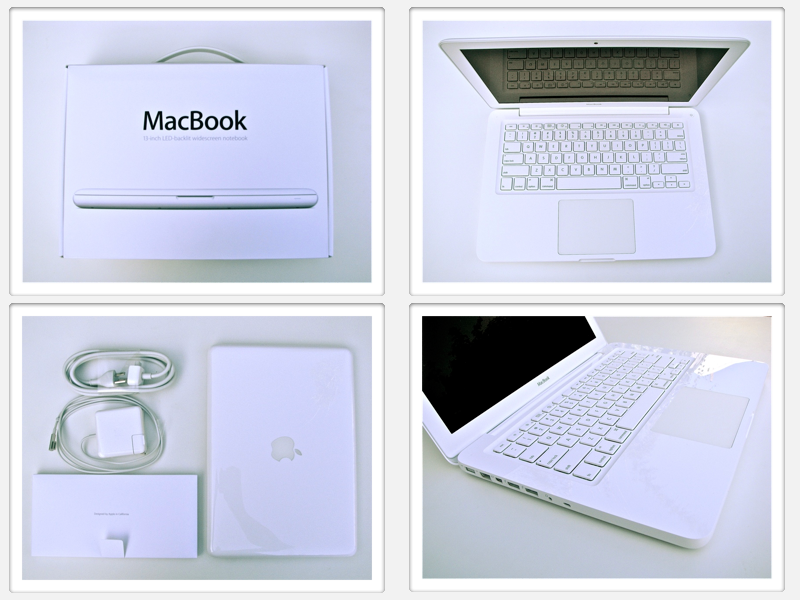 The new MacBook also now comes standard with a larger 250GB, 5400 rpm hard drive, with options to upgrade to a 320GB or 500GB disk. The new MacBook is still $999, and it's cheaper than the MacBook Pro line for clear reasons, but its a better deal than ever as Apple's entry-level notebook.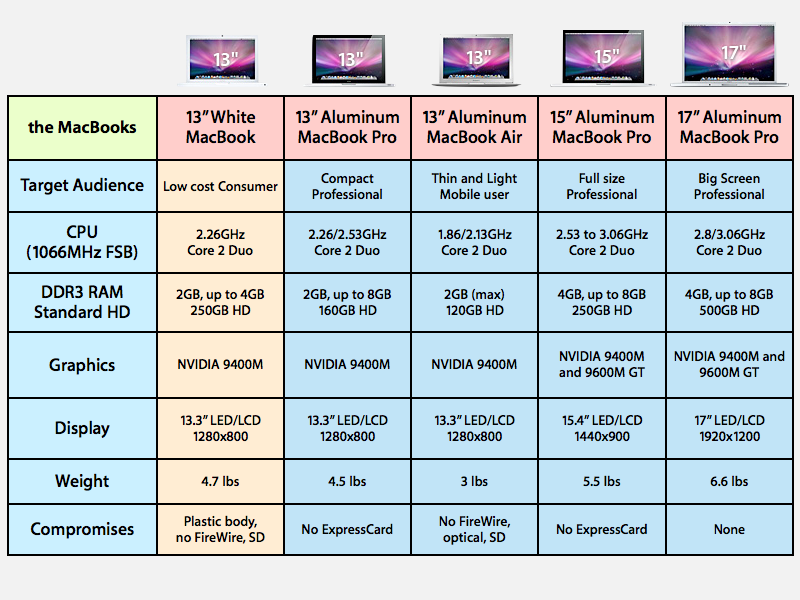 The new MacBook's unibody construction not only provides a tighter fit and finish, but also provides the same 60 watt-hour battery that is sealed into the case rather than being designed to pop out for replacement. The new integrated battery means the MacBook now delivers up to 7 hours of "wireless productivity," an exceptionally long capacity for a notebook and particularly an entry level model. A two-hour DVD played through twice before the machine shut down; that's a hair over four hours of continuous DVD-spinning, sleepless uptime on a single charge. In more normal use, where the machine can idle the processor, spin down drives, and fully use its battery saving technologies, the seven hour maximum looks attainable.
The integrated battery also means there's no covers or latches on the bottom. Instead, the notebook's bottom is finished with a lap heat-insulating, rubberized surface held in place by eight screws. Apple says the battery is rated to last through 1,000 charging cycles before its performance begins to wane, around five years or about as long as the system's life span.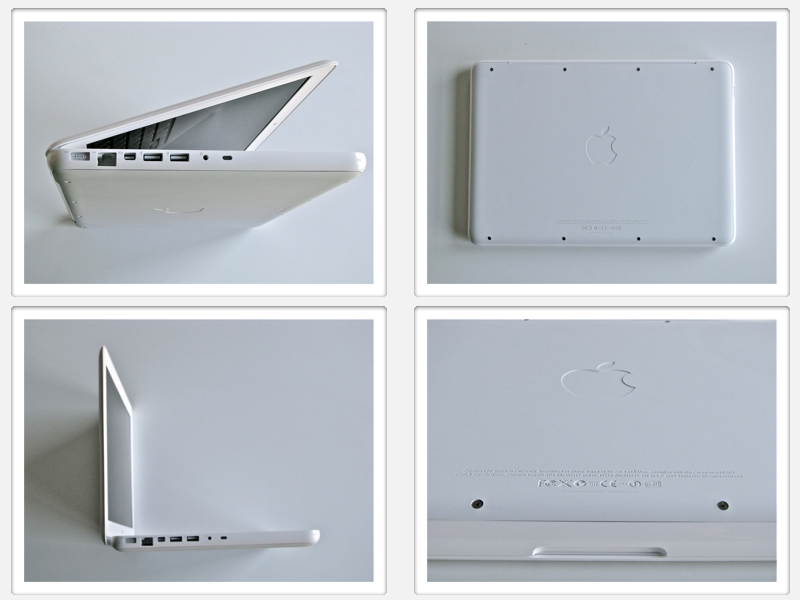 After the battery begins to fade it can be replaced, but the company says it should last about as long as three conventional laptop batteries, which it touts as a significant edge in environmentally friendly sophistication. However, the new MacBook doesn't have a physical integrated battery indicator like the MacBook Pro models, so if you want to know how much life you have left, you'll need to have it on to check the menu bar indicator.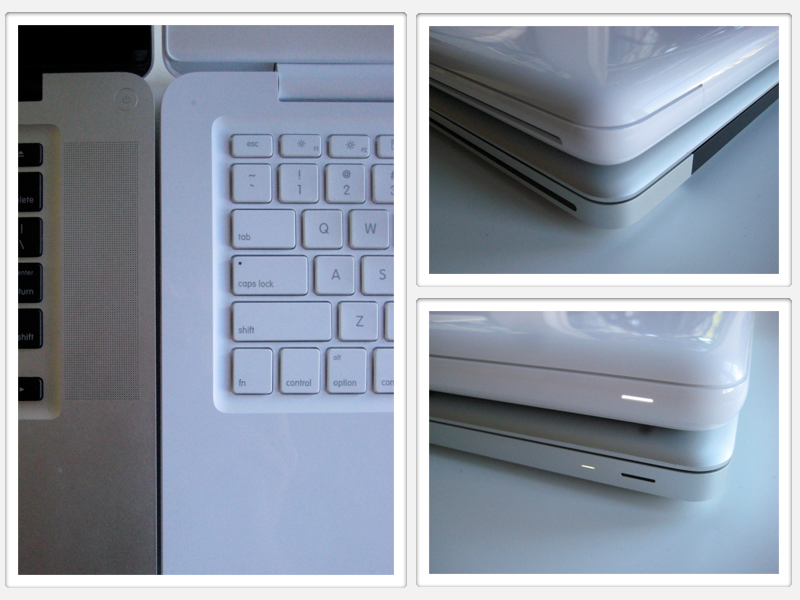 While the aerodynamic curves of the body styling are new, it builds upon design cues from the original MacBook introduced in 2006 as Apple's first Intel Mac: a recessed keyboard frame that backs the keyboard into the top surface of the machine, allowing the lid to shut without the screen hitting the keys; a lid that shuts with magnetic attraction rather than using physical latches; and an internal layout that locates its ports along the left side and places the optical drive in the top-right corner.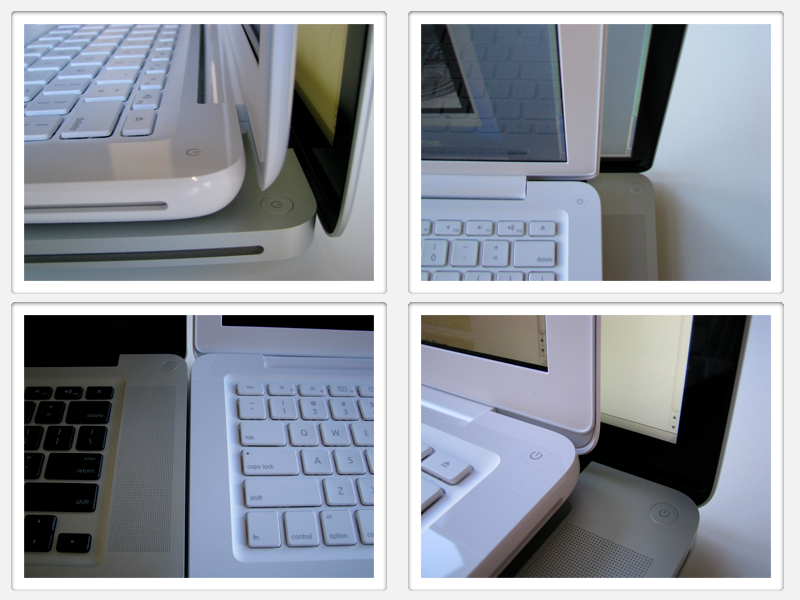 The white plastic used in the new MacBook design is glossier than ever, with an almost wet look on the top cover and palm rests. This will defiantly show smudges and scratches, particularly when light glances off its shiny surfaces, although the white color tends to hide any minor scuffs in general use. There's no black version this time around, as a dark machine this glossy would look terrible almost instantly. Don't expect this machine to stand up to scratches any better than the backside of an iPhone.
Like the aluminum MacBook Pros introduced last year, the MacBook's display lid and hinge is similarly built tighter and stronger, resembling the design of the MacBook Air. The case is a bit thinner than the previous model, but its rounded corners give it a cleaner, thinner, and more solid feel and appearance. The lid has no 'bounce flop' when adjusting the viewing angle. The lid also opens significantly wider than the previous model, another welcomed change.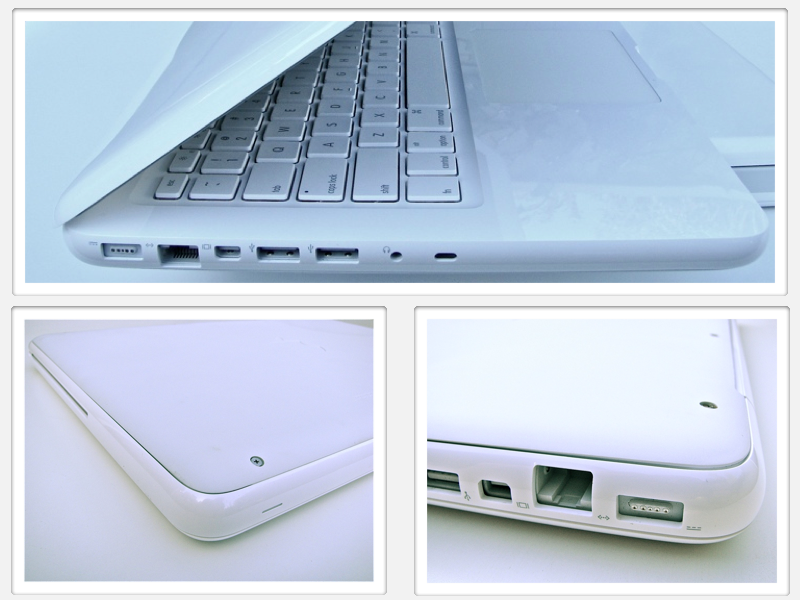 The MacBook lid doesn't have the same "fall shut" problem we discovered on the aluminum models, so if you hold the body perpendicular to the ground, its lid won't fall shut by gravity. With Apple's earlier unibody notebooks, if you're laying in bed and hold the screen closer for examination, the lid will fall shut and smack you in the face. The new MacBook lid offers more resistance to closing; its open screen will stay open when held at any angle. The new lid design closes with a more pleasing, smooth action and shuts precisely with an invisible magnetic latch action that sticks the lid shut but offers no resistance when you want to open it.
The new MacBook is 4.5 lb (2.0 kg) and its body is 0.95 x 12.78 x 8.94 inches (24.1 x 325 x 227 mm). The previous white MacBook body weighed in at a slightly heavier 5.0Â lb (2.3Â kg) and was a little thicker at 1.08 x 12.78 x 8.92 inches (27.5 x 325 x 226.5 mm). There's no longer an IR receiver, only a sleep indicator light on the front right edge.
On page 2 of 3: The glossy LED-backlit screen; and The keyboard and trackpad.
Apple upgraded the new MacBook's 13.3-inch screen to use LED backlighting, which provides better overall brightness for the same 1280x800 resolution. The new panel also delivers significantly better color and viewing angle performance as the previous MacBook, but it still isn't as vivid and wide-angle viewable as the MacBook Pro screens. It has the same rated contrast ratio as the similarly-sized MacBook Pro. The most significant difference between the two models is that Apple advertises a 60 percent greater color gamut for the Pro version.
The MacBook's flat white margin around the screen is one of its two surfaces mercifully missing a high-gloss sheen (the other being the indented area behind the keyboard). The aluminum MacBook Pro sports a black display margin covered in glass, which tends to make the screen's colors snap vividly (in contrast to the shiny black), but also creates a distracting ring of reflective mirror around the screen. This makes it hard to avoid background glare, not just on the glossy screen itself but from the entire lid's surface.
Apple decided to tone this down (and actually reverse things) on the MacBook, so while the palm rest and top cover are now clear coat shiny, the parts that you focus on while actually using it are a flat matte white. This results in what seems to be less contrast for the display, but the screen actually seems to perform just as well, it just has a flat white frame rather than a shiny black one.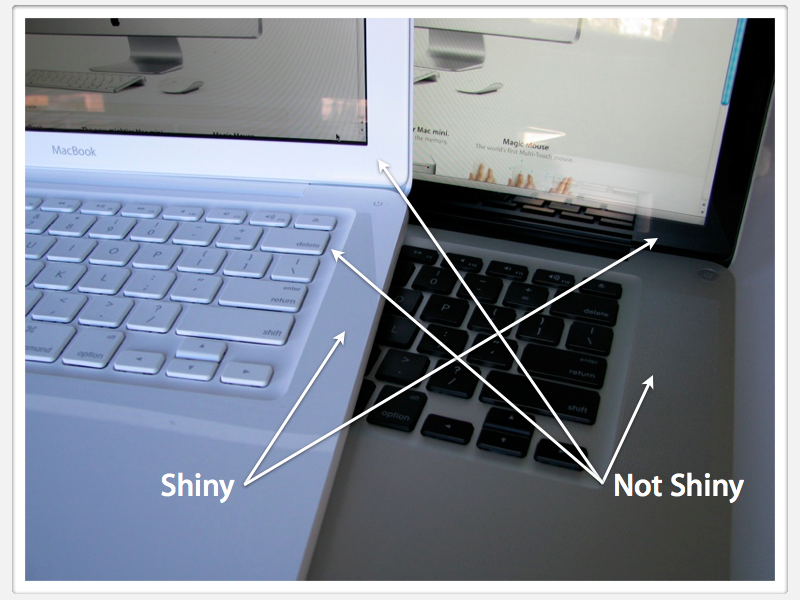 The display itself is still as glossy as the other MacBook models, and there's no option for a plain matte screen finish on this model. Apple says that users overwhelmingly prefer the glossy option (it knows because it previously offered both versions). Glossy not only looks more pleasing but is actually more color accurate than a flat matte screen, which diffuses light, providing a softer image. Those pluses tend to overshadow the annoyance of reflective glare, but do nothing to assuage users who are not a fan of glossy screens.
Unlike the aluminum models, the MacBook's screen and its frame are not one smooth surface behind a panel of glass; the screen is inset slightly, so you can't wipe the screen off from edge to edge. The edge does have a slight bevel to it however, which helps prevent it from collecting a line of dust that's hard to clean away. Above the screen is a more subtle, round iSight camera with a recording indicator lamp. There's a mic integrated into the body of the notebook, but if you're recording videos or videoconferencing with iChat, you might want to use the integrated mic on iPhone-style headphones.
The keyboard and trackpad
The new MacBook retains the same indented keyboard that debuted in 2006, but now sports a larger glass multitouch trackpad. The white keyboard, its white margin, the white trackpad, and white cover makes the new model perfectly camouflaged against a a snow storm, and differentiates it from the silver and black finish of the MacBook Pro line.
The new keyboard feels the same as the previous model. The white keys with light grey labels are a bit subtle, but do not seem difficult to read. There is no backlit keyboard option on the white MacBook, so if you want to type in the dark you'll have to rely on illumination from the screen. Like the previous MacBooks, it sports the same updated F Key shortcuts, including volume and audio playback buttons, Exposé and Dashboard buttons, and screen illumination controls.
The MacBook's new large multitouch trackpad replaces the previous version with a separate physical button below the trackpad; the entire surface of the trackpad functions as a button. More accurately, the bottom 80 percent of the trackpad surface acts as a clickable button while the top edge is fixed. This is the same trackpad that appeared on the MacBook Pro line last year; our MacBook Pro review described its pros and cons.
On page 3 of 3: Expansion ports; Performance overview: CPU and RAM; The New MacBook in Review; Rating 4 out of 5; and Where to Buy.
Last year, Apple incited irritation when it removed FireWire from the 13-inch aluminum MacBook, which has since been renamed as a MacBook Pro and regained its missing FireWire port. The white MacBook has always supplied a FireWire port, but now in its unibody redesign it has lost it, restoring the company's position that consumers don't need it. FireWire still does things USB can't do, so this is disappointing to see, but anyone who uses FireWire is actually quite likely to be in the group that would opt for the aluminum 13-inch MacBook Pro instead.
If a Mac notebook model is destined to lack FireWire, at least it makes more sense to have it missing on the low end model aimed at students on a budget. Also missing is the SD card slot that showed up on MacBook Pros this summer as a replacement for their ExpressCard slot. While this consumer-oriented feature makes sense on the MacBook, it appears it didn't make the feature list due to space constraints. There's two USB ports, so users who want to connect to their camera's SD card will still be able to do what most Mac users have always needed to do: use a USB adapter. The other alternative is to use Eye-Fi's WiFi-enabled SD card to transfer pictures without handling a card at all.
The new model apparently still provides no support for audio output over its Mini DisplayPort connector (which is supported in the DisplayPort specification), so unlike Apple TV there's no way to output both audio and video over the same cable in the manner of HDMI. That necessitates either using a hybrid Mini DisplayPort plus USB cable for driving an HDMI display with audio, or using a separate audio cable from the MacBook's headphone audio output using an analog cable or digital optical TOSLINK cable for audio.
The MacBook retains the excellent audio out options that support both headphone and digital optical mini S/PDIF output, although it does not support S/PDIF audio input on a dedicated port. The headphone jack also supports iPhone-style headphones with an integrated mic and a playback control button. That's a great feature for anyone doing iChat audio or video conferencing or using another VoIP program on the go, as the notebook's built in microphone makes it hard to isolate background noise, and most mics and headsets designed for generic PCs lack the higher line level output required by previous Macs' mic input port.
The MacBook's MagSafe power adapter is 60 watts, and uses the compact style connector of the MacBook Air, although it also works fine with existing adapters that shipped with other MacBook models and the connector used by the 24" LED Cinema Display.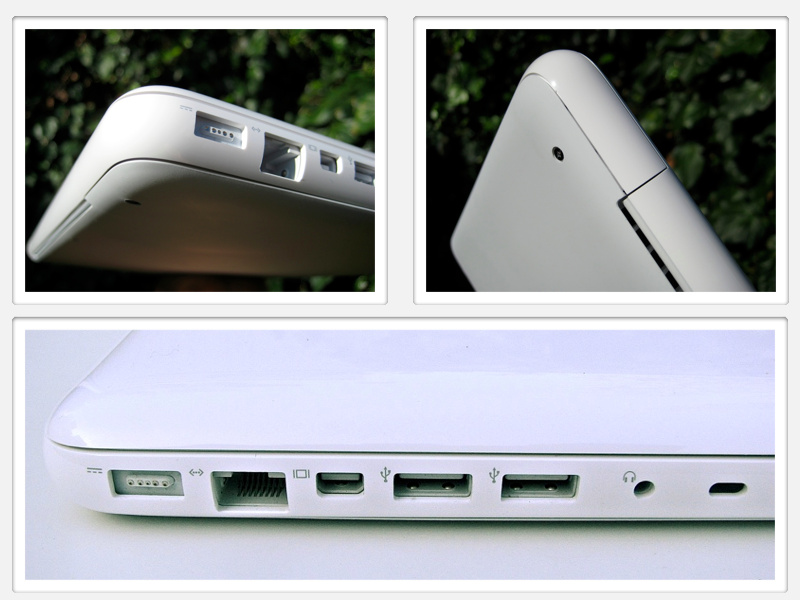 Performance overview: CPU and RAM
The new MacBook offers the same CPU/GPU and standard RAM as the entry level 13-inch MacBook Pro: a 2.26GHz Intel P7550 Penryn Core 2 Duo CPU paired with NVIDIA's MCP79MX controller with integrated GPU, which Apple calls by its marketing name: the 9400M. That chip also provides chipset controller functions (such as RAM, PCIe, SATA, and USB interfaces). Apple uses faster DDR3 "PC3-8500" RAM, which runs at 1067MHz along with the FSB for communications between the CPU, RAM, and the integrated GPU.
The MacBook's GPU supports NVIDIA's PureVideo HD for hardware acceleration of H.264 and MPEG-2. The primary purpose for NVIDIA including this on the GPU is to support Blu-ray, which the new notebook does not support. However, Apple has now added a hardware support component to QuickTime to enable any application that uses QuickTime to play MPEG-2 (DVD Player) or MPEG-4 (iTunes) content to do so more efficiently. Farming video decoding off to the GPU rather than the CPU means better battery life and cooler operation.
The performance numbers presented by Primate Lab's Geekbench 2.1 (below) indicate that the new MacBook's performance is very close to last year's MacBook Pro models, and nearly as fast as a two year old desktop iMac, but not nearly the speed of a Mac Pro workstation. The Core 2 Duo MacBook is a 3-5x jump over performance of a three year old PowerBook G4. Longer bars are better.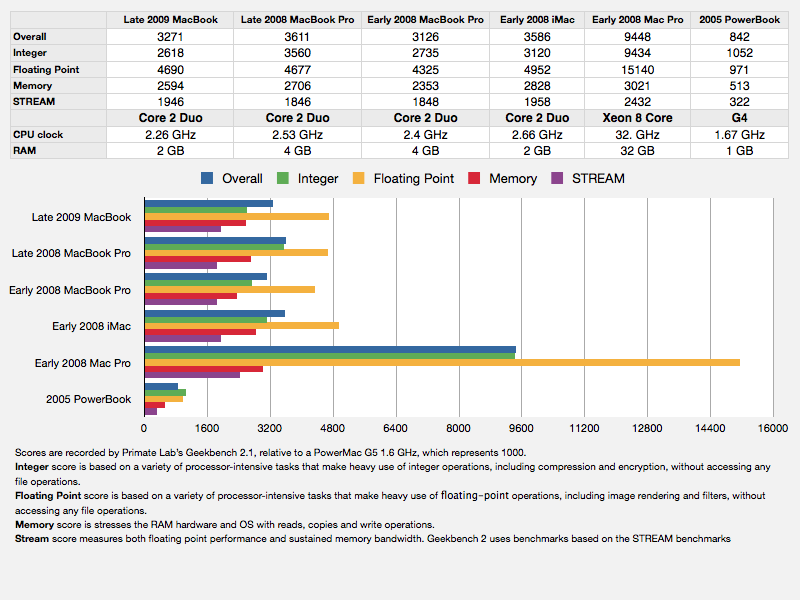 The New MacBook in Review
The new unibody MacBook is better built, more attractive, thinner, stronger and more rigid, with a nicer feel to the tighter-fitting display lid. It delivers a nice balance between weight and performance, using a built-in battery that delivers long life without needing to carry around spares.
The glossy screen will not appeal to some users, but the display itself looks great, and is a significant jump up in quality compared to the previous MacBooks. This model offer a minor jump in overall performance. If you're in the market for a new MacBook, the new model makes a great, well rounded upgrade.
Compared to the 13-inch MacBook Pro, the choice is pretty simple: the cheaper, plastic consumer-oriented version that drops a few hardware features (including FireWire, SD reader, and the backlit keyboard) and upgrade options (a max of 4 rather than 8GB of RAM, and a slightly faster CPU) or $200 more for the aluminum finished, compromise-free Pro.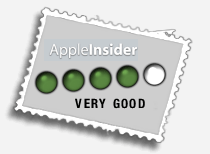 Greatly improved construction
Brighter, higher quality screen
Great overall value; same base specs as MacBook Pro
No FireWire, IR, SD card reader, battery indicator
Few BTO upgrade options outside of the MacBook Pro
Below is a table of MacBook prices from leading Apple Resellers that was extracted from AppleInsider's MacPriceGuide. Currently, OnSale.com is offering the lowest price on the new notebook at $899.18 after a mail-in-rebate and exclusive 3% discount available only to AppleInsider readers. However, this coupon expires on Oct 31st (tomorrow) and won't return until some time next year.
To see the 3 percent discount and achieve the final price of $899.18, you must first add the MacBook to your shopping cart. The 3% discount is reflected as "Instant Discount(s)" during checkout, after the items have been placed in your shopping cart.
For similar offers on the remainder of Apple's Mac product line, please see our full-fledged Mac Price Guide.