Source: Leaked MacBook Air photo is of new 11.6-inch model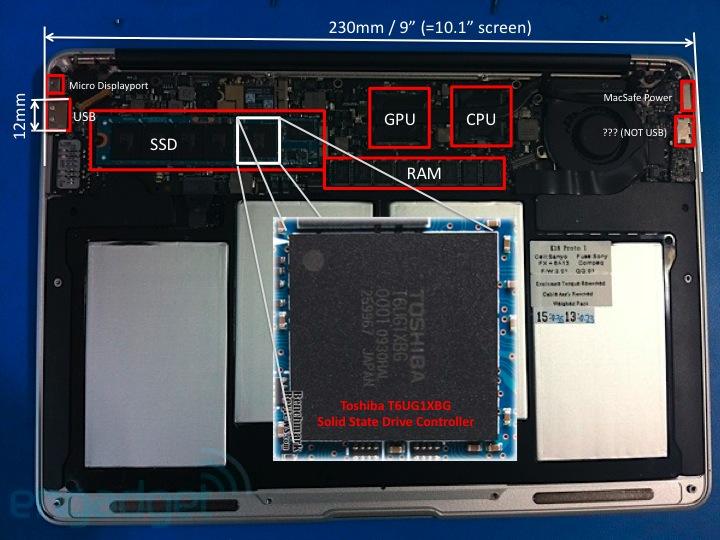 An image that leaked late last week showing an unreleased base component of an Apple notebook design is believed to be of the company's forthcoming 11.6-inch MacBook Air, rather than the larger model, AppleInsider has been told.
The image that appeared on Engadget was said to be of a new 13-inch MacBook Air by the source that submitted. However, a person familiar with both new MacBook Air models — Apple is said to be keeping the 13-inch in its portfolio — tells AppleInsider that the unit in the photo more closely resembles the 11.6 model, which is code-named K18.
According to this person, the unit in the photo is indeed an earlier prototype, as the model Apple plans to release includes changes to the componentry, such as the internal batteries. However, the 13.3-inch model's internals are somewhat more distinguishable due to the added real-estate in its chassis, which don't match up with the photo, this person suggested.
A recent analysis of the photo conducted over the weekend also appears to corroborate this claim. While the analysis doesn't provide conclusive evidence that the model in the photo is of an enclosure suited for an 11.6-inch screen, it does show device to resemble a notebook closer to 10 inches than 13 inches.
Apple will introduce the new MacBook Airs on Wednesday at its Back to the Mac event, which is also expected to include some news on the next-generation Mac OS X operating system: 10.7 Lion.
The software has been making the rounds inside Apple under the internal code-name "Barolo" — coined after the prestigious Italian wines from the Piedmont region — since early 2010. It's expected to include at least one revolutionary new feature, in addition iOS device tie-ins such as a FaceTime framework.
For more on AppleInsider's breaking reports on the new MacBook Airs, please see: