First Verizon iPhone 4 delivered, Genius comes to mobile iTunes Store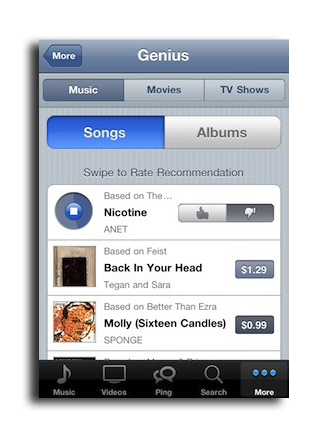 A customer who was among the first to preorder the new Verizon iPhone 4 picked up their unit on Saturday, while many others hope to receive the handset in the mail on Monday. Also, Apple has added Genius recommendations to its mobile iTunes Store for the iPhone and iPad.
First Verizon iPhone 4 delivered
Five days before the CDMA iPhone 4 goes on sale to Verizon customers, evidence of the first early arrival has appeared online. YouTube user "billa9668" posted the video on Saturday, showing the delivery being picked up in the morning at a UPS store.
On Friday, customers who were among the first to preorder the handset found that their package tracking information indicated the Verizon iPhone 4 will be delivered on Monday, Feb. 7. While it's possible that Apple could hold the packages to be delivered on the announced Feb. 10 launch date, Saturday's apparent delivery could signal that those packages will arrive on Monday.
Verizon and Apple began to take iPhone 4 preorders for existing Verizon customers on Thursday, and soon after, those who were early to purchase began receiving notification that their order had shipped. That initial run of preorders quickly sold out.
For everyone else, preorders for the Verizon iPhone 4 will begin on Feb. 9. The handset will officially go on sale at Apple retail stores, online and at more than 2,000 Verizon retail stores across the U.S. on Feb. 10.
Apple brings Genius to mobile iTunes Store
Apple this week quietly added its Genius recommendation feature to the mobile versions of the iTunes Store for the iPhone, iPad and iPod touch. On the iPhone, Genius can be found by selecting the "More" option, while on the iPad, Genius is a selectable tab at the top of content sections including Music and Movies.
The Web-based iTunes application does not require any updates for the Genius feature to appear, much like how Apple added more flexible App Store search functionality to the iPad last week.
iTunes Store Genius for iPhone, photo via TUAW.
The Genius feature analyzes purchases made by users, and then recommends similar content that users may enjoy. Genius can also be used to create generated playlists within iTunes.
Apple previously added Genius software recommendations to the iPad App Store last August. App Store Genius recommendations were first introduced with iOS 3.1 in September 2009.