Apple may build its own external battery pack for recharging on the go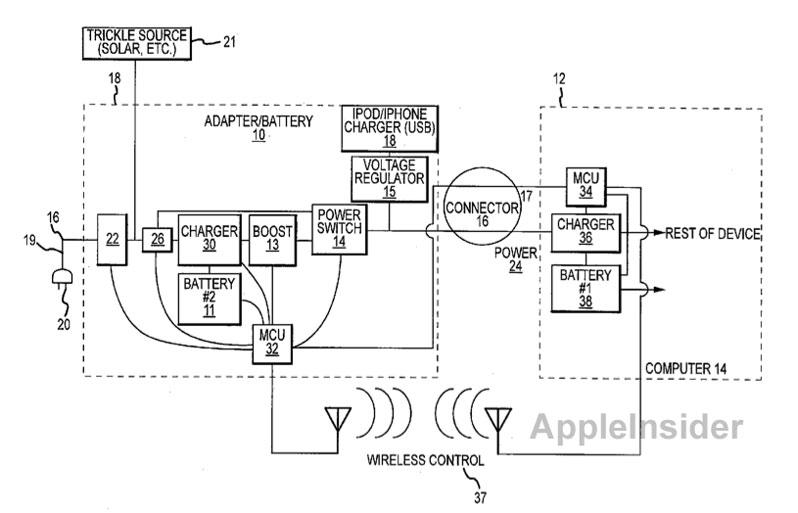 Apple has shown interest in integrating a rechargeable external battery pack into its standard charging cable, providing extra power for devices like a MacBook or iPhone when a power outlet isn't available.
The potential future accessory was revealed this week in a new patent application published by the U.S. Patent and Trademark Office and uncovered by AppleInsider. The filing for "Power Adapter with Internal Battery" describes a wall charger with an integrated battery pack, allowing users to charge a device at home and give that device extra juice when on the go.
Apple's application acknowledges that rechargeable external battery accessories do already exist. However, it notes that such accessories are not as advantageous as one that might be integrated with a standard charging cable.
"Such external batteries are generally cumbersome to use, at least because they must be unpacked for use and then repacked for storage," Apple's filing states of current options available on the market. "In addition, many users forget to bring the external battery in addition to the adapter while in transit.
"What is needed is a way to combine a power adapter and a battery so that a user does not have to carry an additional battery while traveling with a portable electronic device."
Apple's solution would include a "smart" charger with an integrated processor. This would allow the charger to intelligently determine how to distribute charge between the integrated adapter battery, and the battery on a device like a MacBook.
The hardware would also include the ability to share the status of the battery with the device it is charging. This way, users would be able to check the status of the external adapter battery and how much power it has left.
Such a device could be augmented by a "trickle source" for power, such as solar. And it could also include a USB port for charging a device like an iPhone or iPod. The accessory could also include a wireless adapter, allowing a MacBook or other device to access the power adapter even when it is not physically connected.
Apple's application also notes that its external battery solution could employ current power adapter features, such as its patented MagSafe connector.
The use of MagSafe connectors became an issue for a third-party external battery manufacturer last year, when Apple sued the maker of "HyperMac" accessories. Sanho Corporation was accused by Apple of infringing on MagSafe-related patents for products like its MBP-PRO, MBP-AIR and MBP-CAR chargers with magnetic power connectors.
Instead of mimicking Apple's patented MagSafe connectors, Sanho's products actually relied on recycled official MagSafe hardware made by Apple. The lawsuit eventually forced HyperMac to cease the sale of chargers with MagSafe hardware. Sanho also negotiated with Apple and rebranded its products HyperJuice.
But the need for such third-party external battery makers could be significantly lessened if Apple were to follow through on its pursuit of power adapters with integrated rechargeable batteries. Apple first filed the patent application made public this week in September of 2009, and the proposed invention is credited to Duncan Kerr, David Robbins Falkenburg and Michael Nugent.