Apple running out of remaining stock of discounted original iPads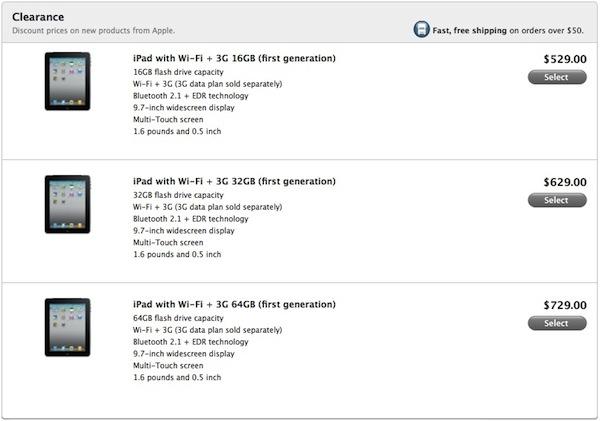 Apple has run out of original 16GB Wi-Fi iPads as online stock of refurbished and clearance first-generation iPads runs low, even as its successor, the iPad 2, continues to sell out.
The Apple Online Store no longer offers the Wi-Fi only version of the original iPad in its clearance section and has run out of the first-generation 16GB Wi-Fi iPad in the refurbished section, as noted by MacNN.
All three of last year's 3G iPad models remain on sale in the clearance section, priced at $529, $629 and $729 for the 16GB, 32GB and 64GB models respectively. The refurbished versions of the 32GB and 64GB Wi-Fi iPads sell for $429 and $529, while refurbished iPad 3Gs sell for $479, $559 and $659.
Shortly after unveiling the iPad 2, Apple began offering remaining stock of the original iPad for a discount. Unopened models of the iPad are on sale for a $100 discount, while refurbished models sell for as much as $170 off the original price.
Apple also offered either a $100 discount or a refund to customers who purchased the first-generation iPad within 14 days of the iPad 2 announcement on March 2.
Analysts project Apple will sell a total of 40 million iPads in 2011, including both the first- and second-generation models. Greater than expected demand for the iPad 2 has impressed Wall Street, causing at least one analyst to revise his sales forecast.