Skype confirms native iPad app coming with video chat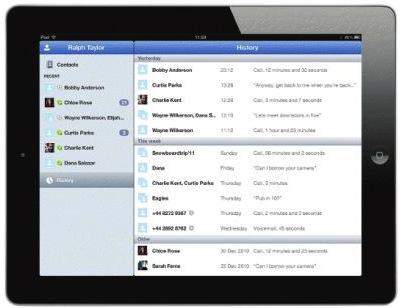 AppleInsider may earn an affiliate commission on purchases made through links on our site.
After a leaked video revealed an upcoming Skype iPad app with video chat, an executive for the company has confirmed the software is indeed coming soon and will take advantage of the cameras on the iPad 2.
A promotional video for Skype for iPad briefly appeared on the company's YouTube channel on Friday and was discovered by Twitter user "trackizmy1." The video was quickly taken down, but not before screenshots and footage of video calls on the iPad 2 were captured and reposted by Razorianfly.
Following the leak, TUAW spoke with Skype VP of Consumer and Product Design Rick Osterloh regarding the app. Osterloh said he expects the iPad to have a "similar success" to the iPhone version of Skype, which saw quick uptake. According to the executive, the iPad version will have basically the same functionality: chatting, audio and video calling. Although, a few features, such as file sharing, weren't ported from Skype's PC and Mac clients.
Osterloh said the app has been in testing for a few months, though he declined to provide a release date for it. Though the original iPad ran only a compatible release of Skype for iPhone, the company found the camera in the iPad 2 to be "super compelling" and decided to develope a native app to make use of it.
The executive also revealed that Apple has been "super supportive" of Skype, despite the fact that the company's offerings compete with the iPhone's calling and FaceTime functionality. Skype released a video-enabled iPhone app last December, with support for video calls over 3G.
CNet reports that Skype for iPad will arrive next Tuesday. The publication received an early hands-on look at the app, noting that it's "fairly intuitive," but not as "polished or snazzy" as some other iPad apps. According to the report, Skype for iPad will work on both the original iPad and the iPad 2, with the first-generation tablet able to receive video. Of course, broadcasting video remains limited to the iPad 2, as the first iPad lacks a camera. Like the iPhone version, Skype for iPad will support video calls over 3G, though the report found Skype quality to be "often subpar" over 3G.
Microsoft confirmed last month plans to acquire Skype for $8.5 billion in cash. During the announcement, Microsoft CEO Steve Ballmer assured that Skype would remain committed to non-Microsoft platforms.
As for Apple, the company has aggressively adopted its FaceTime standard, launching it first on the iPhone 4, then bringing it to the iPod touch, Mac and iPad 2.