100,000 choices now available on Apple's iPad App Store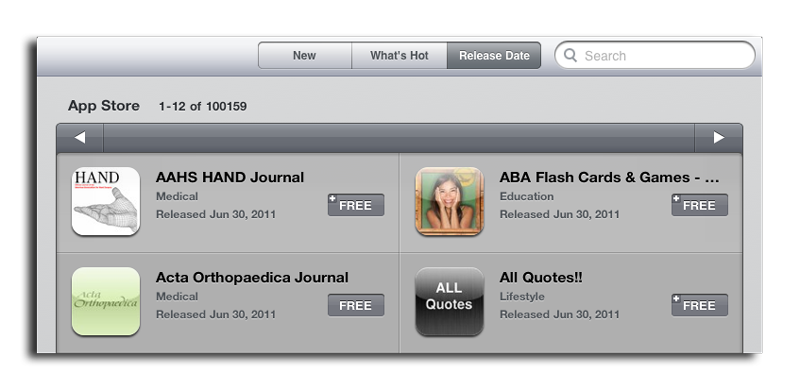 There are now more than 100,000 applications available on the iPad App Store written specifically for the 9.7-inch display found on Apple's touchscreen tablet.
Apple crossed the six-figure milestone this week, a fact that was first noted by MacStories. The total applies to software written for the iPad, and does not include iPhone applications, which also work but do not take advantage of the larger screen size.
The 100,000 number was reached less than 16 months after the iPad first went on sale in April of 2010. Then, the iPad App Store opened with just 3,000 titles, and crossed the 10,000 milestone that June.
The total number of applications available on the iPad can be viewed in the App Store by choosing the "Featured" section, and then selecting "Release Date" at the top of the screen. As of Thursday afternoon, the App Store was shown to have a total of 100,159 iPad applications.
Apple's App Store for iOS devices is the largest of its kind. At the Worldwide Developers Conference earlier this month, Apple Senior Vice President of iOS Software Scott Forstall revealed there are more than 425,000 applications available in the App Store, including both the iPhone and iPad, and that more than 14 billion applications have been downloaded since 2008.
The latest milestone passed without any public acknowledgement by Apple, though earlier this year the company did hold a contest to celebrate the 10 billionth download from the App Store. Also this year, the successful App Store model was brought to the Mac, and the Mac App Store will be the only place where users will be able to upgrade to Mac OS X 10.7 Lion.