Promotional materials for Mac OS X Lion appear at third-party Apple stores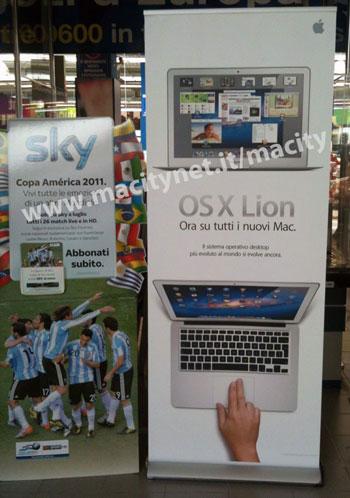 AppleInsider may earn an affiliate commission on purchases made through links on our site.
Gearing up for an anticipated launch this week, Apple has begun delivering promotional materials for Lion, its next-generation operating system, to third-party retailers across the globe.
The in-store graphics and images were spotted on display at a Euronics in Italy by Macitynet.it, as discovered by MacRumors. The site and corresponding images have since been taken down, but the images show Mac hardware running Lion and tout the new multi-touch gestures found in the operating system upgrade.
The new gestures found in Lion will allow features like momentum scrolling, tapping or pinching figures to zoom in on a website or image, and swiping left or right to turn a page or switch between full-screen apps.
The signs that were posted prematurely say that Lion is found on "all new Macs," but machines at the local store were not yet updated to the new operating system.
Another sign spotted at Dutch retail chain Dixons encourages users to buy a Mac App Store gift card and gift Lion to someone else. When it is released to the public, Lion will only be available on new Macs, or to current Snow Leopard users via the Mac App Store for $29.99.
Separately, AppleInsider received an unconfirmed tip on Tuesday that Lion was in the process of being installed on demo MacBook units found in a Best Buy store. The Apple employee allegedly said the machines would be publicly running the new operating system Wednesday morning, which aligns with other signs pointing to an imminent launch. The claims cannot be substantiated, but are presented for the interest of discussion.
Promotional materials have begun to crop up as Apple's own retail stores have reportedly begun to receive copies of Lion on hard disks. The disks are said to hold final copies of the software for install on demo computers.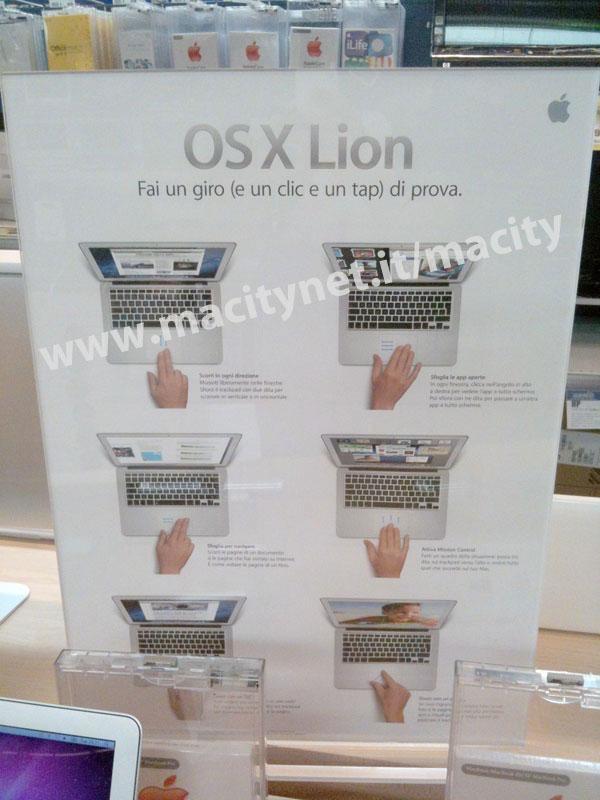 Other new features of Lion include full-screen applications; mission control, which combines Expose, Dashboard and Spaces into one unified experience; the Mac App Store, Launchpad, an iPad-style interface for launching applications; resume; auto-save; versions; and AirDrop. In all, there are more than 250 new features in Mac OS X 10.7 Lion.