Grand Central Apple Store revealed in renderings, may open by holidays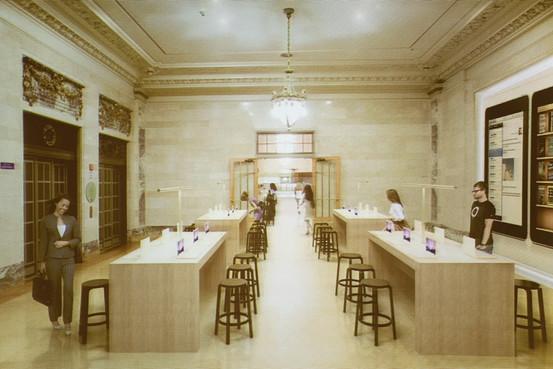 Pending final approval from New York's Metropolitan Transportation Authority board on Wednesday, Apple plans to begin construction on a flagship store within Grand Central Terminal in hopes of opening the store before this year's holiday season.
MTA officials gave The Wall Street Journal an early look at Apple's plans, which will largely preserve the terminal's existing structure. According to the report, Apple paid the previous tenant, Charlie Palmer's Metrazur restaurant, $5 million to move out of the terminal's east balcony eight years early.
However, there are discrepancies regarding Apple's annual rent. The Journal says the iPhone maker will pay $1.1 million a year, while earlier reports had suggested a figure of $800,000 annually for the first ten years. Either way, Apple is clearly paying a premium for the store, as Metrazur reportedly paid just $263,997 a year.
"[Apple's store] maintains Grand Central as the iconic structure and place that it is," the report noted Metro-North Railroad President Howard Permut as saying during a meeting of the MTA board's railroad committee. Also announced at the meeting were plans for a Shake Shack restaurant.
"I can't imagine why any kid in Westchester would want to do anything other than go into Grand Central and shop at Apple and eat at Shake Shack," MTA Real Estate Direector Jeffrey Rosen said.

A rendering of the proposed Apple store at Grand Central Terminal. | Credit: Rob Bennett/WSJ
Construction on the store is expected to begin immediately after Apple receives approval from the MTA board at its monthly meeting later this week and should take about four months to complete.
The completed store, which would encompass two adjacent balconies, is said to be a massive 23,000 square-foot location, roughly 3,000 square feet larger than the company's existing flagships.
As noted by The New York Times, Rosen said Apple executives worked with the police to figure out a plan for handling lines during product releases. One solution may be to setup spaces in the Northeast Passage for customers to wait. "What we will not see are lines snaking around the concourse," he said.
Rumors of a GCT Apple Store emerged earlier this year. Apple's plans were briefly reported as canceled, but reports that the company was moving ahead with the store picked back up in May.
Apple reportedly submitted its formal bid to the MTA "in linen-lined boxes, as if it were a wedding present to transit officials."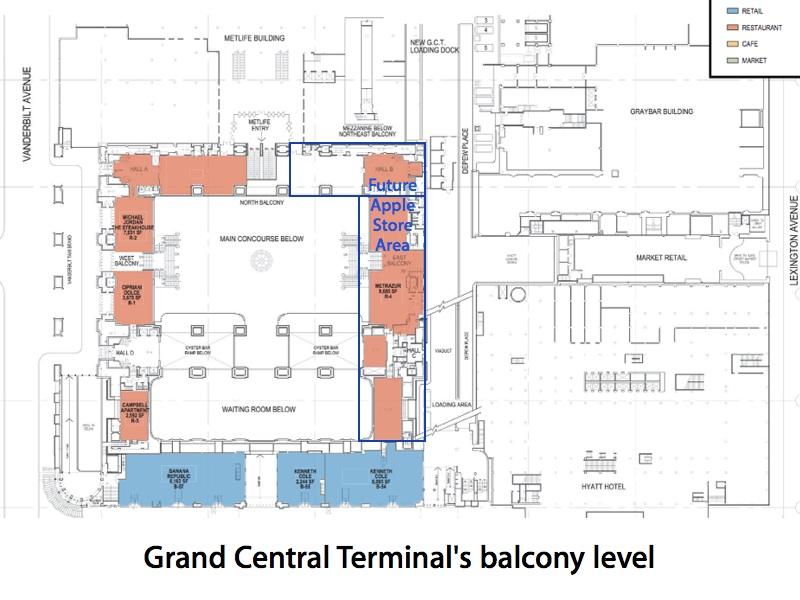 Two other Apple stores within New York City will undergo major renovations this year. The company's iconic glass cube at the Fifth Avenue store is currently being reinstalled, while a planned expansion to the SoHo store has led Apple to begin preparations for a temporary location nearby.
The Grand Central Terminal store is just one of several high-profile retail outlets Apple is planning as part of a dramatic expansion through the end of 2011. The company plans to open 30 outlets in the September quarter, including a two-story flagship in Hong Kong's high-end International Finance Center Mall.
Even as Apple's rapid retail expansion continues, retail chief Ron Johnson will leave the company to take over as CEO of J.C. Penney. Johnson spent 11 years as senior vice president of retail at the company, working closely with CEO Steve Jobs to craft Apple's retail business into the success that it is today. Apple has said it is actively recruiting for Johnson's replacement.