Apple cracking down on non-developer devices running iOS 5 - report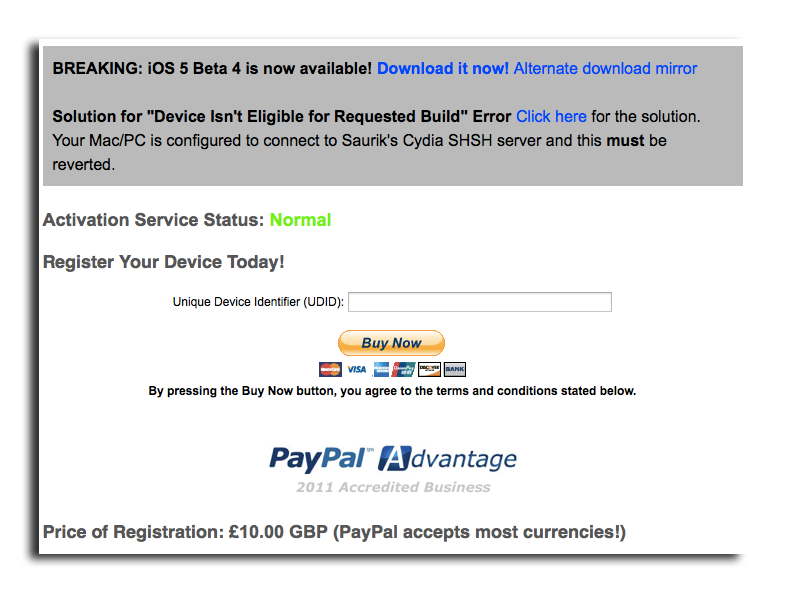 Apple has reportedly begun closing the accounts of some developers who have inappropriately sold their account device slots, allowing them to profit from the installation iOS 5 on unauthorized non-developer iPhones and iPads.
Some developers who sold their slots for UDIDs, the unique identification numbers associated with every iOS device, have been tracked down by Apple, according to KarthikK.net. Apple has reportedly sent e-mail warnings to developers, notifying them that their illicit activities have been discovered.
In addition, Apple is said to have begun closing developer accounts for some who have been identified as selling their device slots. Apple has also reportedly flagged UDIDs associated with a developer account found in violation, making the device running iOS 5 "unusable."
"Once Apple locks your iOS device, the phone will enter the initial setup mode asking you to connect to a WiFi network," the report said. "And nothing happens more than that."
Because it is not final, public software, iOS 5 is currently meant only for testing purposes, and is restricted to authorized members of Apple's official iOS Developer Program. Selling device slots and allowing non-developers to test and run the latest beta build of iOS 5 is a direct violation of the iOS Developer Program rules.
But some developers have ignored these binding terms and have chosen to register another person's iPhone or iPad UDID in exchange for a fee. Those who pay the developer can receive early access to iOS 5 and test out its many new — but still buggy — features.
A quick Google search turns up a number of websites devoted solely to commercializing UDID activation for installation of iOS 5. One such site refers to itself as "The Leading iOS Beta Registrar," having allegedly registered more than 15,000 iOS devices since 2009. The service uses PayPal to charge customers £10 and accepts most major credit cards.
"Apple only allows registered iPhone developers to have access to iOS 5 beta. That's where we come in," the site reads. "We have paid the fees and done all the work. All you have to do is register your iOS device on our account, once you register, you'll be able to download the beta firmware and install it on your device."
iOS 5 is currently available to developers in its fourth beta, released last month. The latest version was issued via the operating system's new over-the-air update feature, allowing for a much smaller-than-usual 133MB delta update over Wi-Fi.
Members of the general public will not be able to utilize iOS 5 until this fall, when Apple will release the software. The new operating system is expected to become available alongside a new fifth-generation iPhone.
In addition to wireless updates, iOS 5 will also allow for wireless syncing through iCloud. It will also offer an all-new Notification Center for prompting users, a Newsstand application for newspapers and magazines, and system-wide integration with the social networking service Twitter.