German court bars Samsung Galaxy Tab 10.1 from sale in Europe in Apple suit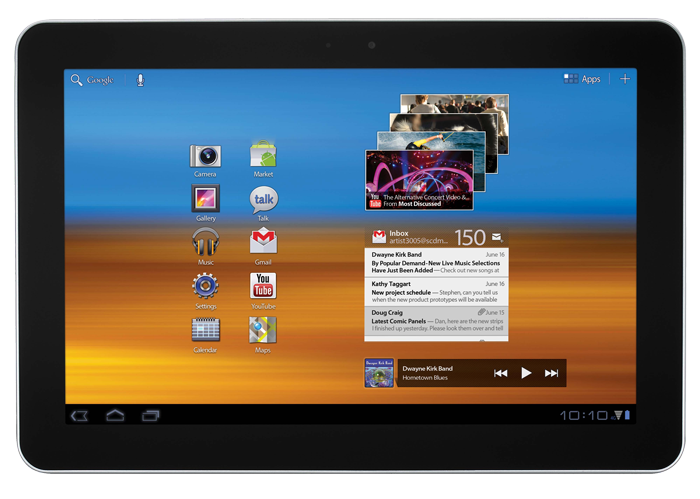 A key legal victory for Apple in the European Union has reportedly blocked the sale of Samsung's Galaxy Tab 10.1 across the continent for alleged patent violations.
A judgment made in the Regional Court of Dusseldorf in Germany granted Apple a preliminary injunction barring the sale of Samsung's latest iPad-competing tablet, according to The Telegraph. The judge who made the decision has backed Apple's assertion that Samsung products infringe on the patented design of the iPad 2.
The decision means that the Galaxy Tab 10.1 has been barred from sale and marketing across all of Europe, except for the Netherlands. The device went on sale in the U.K. last week, but Samsung must now remove it from shelves and cease marketing it there as well.
"While Samsung can appeal against the judgment, the injunction will still stand in the meantime," author Shane Richmond wrote. "Any appeal would be heard in around four weeks' time and would be heard by the same judge."
The decision comes soon after a court in Australia also ruled in favor of Apple in a lawsuit alleging that Samsung has copied the look and feel of devices like the iPhone and iPad. That victory forced Samsung to delay the launch of the Galaxy Tab 10.1 in Australia.
The legal battle between the two technology giants began in April, when Apple sued Samsung in the U.S. and accused the company of violating patents relating to the iPhone and iPad.
In lawsuits with the U.S. International Trade Commission, both Samsung and Apple have asked that each others' products be banned from importation because of alleged patent infringement. But unlike in Europe and Australia, the ITC has not taken such drastic measures thus far in America.
The Galaxy Tab 10.1 was added to Apple's case against Samsung in June, along with a number of other devices, including the Nexus S 4G, Galaxy S smartphones, and Droid Charge. In that filing, Apple asserted that Samsung has become "even bolder" in copying the iPhone and iPad.
Apple has used aggressive language in its filings against Samsung, referring to its rival as "the copyist." Samsung has responded in kind, and has argued in court that some of Apple's legal team should be disqualified for an alleged conflict of interest.
Despite the bitter legal battle, Apple is said to be the largest customer of Samsung, and is expected to buy some $7.8 billion in components from its rival this year. But there have been rumors that Apple plans to move production of its custom-built chips, beginning with the a so-called "A6" processor in 2012, away from Samsung to another chipmaker, Taiwan Semiconductor Manufacturing Company, in 2012.