Dell kills its 5" Android tablet as ABI searches for success among tablet failures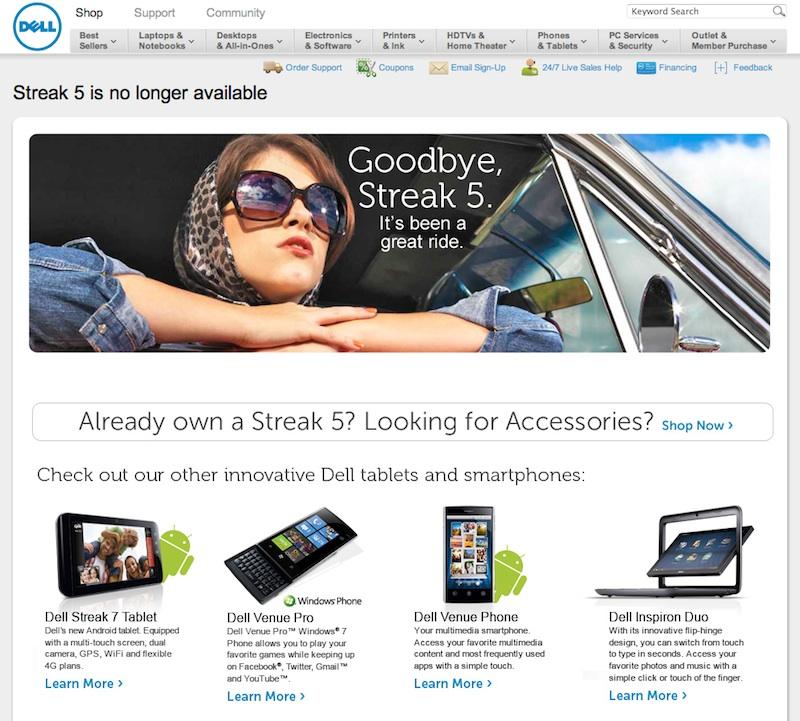 While Google hoped its Android platform could take on the iPad this year, its licensees are finding it difficult to even compete with Apple on the low end. On example, Dell's Streak 5 (aka Mini 5), has just been discontinued, but that hasn't stopped marketing companies like ABI Research from insisting that Android is still a thriving tablet competitor.
The end of a losing Streak
Dell introduced the Streak 5 (originally named Mini 5), a hybrid small tablet/smartphone in May 2010, with both a 5 inch display and 3G calling features that placed it somewhere between Apple's iPod touch and iPad.
"I've been at Dell for 16 years, and I don't think there's ever been more buzz around a single Dell product than this," wrote Lionel Menchaca, chief blogger for the Round Rock, Texas, company at its release. "In my view, that's for good reason. Hardware and design-wise, this thing impresses. Add the ever-increasing capability that Android brings to the equation, and you've got a mobile device that offers a ton of flexibility while looking cool in the process."
The Streak 5 originally shipped with Android 1.6, but was updated to Android 2.1 (incurring the wrath of customers who complained about the over the air update adding bugs and taking away existing software features) and finally Android 2.2 Froyo last winter. It will not be possible to upgrade to Android 3.0 Honeycomb or the forthcoming Android 4.0 Ice Cream Sandwich.
Dell's use of Android on the Mini/Streak line signaled a new effort by the PC maker to evaluate the use of software platforms independently of its long term partnership with Microsoft. The company still sells its 7 inch Streak, and continues to offer both an Android 2.2 "Venue" smartphone and a "Venue Pro" model that runs Windows Phone 7.
The company describes the discontinuation of the Streak 5 as the end of "a great ride" on its website.
Searching for signs of life in the non-iPad tablet market
Over the past year, marketing companies, including IDC and Gartner, gerrymandered together a variety of devices including the iPod touch-like Streak 5 into a "media tablet" market (defined as having at least a 5 inch screen) to exclude comparisons to the already entrenched sales of the 3.5 inch iPod touch.
It was hoped that the comparison of all these tablet-like devices shipping from all vendors combined could at least add up to a something that mounted a challenge to Apple's 9.7 inch iPad.
Over the last winter, IDC and Garner suggested that Android had taken a 20 percent share of this "media tablet market," which excluded sales of the iPod touch as well as ebook readers and other severely "de-featured" products that also ran Android.
Mini tablets fail to distort Steve Jobs' reality field
Just months before, Apple's chief executive Steve Jobs had panned competitors' 5 to 7 inch tablets as "tweeners" and quipped that small form-factor tablets will need to ship with sandpaper so users can file down their fingers to the point where they can hit smaller targets on the screen. Elements within tablet-oriented apps can only get so small before users can't perform these types of touch and pinch gestures, Jobs insisted.
Noting that all tablet users already have a mobile smartphone, Jobs indicated that tablets need to be big enough to be differentiated from mobile devices in terms of features. "No tablet can compete with mobility of a smartphone. Pocket size tablets are tweeners," Jobs said; too big for a smartphone and not big enough to work well as a tablet.
Jobs called mini tablets "dead on arrival," and predicted that "manufacturers will realize they're too small and abandon them next year. They'll then increase the size, abandoning the customers and developers who bought into the smaller format."
ABI folds more tablet devices into competition with iPad
ABI Research, the same firm that described the iPhone as a "high-end feature phone" and not a smartphone back in 2007, and which previous to that generated sensationalist headlines that claimed 58 percent of iPod users were likely to buy Microsoft's Zune, is back again to suggest that Android has "taken" 20 percent tablet market share from Apple's iPad over the past year.
"Android media tablets have collectively taken 20% market share away from the iPad in the last 12 months," ABI stated in a press release, which also suggested that the company was counting a wide variety of devices beyond what one might identify as iPad competitors.
"Google's Android OS has no less than three different software builds deployed across media tablets at the same time," the company stated, indicating that it wasn't just counting modern Android 3.0 Honeycomb tablets like the Motorola Xoom and Samsung Galaxy Tab 10.1, but also folding in what it called "de-featured, low-cost media tablets are being introduced by more than fifty vendors in 2011."
While expanding the definition of "tablet," ABI's new figure of 20 percent market share is actually smaller than the tablet share credited to Android by Gartner and IDC at the beginning of 2011 based on sales from the end of last year, making it hard to see where the growth in Android tablets is occurring.
Blogger Marco Arment has performed his own market comparison of non-iPad tablets to "obscure game consoles," noting that "I didn't include the iPad's approximately 30 million units on here because it distorted the graph's scale too much."