Adobe adding support for iOS 5 Newsstand to Digital Publishing Suite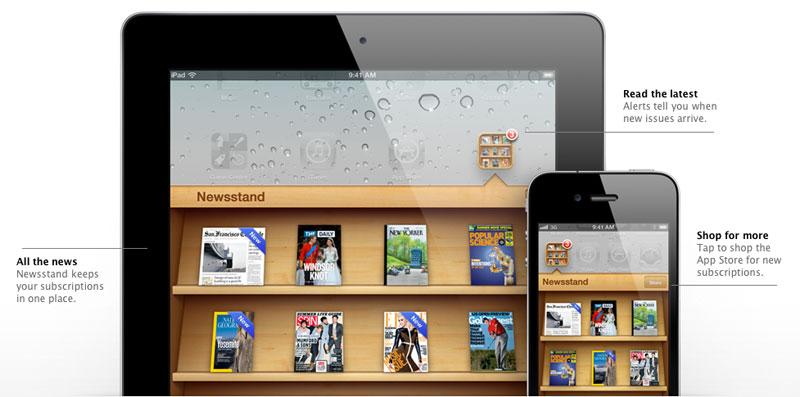 AppleInsider may earn an affiliate commission on purchases made through links on our site.
Adobe announced on Wednesday that it will add support for Apple's new Newsstand application, which is built into the forthcoming iOS 5, to its Digital Publishing Suite "soon after" the iPhone maker releases the operating system update this fall.
The San Jose, Calif., software maker touts more than 600 titles created with its Digital Publishing Suite. The suite works in conjunction with Adobe Creative Suite 5.5 to produce digital publications for the iPad, Google Android tablets and Research in Motion's PlayBook.
"Digital Publishing Suite support for Newsstand will provide Adobe's publishing customers the ability to deliver engaging content directly to the digital doorstep of subscribers on their iPads," said Todd Teresi, vice president and general manager, Media Solutions, Adobe.
"Adobe technology is fundamental to the transformation taking place across publishing and now readers will be able to easily obtain their magazine and newspaper subscriptions in one location and get access to the latest issue as soon as it is published, further accelerating magazine adoption on tablet devices."
The company highlighted Newsstand subscriptions as being able to "significantly boost sales and advertising revenue by combining greater content discoverability with flexible payment options required by readers." Files created by Adobe's suite will be detected and automatically downloaded by Newsstand, while apps built with the software can add push notifications and icon covers.
Apple announced Newsstand in June as a key new feature of iOS 5. The app will serve as a folder that organizes and collects magazine and app subscription content with a bookshelf interface similar to that of iBooks. New issues will automatically be updated in the background, seamlessly showing up in the Newsstand folder. The app will also include a browse function that will let users search for and purchase new subscriptions.
Rumors of the app emerged last year, highlighting Apple's efforts to court publishers to the iPad. Publishers showed some initial resistance to Apple's business model, which takes a 30 percent cut and does not automatically provide subscriber personal information, but a number of them have since come on board with offering in-app subscriptions on the iPad.