JP Morgan increases 2011 tablet forecast to 51.9M as iPad dominates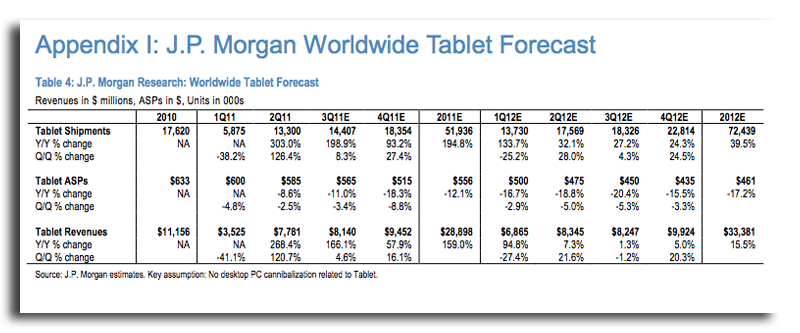 AppleInsider may earn an affiliate commission on purchases made through links on our site.
Investment bank J.P. Morgan raised its estimates for tablet shipments in 2011 to 51.9 million units, citing the strength of Apple's iPad, while slightly lowering 2012 estimates because a "formidable number two tablet maker" has yet to arrive.
Analyst Mark Moskowitz issued a note to clients on Thursday, noting that Apple "continues to dominate and enjoy the lion's share of the tablet market." He also suggested that a true iPad competitor may not emerge until the arrival of Windows 8 late next year.
The firm raised its 2011 tablet projection from 46.1 million to 51.9 million units, while also reducing 2012 numbers from 76.3 million to 72.4 million. Moskowitz now estimates Apple's unit market share will stand at 70.9 percent at the end of this year and 62.8 percent in 2012. He predicts worldwide tablet revenues will reach $28.9 billion dollars this year.
"Beyond the iPad, there has not been another high-volume tablet offering, yet," he said. "We are still awaiting the emergence of a clear number two player, though this may not happen until the launch of Windows 8 in 2H 2012."
Moskowitz did note that a rumored Amazon tablet could be "interesting," possibly providing a lift to the non-Apple tablet market. He went on to say that the OS would likely be a weak spot for the device, though "brand name, content and distribution capabilities of Amazon" could threaten Apple's lock on the market.
Non-iPad tablet challengers will find themselves competing on price for second place, Moskowitz suggested, predicting that the Average Selling Price in the tablet market will decline 12.1 percent in 2011 and an additional 7.2 percent in 2012. Tablet makers have been aggressively slashing prices in order to move excess inventory, with Hewlett-Packard enacting the most dramatic price cut with a $99 fire sale for its discontinued TouchPad tablet.
Earlier this year, Moskowitz warned of a coming "bubble burst" for rival tablet makers because their build plans were too high. An "early dose of reality" reportedly prompted companies to dial down production of .
However, tablet makers are expected to continue waging a fierce price war this fall in preparation for the 2011 holiday season in order "to digest inventory and minimize losses," according to one report.
The analyst also cautioned that a continued surge in tablet sales is "bad news" for PCs. J.P. Morgan believes that tablets and smartphones are not only cannibalizing PC sales, but also causing consumers to defer purchases.
Apple sold 4.69 million iPads in the first quarter of calendar 2011 and 9.25 million in the second, for a total of 13.94 million tablets.