Purported iPhone 5 part suggests Apple won't change home button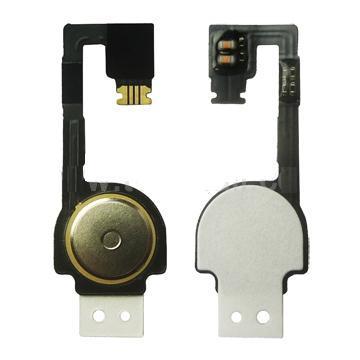 An alleged fifth-generation iPhone part being sold by a Chinese website has cast doubt on rumors that the device will feature an expanded home button design.
The "iPhone 5 Home Button Flex Cable Ribbon Circuit," found by How To Arena, appears to indicate that the home button of the next-generation iPhone will have a similar shape and size as the one found on previous iPhone models.
The part, currently selling for $6.68, is said to be compatible with "iPhone 5 (5th generation)" and it is described as a "high quality and original home button flex cable for iPhone 5, not include [sic] home button."
Parts supplier China Better claims to also have access to volume button, speaker earpiece module, power button, mute switch, battery, audio jack, camera lens and proximity light sensor parts for Apple's next iPhone. The company's proximity sensor part appears identical to an alleged iPhone 5 part that surfaced on another Chinese site in August.
Some reports had suggested in the past that Apple may change the design of the home button by removing it altogether or replacing the physical button with a multi-touch version.
Third-party case designs and other unconfirmed images then implied that Apple will not remove the button, instead modifying its overall shape in order to accommodate a larger display and accommodate gesture-based controls.
Various purported parts of the upcoming iPhone model have been leaked recently, with some of the parts marked as N94 prototypes. References to the N94 code name, already spotted in Apple's SDK in the past, were recently found inside iOS 5 beta 7, revealing that the company has been granted an FCC ID for at least one new iPhone model.
Numerous reports suggest that Apple will launch its next-gen iPhone in early to mid-October, but it is not yet clear how many new distinct iPhone models the company is set to unveil at its fall media event. Sources speculated in the past that Apple will introduce a cheaper, entry-level "iPhone 4S" this year, as well as a high-end "iPhone 5" version.