T-Mobile exec says iPhone 5 not coming this year – report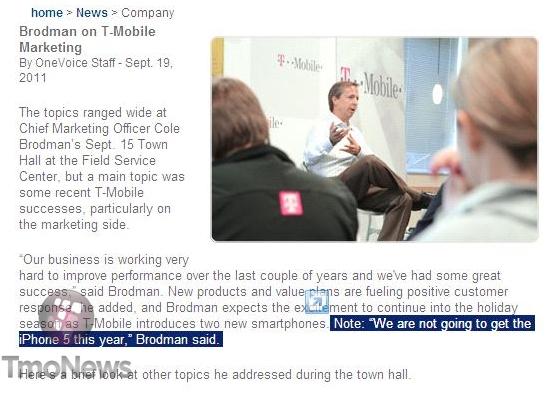 AppleInsider is supported by its audience and may earn commission as an Amazon Associate and affiliate partner on qualifying purchases. These affiliate partnerships do not influence our editorial content.
A T-Mobile exec has reportedly denied claims that the wireless operator will land iPhone 5 during the 2011 calendar year, leaving the German carrier as the only major U.S. cell service provider not expected to participate in Apple's launch next month.
The comments were reportedly made by T-Mobile's chief marketing officer Cole Brodman in a corporate newsletter distributed internally on September 15th, a copy of which was photographed and shared with TmoNews.com.
"We are not going to get the iPhone 5 this year," Brodman allegedly told T-Mobile employees, without further expanding on the matter.
Still, the opening paragraph of the internal communication suggests that the carrier will launch two new smartphones during the holiday season without going into specific details about either model.
T-Mobile has been rumored on various occasions to carry the iPhone, with some recent reports implying that the nation's fourth largest mobile operator will launch the next-gen handset alongside its largest rivals in the U.S.
Brodman's terse statement on a potential iPhone 5 launch seems to have temporarily quenched T-Mobile iPhone rumors, although the nature of the denial could further spark speculation on an imminent iPhone 5 launch with the carrier sometime next year.
Meanwhile, the exec made no mention of a so-called iPhone 4S, or updated iPhone 4 model, in the purported denial, suggesting only that the mobile operator will not get the iPhone 5 "anytime before midnight on December 31st."
Apple is expected to launch at least one new iPhone by mid October. While there is no official product name for the fifth-generation smartphone yet, the media is currently using at least three different monikers for the upcoming device or devices: iPhone 4S, iPhone 5 and iPhone 4GS.
The first two are predominant in reports, with the iPhone 4S describing a cheaper iPhone 4-based device and the iPhone 5 representing a high-end major product refresh.
T-Mobile isn't the only major U.S. mobile operator that has been rumored to land the iPhone for its customers. Numerous reports have indicated that Sprint will join AT&T and Verizon in launching the iPhone 5 this year. Sprint officials have neither confirmed nor denied a potential iPhone launch but a recently leaked internal company memo revealed clear instructions for employees not to comment on any iPhone matter with customers.
Moreover, the carrier has recently increased its early termination fee for advanced devices, which includes smartphones, to $350 and made critical modifications to its Premier program, with the changes being perceived as signs pointing to a potential iPhone launch.
Recent reports have also claimed to provide evidence showing that that the carrier has installed signal boosters in and around at least one Apple store location and that the company has blacked out staff vacation for the first half of October.
Finally, sales associates at Sprint claimed last week to have been officially briefed on an imminent iPhone 4 launch.