Steve Jobs left iTunes creator in charge of connected TV initiative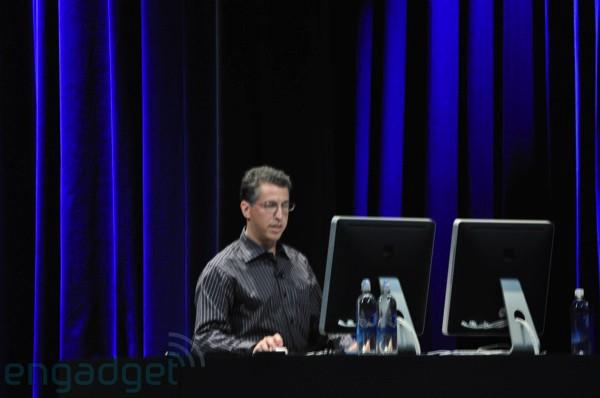 Jeff Robbin, an Apple vice president and engineer who helped create both iTunes and the iPod, is leading the company's efforts to produce a connected TV with integrated search functionality, according to a new report.
Citing multiple people familiar with the project, Bloomberg reported on Monday that Robbin is in charge of Cupertino, Calif., company's secretive high-definition TV project. According to the sources, Apple is working to integrate seamless content search features into the device.
"For example, instead of having to separately check to see if a movie or show is available through Netflix or a cable service, all the material could be integrated," the report noted.
Robbin worked as a system software engineer at Apple in the 1990s before leaving to work on his own software projects. While at software publisher Casady & Greene, he helped to develop the SoundJam MP MP3 player software. In late 2000, AppleInsider was first to report that Apple had purchased the rights for SoundJam from Casady & Greene, bringing Robbin back into the fold to head up the software's transformation into iTunes.
Back at Apple, Robbin also played a crucial role in the development of the iPod, which just recently celebrated its 10-year anniversary. He is listed among the inventors of several key iPod-related patent filings, though not all of the applications were successfully converted into legitimate patents.
His current role at Apple is vice president of consumer applications and lead software designer for iTunes.
Apple VP Jeff Robbin giving a demo of iTunes in 2009 | Credit: Engadget.
Apple co-founder Steve Jobs at one point considered Robbin to be of such high value to the company that he worked to keep Robbin's role under wraps. According to the bestselling biography on Jobs, officially released on Monday, Jobs refused to allow a Time magazine reporter to use the engineer's full name in an article because he feared Robbin would be poached by another company. The book also noted that Robbin was one of the Apple executives who successfully lobbied Jobs to allow a Windows version of iTunes.
Having persisted for years, rumors surrounding Apple's connected television initiative have gained momentum after Jobs' biography confirmed that he had been working on such a device. Author Walter Isaacson quoted Jobs in an interview as saying that he wanted to make television sets "simple and elegant," just like he had done with computers, music players and phones.
"It will have the simplest user interface you could imagine," Jobs reportedly said of the project. "I finally cracked it."
Multiple analysts claimed (1, 2) on Monday that Apple has been building prototype high-definition TVs, possibly in preparation for a 2012 launch. The rumored product would represent a strong opportunity for the company, as some have projected the LCD TV market to top $100 billion next year.
Apple currently sells a $99 Apple TV set-top box, but considers the device to be little more than a "hobby."