Samsung Galaxy S II ad mocks iPhone line-waiters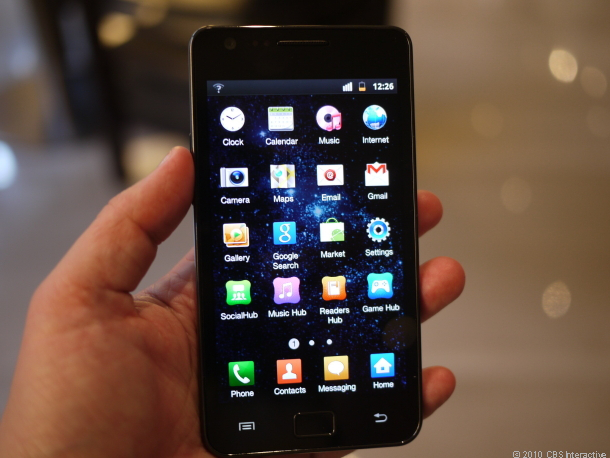 AppleInsider may earn an affiliate commission on purchases made through links on our site.
A new television ad by Samsung reflects its growing rivalry with Apple by painting a caricature of customers waiting in line for the iPhone.
The Galaxy S II smartphone commercial was set to debut on Facebook late Tuesday and begin airing on TV on Thanksgiving, Mashable reports. The spot opens on groups of people waiting in line in major cities across the U.S. in an apparent reference to the crowds that Apple traditionally draws to its iPhone product launches.
"Guys, I'm so amped I could stay for three weeks," said one line-waiter, who appears to be waiting in front of a generic reproduction of an Apple Store. "9 hours down and we're almost in the door," said another customer.
Samsung went on to take a stab at reports of battery problems with the iPhone 4S. "Uh oh, blogs are saying that battery looks sketchy," said a man wearing white earbuds.
The commercial also gave voice to a complaint that emerged after the iPhone 4S was unveiled.
"If it looks the same, how will people know I upgraded?" a line-waiter asked.
After it was revealed that Apple had chosen not to issue a redesigned form factor for its fifth-generation iPhone, some prospective customers complained that they'd be unable to flaunt their new iPhone 4S purchases because the device looks almost the same as the iPhone 4.
The ad then depicts the customers as they ogle at others who are using the Galaxy S II smartphone. "Check out the screen this thing is huge. It's pretty massive," one customer said. "And it's got 4G speed," said another.
The South Korean electronics company also mocked the fact that Apple devices have become known as the platform of choice for creative professionals. "I could never get a Samsung. I'm creative," said one man. "Dude, you're a barista," his friend retorted.
The commercial closed with the tagline: "The next big thing is already here."
This isn't the first time that Apple and Samsung have sparred over the iPhone and the Galaxy S II. The two companies argued in the U.K. over who had the right to advertise the "world's thinnest smartphone." Apple won that fight, as the country's Advertising Standards Authority ruled that the Galaxy S II had "prominent bulges" at the top of the device that made it thicker than the iPhone 4 at its thickest point. Also, within hours of Apple's iPhone 4S announcement, Samsung had sent out emails with a specifications comparison sheet touting its Galaxy smartphone.
Samsung's rivalry with Apple will heat up even further next month when the Android 4.0 flagship Galaxy Nexus arrives in the U.S. Early web benchmarks from the U.K. version show that Samsung's latest smartphone outperforms the iPhone 4S in some web tests, though Apple's handset bests it with respect to graphics.
The tense relationship between the companies escalated into an outright legal battle earlier this year. Apple and Samsung are entangled in more than 20 lawsuits across more than 10 countries. Samsung recently won the right to a hearing against Apple that will take place next March in Australia.
Meanwhile, Apple has succeeded in getting injunctions against Samsung's Galaxy Tab 10.1 tablet in Germany and Australia. Samsung made a few changes to the Galaxy Tab in order to avoid Apple's infringement claims and relaunch the device in Germany.