Intel Ivy Bridge chip candidates for MacBook Pro, Air to arrive in May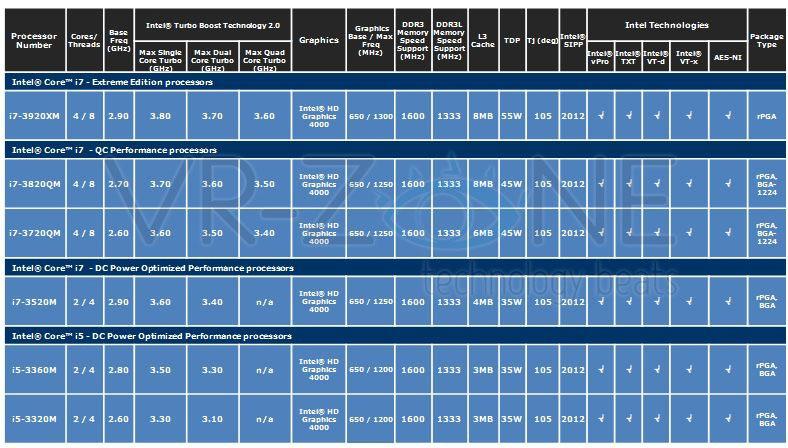 Intel's next-generation Ivy Bridge mobile processors, expected to appear in future MacBook Pro and MacBook Air updates from Apple, will hit the market in May of 2012, a leaked Intel product roadmap reveals.
Intel's Ivy Bridge CPU lineup and launch dates were revealed in the new roadmap obtained by VR-Zone. They show a tentative debut of May 2012 for the mobile platform.
The product lineup includes M-Series Processors that offer standard performance with nominal thermal design power of between 35 watts and 55 watts. The standard performance CPUs would be the most likely choice for Apple's next-generation MacBook Pro notebooks.
The roadmap reveals a number of chip options coming next year, including a 2.9GHz quad-core Core i7-3920XM featuring the new Intel HD Graphics 4000 architecture.
As for the thin-and-light MacBook Air, Intel is also gearing up to launch its U-Series Processors around the same time, under the product line name "Ultra." That low-power processor will have a TDP of just 17 watts.
The documentation reveals there will be two U-series CPUs at launch, with the Core i7-3667U clocked at 2GHz, and the Core i5-3427U running at 1.8GHz. Those chips will overclock to 3.2GHz and 2.8GHz in single-core mode, respectively, and both models feature a GPU clocked at 350MHz that can run as high as 1150MHz.
The new Ivy Bridge chips will also give Apple the opportunity to put OpenCL-capable CPUs into its hot-selling MacBook Air lineup. The addition of OpenCL support will offer performance improvements with financial applications, games and media applications by offloading non-graphics related tasks to the graphics processing unit.
On Apple's higher-end Macs, the Ivy Bridge platform could potentially also be used for a Retina Display branding, thanks to 4K display resolution support. That would give Apple the option to build a display that is 4,096 pixels across.

Another recent rumor has suggested Apple will switch back to Nvidia graphics with its new MacBook models set for release in 2012. The last MacBook Pro models to feature Nvidia graphics arrived in 2010 with a new proprietary graphics switching technology developed by Apple, but the new 13- and 15-inch MacBook Pros that debuted earlier this year with dedicated graphics completed the switch to AMD GPUs.
Rumors have pointed toward Apple redesigning its MacBook Pro lineup next year with an all-new chassis to replace the current form factor. There have also been suggestions that Apple is planning to expand its MacBook Air lineup by adding a new 15-inch model to join the existing 11.6- and 13.3-inch ultraportable notebooks.