Banner confirms iOS 6 appearance at WWDC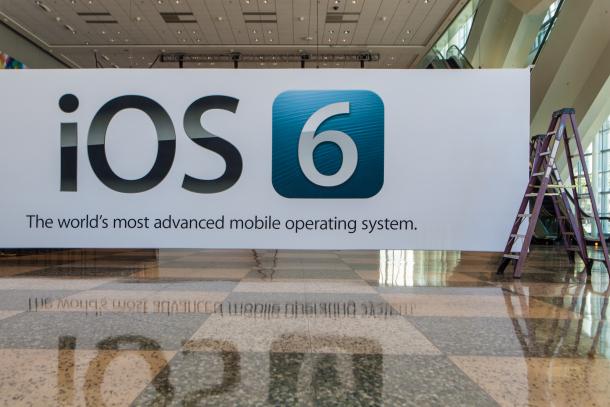 AppleInsider may earn an affiliate commission on purchases made through links on our site.
As preparations for Apple's WWDC hit full swing, banners being installed by workers at Moscone Center give some insight into probable conference highlights including iOS 6, Game Center and others.
A host of banners being installed on Friday, captured by an enterprising CNET photographer, tease passersby of the software and tech set to be unveiled, the most notable being a dedicated iOS 6 banner complete with new logo signaling that the mobile OS may see a formal debut next week.
Other promotional hangings tease what looks to be a revised Game Center for Apple's upcoming OS X Mountain Lion as well as possible added functionality to AirPlay, the wireless protocol used to connect iDevices to TVs and computers.
Workers started decking out the San Francisco convention center earlier this week when they put up a huge Apple logo on the glass windows that adorn the perimeter of the hall. It looks as though the internal installations are now taking shape, and the usually secretive company doesn't seem to be overly concerned with stealth this year as the banners installed thus far are not concealed as they have been in years past. This is not to say that Apple won't have something up its sleeve for WWDC as the company usually keeps its most exciting announcements like new hardware under wraps until the last possible moment.

WWDC iOS 6 banner. | Source: CNET
Along with iOS 6, Apple is expected to announce new laptops at WWDC and AppleInsider has learned that the company may be introducing an entirely new model to fill the gap between the MacBook Air and MacBook Pro.
It has been speculated that the iPhone maker will also debut a new iOS map app that will use proprietary technology to offer users an unparalleled photorealistic 3D experience. Apple is expected to end its reliance on Google Maps with the new app, further differentiating iOS from the internet search giant's mobile offerings.
Apple will be holding its annual conference from June 11 through June 15 and will kick off the festivities with a keynote on Monday at 10 a.m. Pacfic.