iOS 6 GM expected in early September ahead of new iPhone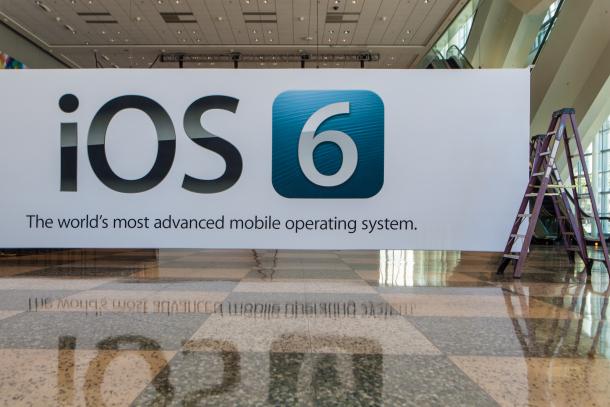 Apple will likely unveil the iOS 6 Golden Master in September early enough to release the next-generation iPhone that same month and generate "significant" sales of the device in the third quarter of calendar 2012, according to one insider.
Banners at the Moscone Center revealed last week that the Cupertino, Calif., company is gearing up to take the wraps off of iOS 6 at the Worldwide Developers Conference, which begins Monday. In keeping with earlier claims about iOS, Apple's signs contain the tagline: "The world's most advanced mobile operating system."
With beta releases of iOS 6 expected to be released to iOS developers shortly after the unveiling of the mobile OS on Monday, one proven analyst believes that the final release could be ready in three months.
"We expect Apple to unveil iOS 6 GM (Golden Master) in early September," KGI analyst Ming-Chi Kuo said in a note obtained by AppleInsider. "Based on the release schedule for iOS 6 GM, there is a very good chance iPhone 5 will start shipping also in early September."

WWDC iOS 6 banner. | Source: CNET
A September launch would give Apple the rest of the month to rack up sales of the device before the end of its 2012 fiscal year. Last year, the later-than-usual October launch of the company's annual iPhone release resulted in a slower September quarter that took Wall Street by surprise.
Kuo's note also included a list of the "major modifications" that KGI expects to see in iOS 6: greater integration with iCloud and Facebook, integration with iTunes Store and App Store "to some extent," improved Spotlight capabilities, updated user interfaces and an Apple map service to replace Google Maps.
AppleInsider reported last week that, according to Kuo, Apple's next-generation handset is likely to include the company's first change to the size of the device's screen. Kuo believes the sixth-generation iPhone will sport a taller 4-inch screen that will be stretched to a ratio of 16:9. The analyst also believes the new iPhone will be noticeably thinner and make use of an HD-resolution front-facing camera.
In addition to the iOS 6 announcement at WWDC, Kuo said he believes a new MacBook line will be Apple's "main weapon" at the conference, supplemented by a redesigneds iMac. He suggested that Apple may aim to release the products with OS X 10.8 Mountain Lion, which is due out this summer. However, Apple has yet to release a GM build of OS X Mountain Lion to developers, so if Apple were to release its new Macs with the new OS, they would likely not begin shipping until at least a few weeks after WWDC in order to give the company enough time to finalize the software.
Apple's highly-anticipated keynote kicks off on Monday at 10 a.m. Pacific. AppleInsider will have full, live coverage of the event and the rest of the conference.