Shipping times for Retina display MacBook Pro improve to 2-3 weeks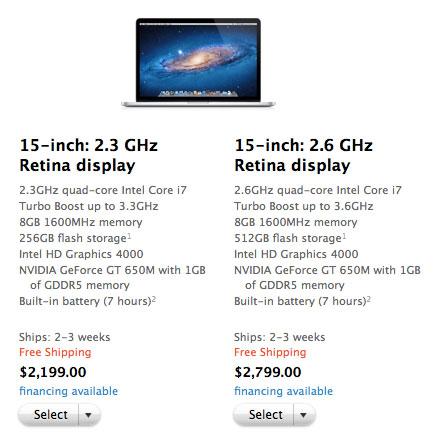 Apple has begun catching up with demand for its popular new MacBook Pro with Retina display, as estimated shipping times have improved to two-to-three weeks.
Shipping times advertised at Apple's online store for both models of the 15-inch Retina display MacBook Pro were shortened this week, and as of Friday, both the 2.3 gigahertz and 2.6 gigahertz models ship within two-to-three weeks.
The latest shipping estimate from the Apple Store is a slight improvement from the three-to-four weeks that were previously advertised. It's also the shortest estimated shipping time seen since mid-June.
The 15-inch MacBook Pro with Retina display was announced last month, and was heralded by Apple as "the most beautiful computer we have ever made." It takes design cues from the MacBook Air by ditching the optical disc drive and relying solely on flash memory, allowing it to have a thinner design while maintaining long battery life.
The standout feature of the new MacBook Pro is its 2,880-by-1,880-pixel Retina display that features 220 pixels-per-inch on the 15.4-inch screen. The new design also cuts glare by 75 percent by removing the glass cover found in previous models.
Apple's top-of-the-linenotebook also features two high-speed Thunderbolt ports, USB 3.0 connections, a dedicated HDMI port, and a built-in SD card reader. The 2.3-gigahertz model with 256 gigabytes of flash storage has a suggested price of $2,199, while the 2.6 gigahertz model with 512 gigabytes of flash storage runs $2,799.
Alternatively, the MacBook Pro with Retina display is also available and in stock at Apple Authorized Resellers. Prices through these resellers can be found included below.