Alleged next-gen iPhone logic board revealed in new photos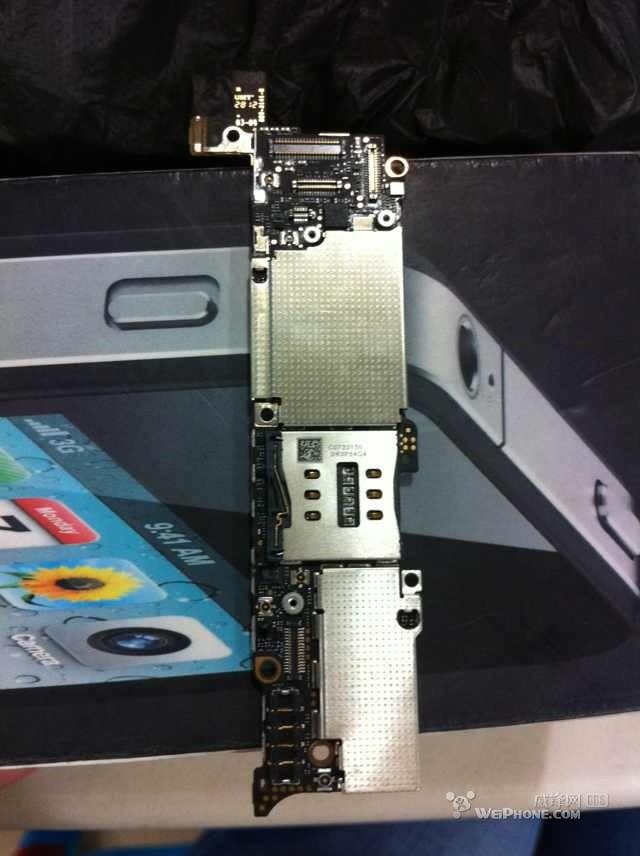 AppleInsider is supported by its audience and may earn commission as an Amazon Associate and affiliate partner on qualifying purchases. These affiliate partnerships do not influence our editorial content.
New photos claiming to show the logic board of Apple's next generation iPhone hit the web on Sunday and, if legitimate, are some of the first images of functional circuitry for the much-rumored handset.
The images come from Chinese language forum WeiPhone.com (via Nowhereelse.fr) and appear to show a never-before-seen iPhone logic board with EMI shielding covering most of the internal components. The forum member who posted Sunday's images also outed the iPhone 4S' logic board last year.
Lending credence to the part's authenticity is the screw hole placement, which matches up to screw anchors seen on a recent gallery of images that combined a number of leaked external components to form a "fully assembled" handset. Nowhereelse.fr put together a brief gif animation showing how the holes and anchors align.
While the part fails reveal much information as far as the exact internal circuitry being used, the various connectors that are shown, as well as the basic layout, appear to be in line with previously leaked images of alleged sixth-generation iPhone flex cables and sensor arrays. Also of note is the logic board's shape, which eschews the "L" configuration of the iPhone 4S for a more rectangular solution. In previous iPhone iterations, the bottom of the "L" carried a Wi-Fi and Bluetooth connectivity chip.
Purported next-gen iPhone logic board. | Source: WeiPhone.com
In comparison to the current iPhone 4S, the logic board will retain its positioning on the right side of the handset. An interesting change from past iPhones is the monolithic EMI shielding on the board's underside, which in previous generations was split into two or three separate sections.
The unit's SIM card tray slot can just barely be seen, however it is not possible to make out whether the logic board will employ the Apple-backed nano-SIM standard recently ratified by the European Telecommunications Standards Institute. Photos of what is believed to be a nano-SIM tray bound for the next-gen iPhone surfaced less than a week ago.
Apple is expected to announce the new iPhone, which is rumored to sport a larger 4-inch screen and possible LTE connectivity, at an as-yet-unannounced special event on Sept. 12.