AT&T to require new Mobile Share data plans for FaceTime calls over cellular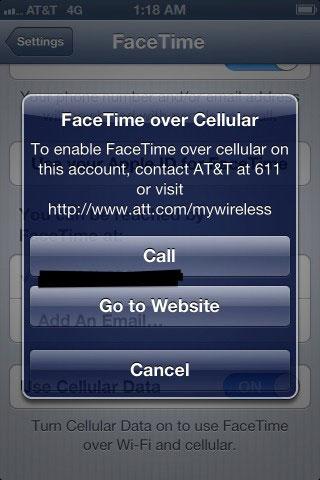 AT&T on Friday announced it will be limiting FaceTime over 3G and 4G networks to iPhone users who sign up for the carrier's upcoming Mobile Share plans, which are slated to launch later this month.
While the wireless carrier will be providing FaceTime for free over its network, the catch is that subscribers will have to add sign up for the new Mobile Share data plans announced earlier in August.
Oddly, AT&T said iPhone owners can still use FaceTime for free on Wi-Fi networks, though that particular feature is not under the control of wireless providers.
AT&T will offer FaceTime over Cellular as an added benefit of our new Mobile Share data plans, which were created to meet customers' growing data needs at a great value. With Mobile Share, the more data you use, the more you save. FaceTime will continue to be available over Wi-Fi for all our customers.
AT&T CEO Randall Stephenson in July said it was "too early" to talk about FaceTime over the company's network. The statement was made in response to a error message discovered in Apple's iOS 6 beta, prompting speculation the service would be fee-based.
In a subsequent report, Sprint noted it would be offering the feature for free when the next-gen iOS 6 launches this fall.
Speculation that FaceTime would be offered over cellular networks first began when a warning message in iOS 5.5.1 regarding 3G network data settings appeared to hint at the unannounced service.