Apple's OS X passes Windows Vista in worldwide usage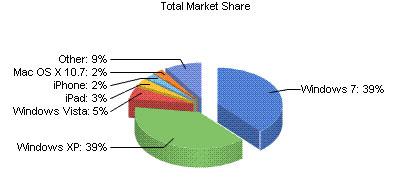 Total Web usage of Apple's OS X operating system has exceeded Microsoft's Windows Vista, while for the first time, Windows 7 has topped Windows XP to become the world's largest operating system.
The latest monthly data of desktop operating shares from Net Applications shows that Microsoft's Windows Vista fell in August to 6.15 percent of tracked Web usage. Meanwhile, Apple's latest operating system, OS X 10.8 Mountain Lion, grew to 1.34 percent of all tracked Web usage.
Apple's most popular Mac operating system remains OS X 10.7 Lion, which represents 2.29 percent of computers tracked on the Web. Combined with Snow Leopard, which accounted for 2.23 percent of usage, Leopard, which took 0.65 percent, the total collective share of OS X was 6.51 percent, besting the 6.15 percent held by Windows Vista.
Also on the list is Apple's OS X 10.4 Tiger, which first launched in April of 2005. It represented 0.15 percent of operating systems seen online.
Apple's share of devices is of course much greater when the iPad and iPhone are included. Net Applications found that the iPad accounted for 3.37 percent of Web traffic, while the iPhone was 2.42 percent.
Among other mobile platforms, Google Android 2.3 took 1.02 percent, Android 4.0 had 0.48 percent, Android 2.2 accounted for 0.21 percent, BlackBerry was 0.18 percent, and Apple's iPod took 0.16 percent. The smallest share listed by Net Applications was Amazon's Kindle Fire, which accounted for 0.04 percent of devices.
At the top of the list and besting Windows XP for the first time was Microsoft's Windows 7, with a 38.54 percent share that put it ahead of the 38.46 percent held by Windows XP. Also on the list was Windows 8, Microsoft's forthcoming operating system upgrade, which was found to be in testing by 0.21 percent of PC users.