Google's Eric Schmidt says Android 'clearly' winning against Apple in phones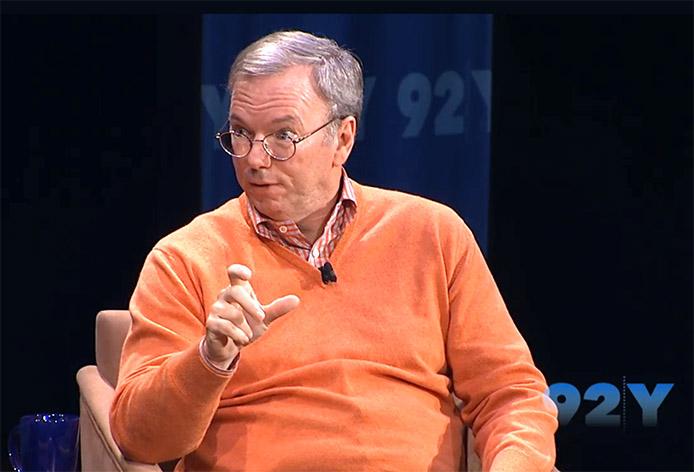 AppleInsider is supported by its audience and may earn commission as an Amazon Associate and affiliate partner on qualifying purchases. These affiliate partnerships do not influence our editorial content.
With a wide range of devices at numerous price points running the Android operating system, Google's mobile platform is "clearly" winning over Apple's iOS, Eric Schmidt believes.
Schmidt, the chairman of Google, made the comments in an interview with Bloomberg published on Wednesday. He noted that customers are activating more than 1.3 million Android devices every day, while the latest data from Gartner gives Android a 72 percent of the smartphone market, compared to Apple's 14 percent.
"This is a huge platform change," Schmidt said. This is of the scale of 20 years ago — Microsoft versus Apple. We're winning that war pretty clearly now."
Of course, while Android controls the lion's share of the smartphone market, its dominant position has not translated into dollar share — a measure where Apple is the clear winner. Google gives away the open-source Android operating system to its hardware partners, in hopes that a market dominated by Android will drive demand for Google's services supported by mobile advertising.
Schmidt's comments have been publicized just after Google CEO Larry Page spoke with Fortune about the highly competitive mobile landscape. Page admitted that "monetization is at an early stage" with the Android platform.
Google Chairman Eric Schmidt talking to AllThingsD in October. | Source: AllThingsD.
Schmidt explained that Google's strategy is to make a "bigger pie," making Android as widely available as possible, in an effort to hook users in to Google's online services.
"We will end up with a not perfectly controlled and not perfectly managed bigger pie by virtue of open systems," Schmidt said.
While Google is playing the long game in hopes of boosting revenue from Android, Apple's iPhone accounts for nearly three-quarters of the total operating profit in the mobile industry, according to data compiled earlier this year. Apple's control of the industry's profits came with just an 8.8 percent total unit share among mobile devices sold worldwide.
Schmidt was a member of the Apple Board of Directors from 2006 until 2009, when he was forced to step down due to growing competition between Google and Apple in the mobile space. At the time, Schmidt was the CEO of Google, but he eventually relinquished that position in early 2011 to allow Page, a company co-founder, to take over.