HP announces $169 Android-based Slate 7 tablet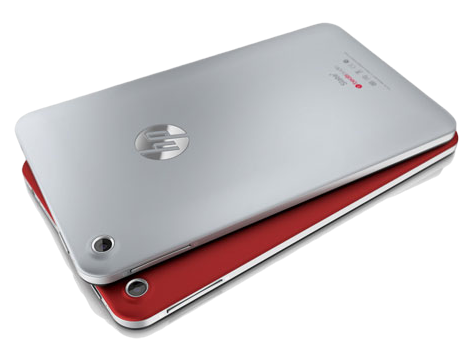 Windows PC maker Hewlett-Packard announced on Monday it will get into the Android tablet market with a new 7-inch device priced at $169.
The HP Slate 7, announced at the Mobile World Congress in Barcelona, Spain, is marketed as an "affordable Android Jelly Bean consumer tablet." With a 7-inch diagonal screen and weight of 13 ounces, it will also be the first tablet with HP's embedded Beats Audio.
The device, which will launch in the U.S. in April, will be powered by a 1.6-gigahertz ARM dual-core Cortex-A9 chip, and its display has High-aperture-ratio Field Fringe Switching, which offers wide viewing angles. The tablet will also pack a 3-megapixel rear camera and forward facing VGA camera.
"To address the growing interest in tablets among consumers and businesses alike, HP will offer a range of form factors and leverage an array of operating systems," said Alberto Torres, senior vice president, Mobility Global Business Unit, HP. "Our new HP Slate 7 on Android represents a compelling entry point for consumer tablets, while our ground-breaking, business-ready HP ElitePad on Windows 8 is ideal for enterprises and governments. Both deliver the service and support people expect from HP."
HP also plans to push the "Google experience" with the newly announced HP Chromebook, a notebook running Google's Chrome OS. HP's new products aim to provide customers "easy access to Google Mobile services."
The news comes as LG announced it has acquired webOS from HP and will use it to power its own high-definition television sets. HP first acquired the lightweight webOS platform when it purchased smartphone maker Palm for $1.2 billion in 2010.
HP then developed webOS for tablets and introduced the TouchPad in 2011. But the TouchPad got off to a slow start and the company quickly abandoned the hardware that was originally intended to compete with Apple's iPad.
Now with the announcement of the Slate 7, HP has revealed its plans to embrace both Microsoft's Windows 8 and Google's Android with next-generation touchscreen devices. Priced at $169, the Slate 7 will undercut Google's Nexus 7 and Amazon's Kindle Fire HD in the 7-inch tablet market, while it's $10 more than Amazon's entry-level Kindle Fire without a high-resolution screen.