HP begins TouchPad clearance with $99 fire sale [u]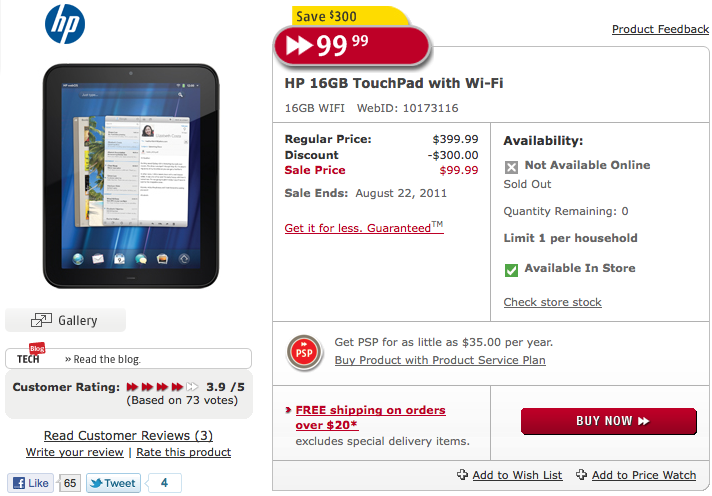 Resellers have begun clearing HP TouchPad inventory with a drastic sale that cuts the price of 16GB and 32GB models to $99 and $149, respectively, just one day after the device was discontinued.
Update: webOSroundup reports that HP is offering either a full refund or a credit for the price difference to earlier TouchPad buyers. Also, an HP spokesperson has said that all TouchPads are sold out in the U.S., but more are coming soon.
The company reportedly sent a memo to its affiliates announcing the $300 price cut, which is on top of a $100 price cut that went into effect earlier this month, as noted by PreCentral.net.
"HP will be lowering the price of the TouchPad beginning Saturday 8/20/11. This is the lowest price ever for the TouchPad so please post it as soon as it goes live," the alleged memo read.
Though the sale is set to begin on Saturday, some resellers, including Best Buy Canada and Future Shop, are already listing the new pricing, though both appear to have quickly sold out of the device.
The discounts are likely fueled by a $100 million write-off that HP took for unsold TouchPad inventory. Resellers, including Best Buy, were said to have complained to HP about the overstock, refusing to pay for the hundreds of thousands of leftover units.
The world's largest PC maker announced Thursday that it would discontinue the webOS smartphone and tablet business that it acquired by purchasing Palm last year. The company is also considering spinning off its high-volume, but low-profit PC business in order to focus on software and services.
The cancellation of the TouchPad has been viewed as a major victory for Apple and the iPad, with some pundits reiterating their belief that the "tablet market" is really only an "iPad market."
As far back as March, J.P. Morgan analyst Mark Moskowitz warned that non-iPad tablets could face a "bubble burst" as potential excess supply could result in overstock. In June, he reported that competitors appeared to have reduced build plans after weak sales gave them an "early dose of reality."
Earlier this week, sources within the tablet manufacturing industry suggested that upcoming price cuts from vendors could trigger a price war as non-iPad tablet makers slashed margins in order to gain price advantages over competitors.