Higher dividend viewed as 'safety net' that could help turn around Apple stock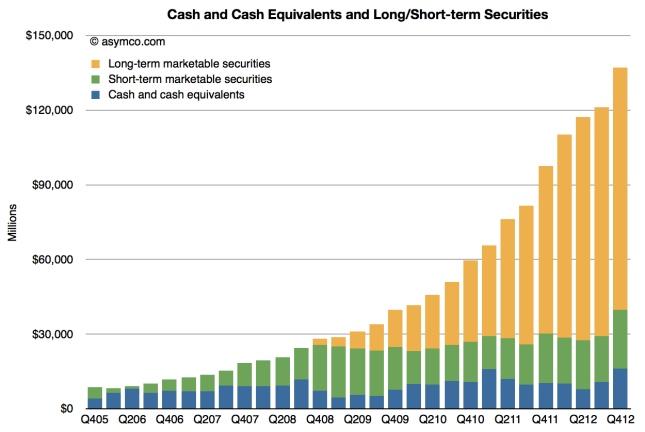 AppleInsider is supported by its audience and may earn commission as an Amazon Associate and affiliate partner on qualifying purchases. These affiliate partnerships do not influence our editorial content.
It's been exactly one year since Apple announced it would begin paying a quarterly dividend of $2.65 per share. Now, in light of the company's recent stock woes, calls for Apple to increase that dividend are growing.
Brian White of Topeka Capital Markets outlined on Tuesday his suggestions for what Apple could do to boost its stock price. Unlike some analysts who have become bearish on Apple in light of the stock's recent struggles, White remains optimistic with an $888 price target that's nearly double the company's current share value.
Apple's growing cash, cash equivalents, and securities, via Asymco.
His plan starts with a larger cash distribution that he believes would create a "safety net" around Apple's stock. In what he referred to as "phase one," he believes Apple should increase its quarterly dividend to between $3.75 and $5.00 per share.
"At the same time, Apple has plenty of room to ramp up the stock repurchase program to as high as $100 billion as part of a five-year initiative," he said. "If debt is part of the equation, investors will be more than happy to see Apple assume leverage to pay out more cash."
For "phase two" of White's proposal to turn AAPL stock around, he believes the company must "put a trough in its profit cycle." He expects that to come in the current quarter, where he is projecting a 19 percent year over year decline before returning to positive territory in the following quarter.
Finally, "phase three" calls for Apple to "open up new growth opportunities." White cited markets where the company is currently missing out, such as low-end smartphones and a partnership with the world's largest carrier, China Mobile, as potential examples.
In addition, he also believes Apple should enter into totally new product categories, including a full-fledged Apple television set and a smart watch for added growth.
White has been a vocal proponent of Apple boosting its dividend payout in recent weeks. Earlier this month he said he believes the "timing could be right" for Apple to announce a larger dividend, considering that the company's annual shareholder meeting has just concluded, and a push for preferred share stock from hedge fund manager David Einhorn has faded away.
Discussion of a dividend has also grown as Apple's cash pile continues to amass, reaching $137 billion at the end of the previous quarter. One new projection this week found that Apple's cash and investments could reach $170 billion this year.