Apple asks developers to localize apps, opens Chinese Support forum in international push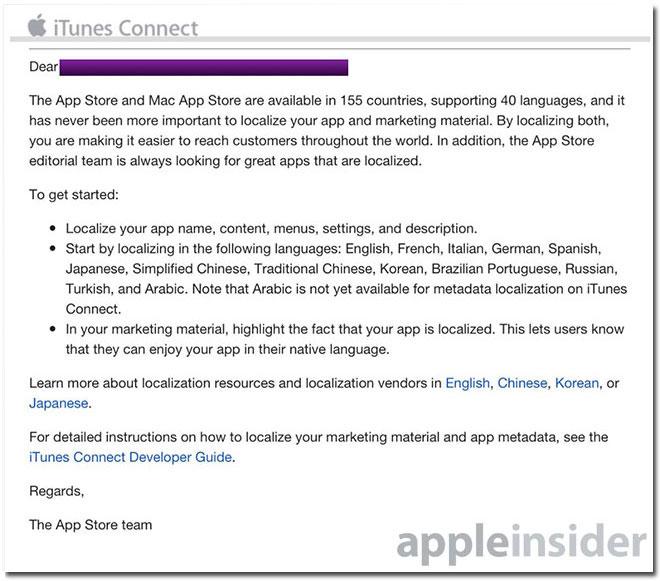 In what appears to be a move toward further internationalizing its Internet services and app ecosystem, Apple earlier this week issued a letter to developers requesting they localize their apps, and launched a new Chinese language version of its Support Communities forum.
Apple's App Store and iBookstore teams contacted content creators through iTunes Connect this week, sending out an email touting the advantages of app and marketing localization. In addition to the software and e-book efforts, the company debuted a localized asset of its own with the new Chinese language Support Communities.
In the letter to iTunes Connect members, Apple noted that the App Store and Mac App Store are available in 155 countries with support for 40 languages, saying that "it has never been more important to localize your app and marketing material."
According to AppleInsider reader Gregg, the emails were sent out on Wednesday. "The App Store editorial team is always looking for great apps that are localized." - from Apple's letter to developers
One day prior to the letter drop, Apple rolled out access to a Chinese Support Communities forum, giving Chinese speaking users a chance to help each other using their native tongue. As can be expected from a service that launched just days ago, the forums are still fairly empty, with only a handful of members signed up to dish out advice. This is likely to change, however, just as the original Support Communities, itself an upgrade to the old Apple Discussions board, grew to support thousands of users since its launch two years ago.
While mere speculation, the introduction of the Chinese language forum may be linked to an hours-long Support Communities outage that occurred late last month. The downtime was chalked up to routine maintenance as no changes were discovered, though Apple could have been modifying the service's backend to support the new portal, as the Chinese language site appears to be using the same Apple.com domain as the English version.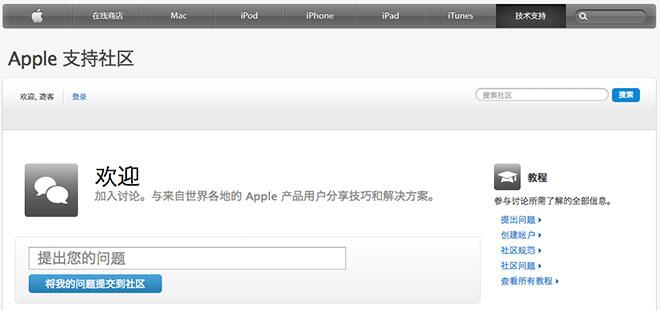 The two developments suggest Apple is making a move to bolster its international presence. With China being a hugely important market with millions of addressable consumers, the company's actions may be in preparation for an expected boom in iOS device sales.
Currently, Apple is partnered with two Chinese wireless telecoms, but has yet to reach an official deal with the world's largest carrier China Mobile. Rumors that a next-gen iPhone, and possibly a low-cost unit aimed at developing markets, will launch on the cellular giant's network have been ramping up since Apple CEO Tim Cook reportedly met with company during a January visit to China. The iPhone has long been expected to debut on the carrier, but a deal has yet to materialize.
Most recently, Apple was the target of an attack from state-run media outlets, which claimed the iPhone maker's Chinese warranty policies were not in line with those offered to the rest of the world. Cook responded by issuing an apology letter explaining the situation and promising reform, a rare departure from Apple's traditionally tight-lipped media policies.
The letter made an impact, turning the Chinese press from vitriolic enemy to supporter in one day.