Samsung passes Apple's iPhone in smartphone Web usage - report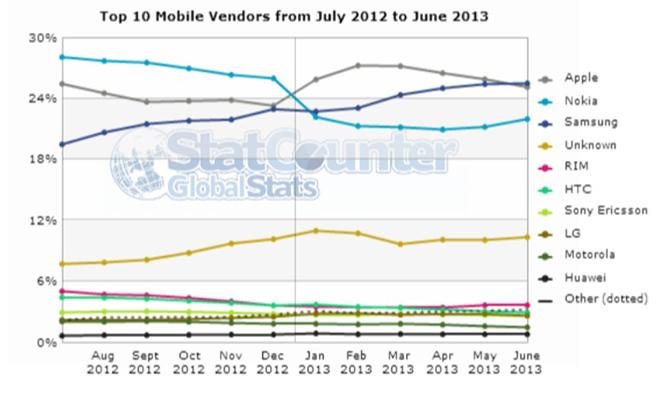 AppleInsider may earn an affiliate commission on purchases made through links on our site.
A new study has found that more people in the world are using Samsung-made smartphones to access the Internet than are using Apple's iPhone, marking the first time that has been the case.
StatCounter's latest Internet Wars Report (PDF) found that, in the month of June, Samsung devices accounted for 25.43 percent of smartphone Internet usage, compared to 25.09 for Apple's iPhone devices. Samsung has moved into the leadership position in smartphone web use over the course of the last year, which has seen the South Korean tech giant's share grow from 19.46 percent just 12 months ago.
Apple's share over the same period has shrunk from 25.43 percent. Earlier this year, Apple passed Nokia in terms of mobile web usage. In the United Kingdom and the United States, StatCounter found, Apple is still the clear leader in smartphone web usage.
A look back at StatCounter's trend line shows the two rivals' graphs gradually converging since about February of this year. That trend became more pronounced in over the past two months, likely due to the strong sales of Samsung's new Galaxy S4 flagship model.
Samsung is also helped along by its scattershot approach to producing devices. Whereas Apple so far releases only one model of iPhone per year, Samsung's models can number in the dozens, hitting an array of price points, form factors, and operating systems.
While Samsung gained, other manufacturers suffered. Apple saw its share decline slightly, but BlackBerry (Née RIM) continues to struggle mightily and Nokia's nosedive appears only to have stalled, but not necessarily reversed. The month of June saw Nokia trending slightly upward, but whether the Finnish phone maker — which once sat atop the mobile world — can maintain that momentum is questionable.
StatCounter's report also looked at operating system market share, finding that Microsoft's Windows 7 is the top platform in the world, with about 52.62 percent of Internet usage. Windows 8 has is approaching six percent, conforming to prior measures of that system's progress.
Apple's OS X sits at 7.4 percent, according to StatCounter. StatCounter counts the iPad as a separate category of iOS, the report notes. Considering Apple's bestselling tablet in that fashion, the iPad reportedly accounts for about 4.2 percent of "non-mobile" Internet traffic.