Supply chain sees weak demand for notebooks, expects big things from Apple's fifth-gen iPad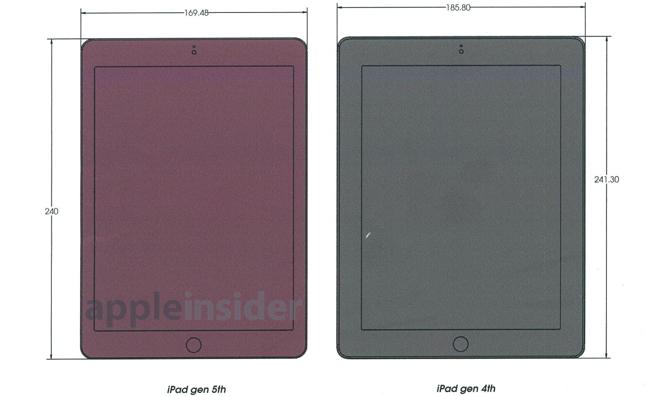 As the PC market continues to slump, the outlook for traditional notebooks this holiday season is weak, while tech supply chain sources in Taiwan reportedly expect a "major upgrade" to Apple's full-size iPad to arrive this month.
Analyst Brian White of Cantor Fitzgerald is currently on a tour of technology suppliers in China and Taiwan. For day two, he met with an LCD panel maker, a display technology supplier, a component maker, and an LCD TV vendor in Taipei.
In his meetings, White was told by a leading display technology supplier that while the overall tablet market is softening, big things are expected from Apple's fifth-generation iPad.
Most of what White was told aligns with has already been expected about Apple's next 9.7-inch iPad: It'll have a lighter, thinner design akin to the iPad mini, representing the first major redesign to the tablet in a few years.
White's sources made no mention of a second-generation iPad mini, leading the analyst to speculate that the device may not launch this month. He expects the next iPad mini to sport a Retina display using Sharp's IGZO technology.
His take aligns with another recent report that suggested Apple's next iPad mini may not debut in 2013 due to supply constraints. If the device does debut this year with a Retina display, as is generally expected, Reuters claims it will be in extremely short supply.
Apple's iPad refresh may be able to once again capitalize on a weakening PC market, as the supply chain indicated to White that notebook sales are soft. Sales of traditional PCs have been slumping as consumers have instead opted to buy tablets, with Apple's iPad lineup carrying the lion's share of the market.
Finally, in his talks with LCD TV makers, supply chain sources also revealed weakness in the HDTV market. For years, Apple has been rumored to be working on its own television set, dubbed by observers as the "iTV."
A source who spoke with White, and who represents a competitor to a potential Apple television, said they have been told that the so-called "iTV" is "not yet ready for primetime." That person expects Apple to unveil its television set sometime in 2014.