Miniature model offers detailed look at Apple's 'spaceship' Campus 2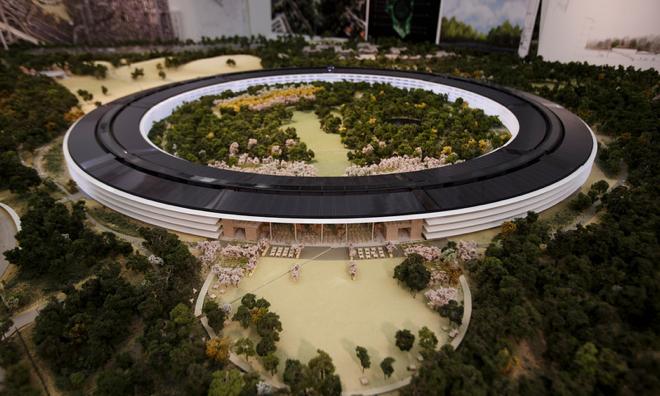 Apple's proposed new corporate campus in Cupertino, Calif., has been laid out in three dimensions, with a new miniature rendering commissioned by the company to show off the facilities.
Apple granted an exclusive look at the rendering of its proposed headquarters to the San Jose Mercury News. Executives from the company also spoke with the newspaper about the project, which they hope will be approved by the Cupertino City Council this Tuesday.
The project is laid out in what was described as a "living-room sized model of the building," showing great detail on what Apple promises to do with its new circular facility. Chief Financial Officer Peter Oppenheimer spoke of the "energy and the love and the attention to detail" that the company has put into its proposed plans.
Most recently, the project was given the go-ahead by the Cupertino City Planning Commission last week, setting the stage for its appearance before the city council this week. The council is widely expected to grant final approval at its Oct. 15 meeting.
Also showing off the miniature model to the media was Dan Whisenhunt, director of real estate and facilities for Apple. He touted the green and sustainable nature of the project, which will convert a current location that is mostly asphalt into an environmentally friendly facility that will be 80 percent open space and parkland.
"This will be one of the most environmentally sustainable developments on this scale anywhere in the world," Whisenhunt said. "A building like this will use 30 percent less energy than a typical corporate building in the Valley. And that's 100-percent renewable energy, which is unheard of on this scale."
The proposed facility would be located between North Wolfe Road and North Tantau Avenue, north of the Juniper Serra Freeway and south of East Homestead Road. The company hopes to complete it in 2015.
The Campus 2 project was first presented in 2011 by late Apple co-founder Steve Jobs in what proved to be his last public appearance. Apple's co-founder said at the time that he believed Apple could "have a shot at building the best office building in the world. I think it could be that good." He also said the facility would look "a little like a spaceship landed."