Apple announces free shipping for holiday purchases, order deadlines for Dec. 24 delivery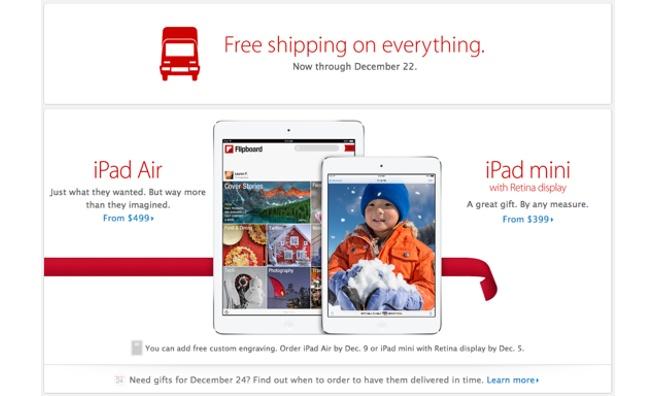 Apple on Monday posted to its Online Apple Store a list of deadline dates by which buyers must get in their orders to guarantee delivery by Christmas Eve, while also announcing free shipping on all orders during the holiday shopping season.
As it has done in the past, Apple is offering free standard shipping on all orders placed through its online store from now until Dec. 22, while late shoppers will likely be able to take advantage of no-cost next-day air shortly thereafter.
In addition to the free shipping fees, which are usually reserved for purchases over $50, Apple put up its yearly order deadlines for guaranteed Dec. 24 delivery. Currently, standard configuration Macs, iPhone 5c, non-Retina iPad mini, non-engraved iPad 2 and all iPods are showing an order deadlines of Dec. 18.
Hot-selling items like the iPhone 5s and iPad Air need to be ordered by Dec. 12 and Dec. 9, respectively, while those looking to buy an iPad mini with Retina display must get their order in by Dec. 5.
Apple has been facing supply constraints for the iPhone 5s since launch, though the handset has become more widely available as production begins to meet demand. The Retina iPad mini, however, continues to see stock outs in some brick-and-mortar Apple Stores, while the company's online storefront is quoting availability at 5 to 10 days.
In a report earlier on Monday, Deutsch Bank analyst Chris Whitmore said a weekend poll of Apple Stores, wireless phone carrier outlets and big-box retailers showed solid inventory for "robust" iPhone 5s demand. The poll played out differently for the iPad mini with Retina display, however. Some 13 percent of Apple Stores saw stock outs of the Wi-Fi version of the device, while 20 percent ran out of cellular models.