First wave of Mac Pros begin shipping for Dec. 30 delivery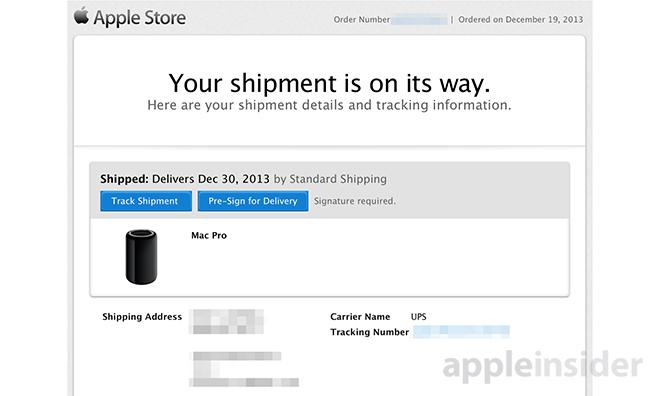 Apple on Monday began shipments of its newly redesigned Mac Pro to those who ordered the desktop in the first minutes of availability, with a delivery deadline just squeaking by a self-imposed December deadline.
Reports are coming in that Apple has initiated shipments of base configuration Mac Pros for customers who were able to place orders when sales went live last week. Currently, models shipping include the $2,999 quad-core model and $3,999 6-core version.
It is unknown at this time if built-to-order configurations are also shipping, but at launch, those machines were quoted with ship-by dates running well into January. Some versions, especially high-end models with maxed-out specifications, started with February delivery dates from the outset.
Barring any shipment hiccups, Apple will just make a self-imposed December deadline it announced in October, promising the pro-level machine would reach consumers by the end of the year.
Apple is apparently seeing constrained supply of its radically redesigned professional-level computer, as its Online Apple Store now shows February delivery dates even for standard base model configurations. BTO models are also quoted as being available to ship by February, though a specific date is not given, suggesting production has not yet ramped to full capacity.
The limited Mac Pro availability may be attributed to Apple's "Made in USA" efforts, which have the desktop being manufactured at domestic plants in Texas instead of the usual Far East partner factories.
With the machines not yet in the hands of consumers, Apple already issued a Mac Pro EFI update to squash system-level bugs when the units finally do arrive. The company is also rolling out updates to allow its pro apps to take advantage of the Mac Pro's advanced hardware architecture.