Intel CEO says relationship with Apple remains positive, companies are growing 'closer'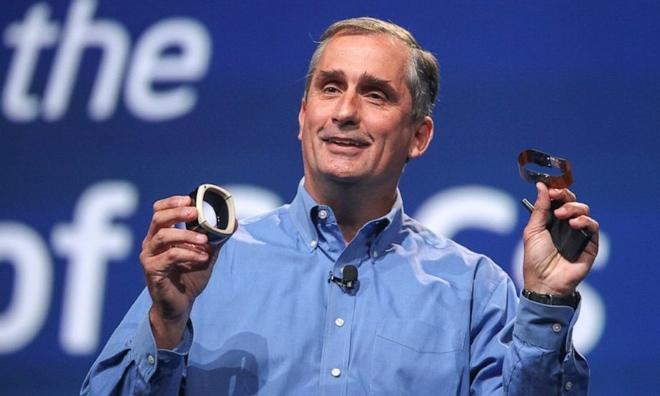 AppleInsider is supported by its audience and may earn commission as an Amazon Associate and affiliate partner on qualifying purchases. These affiliate partnerships do not influence our editorial content.
Intel Chief Executive Brian Krzanich, who has served as head of the chipmaker for less than one year, was asked on Wednesday about his company's relationship with Apple, and responded that the two parties continue to "grow closer" as time progresses.
Intel CEO Brian Krzanich shows concept devices running new Quark CPUs. Image via ABC News.
Krzanich took part in an Ask Me Anything question-and-answer session on Reddit, in which he was asked about a range of subjects related to his position at Intel, where he has been CEO since last May. One user asked Krzanich how close Intel's relationship is with Apple, and if it has changed since the company moved its Mac lineup to Intel processors nearly a decade ago.
"We've always had a very close relationship with Apple and it continues to grow closer," Krzanich shared. "Sure (it's) grown close over the years, especially since... they started to use our technology in their systems."
"We've always had a very close relationship with Apple and it continues to grow closer." - Intel CEO Brian KrzanichThe CEO went on to explain that Intel is always trying to forge a closer relationship with its partners. He shared a bit of advice from former Intel Chief Executive Paul Otellini, who told him that the company wins when its end customers win.
Intel is the largest semiconductor maker in the world, providing the central processors found in most Windows PCs as well as all of Apple's Macs. But while Intel is the exclusive chipmaker for the Mac, the company has had a sometimes contentious relationship with Apple.
That's largely stemmed from the fact that Apple uses ARM-based processors, and not Intel silicon, for its wildly popular iPhone and iPad lineups. Otellini revealed last year as he exited Intel that his company had the opportunity to be a part of Apple's first iPhone, but that he decided against moving forward with what would have been a winning bid.
Spurned by Intel, Apple instead turned to Samsung, which has built all of the processors for Apple's iPhone and iPad to date. But Samsung has also in the subsequent years become a major competitor to Apple, which has fueled speculation that the iPhone maker is looking to move its chip production away from Samsung.
And with ARM-powered smartphones, tablets and other devices flooding the market, Intel partner Altera will begin manufacturing third-party ARM chips this year. Industry watchers view the move as a major decision, as Intel's own Atom chips are intended to compete with ARM-based processors like Qualcomm's Snapdragon and Apple's A-series CPUs.
That's helped to fuel speculation that Intel could begin building custom ARM chips for Apple in the future, as the Cupertino, Calif., company looks to lessen its reliance on competitor Samsung.
Beyond Apple, Krzanich was also asked on Wednesday whether he uses any wearable technology, an emerging market many expect to see significant growth this year. In response, the Intel CEO revealed that he currently uses two devices, one of which is an internally developed Intel device that he can't disclose any more details about.
The fact that Krzanich wears the device apparently on a daily basis may suggest that Intel has a near-finished wearable device it could launch this year. Numerous rumors have suggested Apple will launch a wrist-worn, fitness and health focused "iWatch" this year.
On the wearable front, Intel has invested in heads-up display maker Recon Instruments, and is also sponsoring an innovation challenge to bring wearable technology to life over the next year. Last year, the company also announced the Quark, an embedded processor that it hopes will fuel the next generation of wearable devices.