Led by Apple Inc. iPhone, smartphones now account for 87 percent of U.S. handsets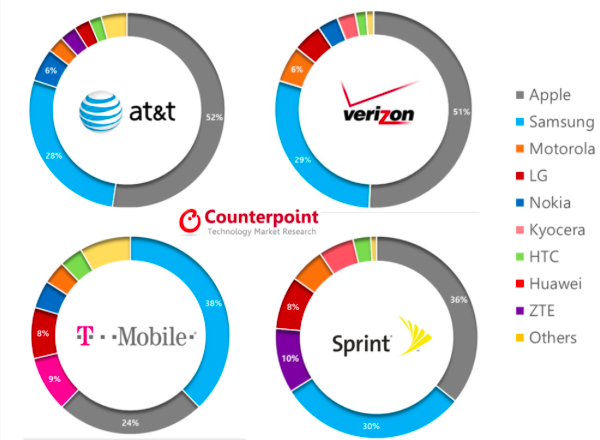 New research by Counterpoint indicates that 87 percent of Americans upgraded to smartphones by the end of March, with Apple remaining the top vendor.
Counterpoint's Market Monitor quarterly tracker for Q1 2014 pegged smartphone growth at 7 percent over the previous year.
While Samsung sold the most handsets, Apple remained the top vendor of U.S. smartphones. Counterpoint Research Director Neil Shah told AppleInsider that Apple's iOS claimed 36.9 percent of U.S. smartphones sold in the quarter, outside of the Android (59.2 percent), Windows Mobile (3.6 percent) and Blackberry (0.3 percent) sales that analyzed by the firm.
Apple accounted for the largest share of smartphones for three of the top four U.S. mobile carriers: 52 percent at AT&T, 51 percent at Verizon Wireless, and 36 percent at Sprint, while taking the second place spot behind Samsung on the more value-oriented T-Mobile/Metro PCS with 24 percent.Apple remained the top vendor of U.S. smartphones
Counterpoint noted that among all U.S. smartphones, 75 percent were LTE, and added that Apple and Samsung together accounted for 70 percent of those LTE shipments.
Following the release of iPhone 5 in late 2012, Apple rapidly became the leading vendor of American LTE smartphones, despite arriving to the LTE party nearly two years behind Android.
Parallel data echoes the same findings
Earlier this month, comScore's MobiLens report presented similar data that assigned Apple 39 percent of U.S. smartphone sales for the quarter ending in March.
Data from comScore indicated that Apple maintained 2.7 percent growth in U.S. market share over the previous quarter, while Samsung's share grew by only 0.7 percent and the other vendors in the top five (HTC, Motorola and LG) each lost share.
First quarter data from Canaccord Genuity analyst T. Michael Walkley similarly indicated Apple's iPhone 5s remained the top selling phone on all four U.S. carriers.
In terms of measurable use, Chitika Insights web traffic report for April assigned Apple's iOS platform a 53.1 percent majority of all smartphone web traffic, while all Android devices combined amounted to just 44.5 percent, and Windows Phone and Blackberry combined took the remaining 1.8 percent.