Apple, Samsung shed smartphone share in Q2 as market continues to explode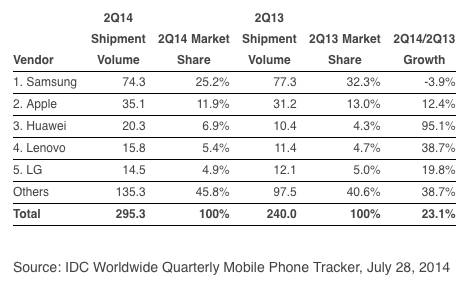 AppleInsider may earn an affiliate commission on purchases made through links on our site.
Global smartphone shipments increased by nearly 25 percent year-over-year, new data released Tuesday indicates, with Chinese vendors accounting for the lion's share of the growth at the expense of established heavyweights Apple and Samsung.
Despite moving some 35 million iPhone units in the second quarter, Apple's slice of the smartphone market shrunk from 13 percent one year ago to 11.9 percent in the most recent period, according to market research firm IDC. Rival Samsung found itself in an even worse position, dropping more than 7 percentage points year-over-year to finish with 25.2 percent of the market.
Apple's sales are thought to have been restrained somewhat by consumers who elected to wait for the next-generation iPhone before purchasing — a sentiment echoed by Apple chief Tim Cook on the company's most recent earnings call.
Samsung's fall is especially troubling given that the measured quarter included the release of the company's new flagship Galaxy S5. Despite the high-profile launch, Samsung shipped some 3 million fewer handsets this year than in the year-ago period.
Chinese brands were the big winners in the second quarter, helped along by the still-significant growth from the domestic market. Huawei grew shipments by some 95.1 percent, while Lenovo posted a 38.7 percent increase.
"As the death of the feature phone approaches more rapidly than before, it is the Chinese vendors that are ready to usher emerging market consumers into smartphones," IDC research manager Melissa Chau said in a release. "The offer of smartphones at a much better value than the top global players but with a stronger build quality and larger scale than local competitors gives these vendors a precarious competitive advantage."
It should be noted that IDC's methodologies have been called into question in recent months, as the firm's predictions often differ significantly from reported numbers.