Study: Higher iPhone resale value in US and China suggests strong demand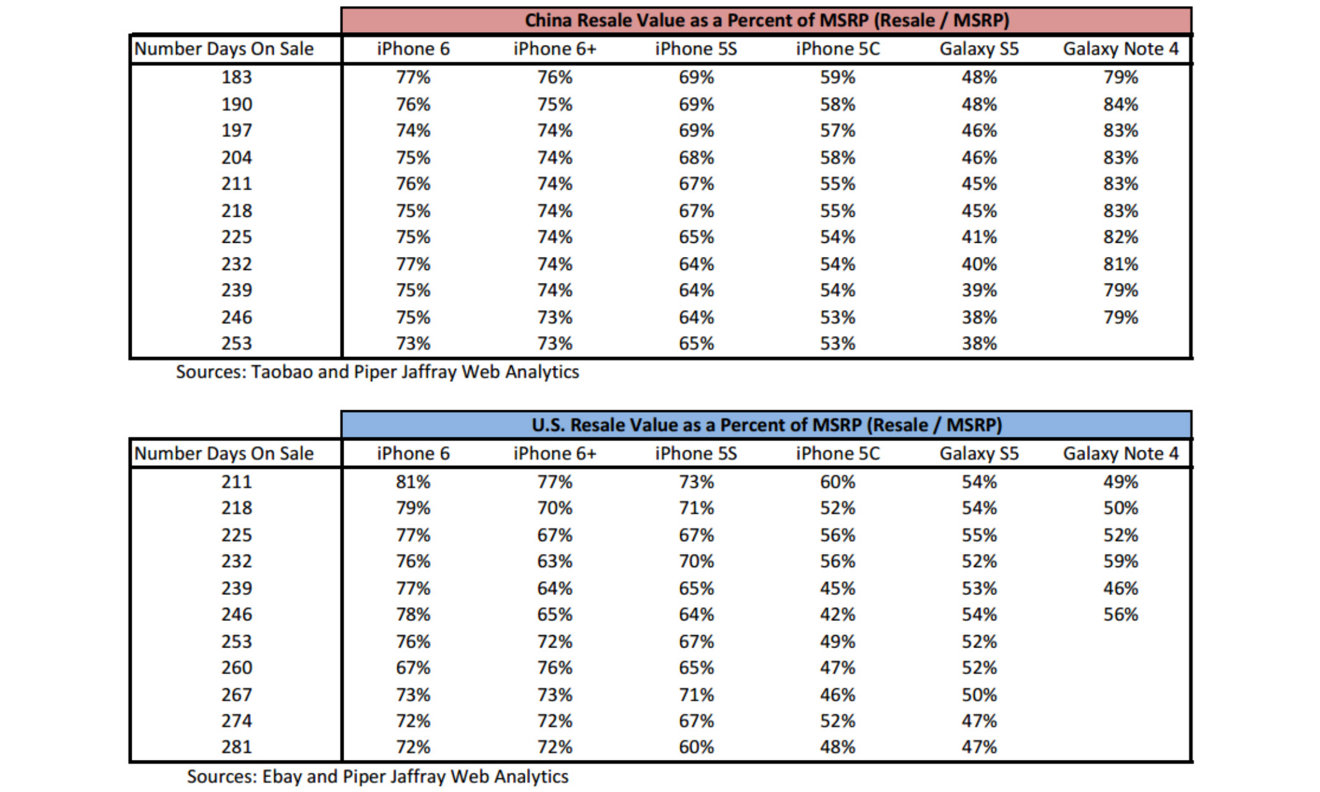 Fresh data shows Apple's latest iPhone 6 and 6 Plus are reselling at comparatively higher prices than last year's iPhone 5s and 5c models did during the same post-launch period in 2014, suggesting demand for the handset has not waned.
Investment bank PiperJaffray recently studied iPhone resales on eBay in the U.S. and found iPhone 6 and 6 Plus units going for 72 percent of their original retail value some nine months after launch. By contrast, iPhone 5s and 5c sold at a respective 65 percent and 53 percent of retail during the same window last year.
A similar trend was discovered in China, where iPhone 6 and 6 Plus models on sale through online shopping site Taobao went for 73 percent of new retail value eight months after launch. Those statistics compare to 65 percent and 53 percent for iPhone 5s and 5c over the same period, respectively.
In a note to investors, PiperJaffray analyst Gene Munster cautioned that extrapolating iPhone demand from resale value is "not a perfect science," but said the results are an encouraging sign of healthy demand. Munster believes Apple's handset will continue to gain momentum in the high-end smartphone segment despite stiff competition expected to arrive in December.
The analysis bodes well for Apple, which sold a record 35.2 million iPhones in third fiscal quarter of 2014. Apple's larger-screened iPhone 6 and 6 Plus models are have done their share of record smashing since a market debut last September. In the first fiscal quarter of 2015, Apple blew away expectations with 74.5 million iPhone sales, and in the June quarter sold a record 61.2 million units.
PiperJaffray has tracked eBay auctions and Taobao prices for iPhones, as well as a variety of Samsung Galaxy devices, since 2013. To determine a fair value model, the firm tallies up the last 50 phones sold each week and creates a price index by comparing average sale price against new retail value.