Apple's 3D Touch displays make iPhone 6s, 6s Plus almost 11% heavier than previous models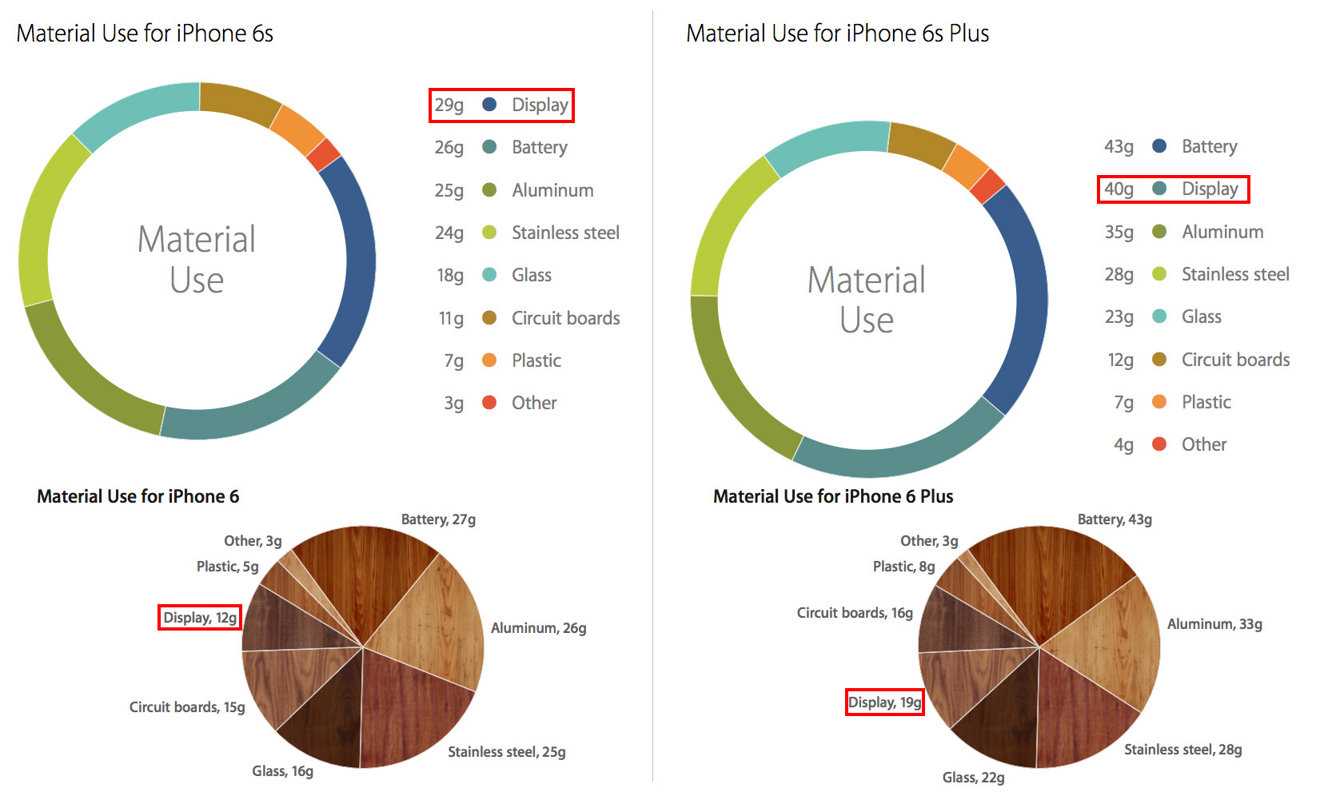 According to Apple, 3D Touch display technology integrated into the new iPhone 6s and 6s Plus accounts for the bulk of an 11 percent increase in weight over last year's models, not the use of 7000 series aluminum as some have speculated.
The findings were uncovered in Apple's environmental reports for the iPhone 6s and 6s Plus, which break down materials used by respective component weight. The Verge was first to spot the additional tech specifications.
As seen in the charts above, the 3D Touch display comes in at 29 grams for the 4.7-inch iPhone 6s and 40g for the larger 5.5-inch iPhone 6s Plus (iPhone 6s, iPhone 6s Plus). That's more than twice as heavy as the 12g and 19g assemblies found in iPhone 6 and 6 Plus, respectively.
As a whole iPhone 6s weighs in at 143g, or 14g heavier than the 129g iPhone 6, while the 192g iPhone 6s Plus is a full 20g heavier than its predecessor. Not counting glass, which is another heavy iPhone component, 3D Touch assemblies in iPhone 6s and iPhone 6s Plus account for a respective 20 percent and 21 percent of overall handset weight. Also adding weight, and directly associated with 3D Touch, is Apple's Taptic Engine, a haptic feedback mechanism that takes up substantially more internal space than vibrators used in previous iPhones.
Apple's 3D Touch technology relies on capacitive sensors integrated into iPhone's backlight to sense input pressure, enabling specialized UI gestures that add an entirely new layer to iOS 9 interaction. Dubbed "Peek and Pop," the new control scheme lets users preview content like photos and email with a light press down on the screen. A deeper press "pops" open a full version of the corresponding app.
Prior to last week's unveiling, Apple's new handsets were widely rumored to be slightly larger and heavier, though some debate as to why. Some believed the use of stronger 7000 series aluminum would add substantial heft, while others, like noted analyst Ming-Chi Kuo, pointed to an implementation of Force Touch technology.