Teardown reveals iPad Pro A9X sports dual-core CPU, 12-cluster GPU, built by TSMC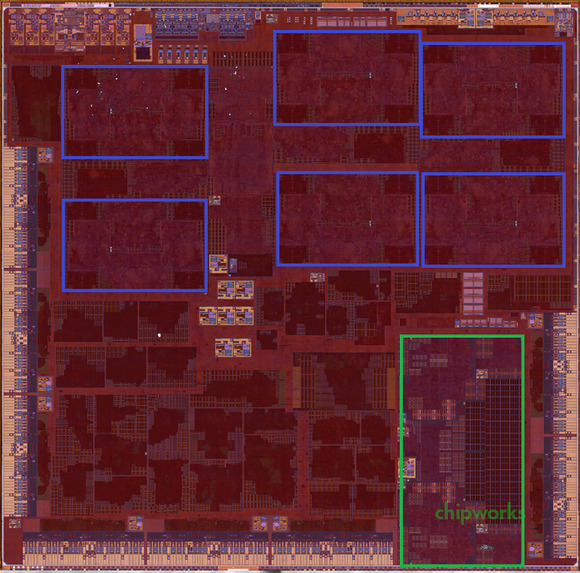 A dissection of Apple's new A9X processor powering the 12.9-inch iPad Pro has discovered a custom 12-cluster GPU, doubling the graphics power of the base A9 processor found in the iPhone 6s.
A closer look inside the A9X chip was taken by the silicon experts at Chipworks, as shared with The Motley Fool. An X-ray of the processor reveals two CPU cores as well as 12 GPU clusters, paired in twos.
The GPU design is noteworthy because Apple's graphics partner Imagination Technologies only offers its Series7XT graphics in cluster sizes of 2, 4, 6, 8, and 16. That means the GPU in the A9X is a semi-custom design built by Apple.
The A9X is also 40 percent larger than the A9 processor found in the iPhone 6s and iPhone 6s Plus. That extra space has allowed Apple to double the number of GPU clusters, from 6 to 12.
The processor torn down by Chipworks was also found to have been built by TSMC. It's unknown if the same company is handling manufacturing of all A9X processors, as Apple opted to split manufacturing of the A9 chip between TSMC and Samsung.
Apple prefers to downplay the detailed technical specifications of its custom A-series chips, instead focusing on real-world performance metrics powered by the processors. Apple has said the A9X chip is 1.5 times faster than a comparable desktop processor, while graphics performance is twice as fast as the A8X CPU in the 2014 iPad Air 2.
Apple has also said that the iPad Pro is faster than 80 percent of the portable PCs shipped in the last 12 months, while still boasting 10 hours of battery life on a single charge.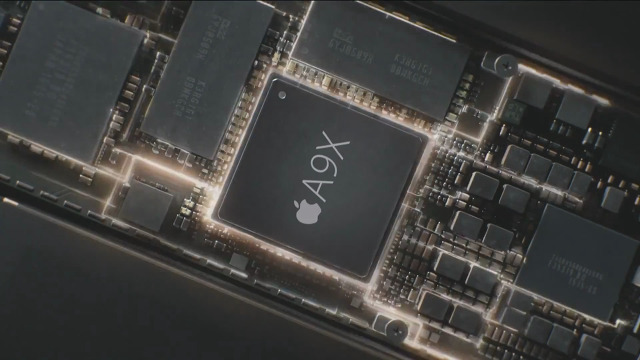 In an interesting change, the Chipworks teardown did find that the A9X lacks the 8 megabytes of on-die memory found in the iPhone 6s A9 chip. The Motley Fool's Ashraf Eassa speculated that the A9X sports a memory interface twice as wide, allowing data to be sent to memory two times faster than the A9. This is possible, he said, thanks to the larger footprint of the A9X.
The A9X also boasts 4 gigabytes of RAM, doubling the amount of memory in the iPad Air 2 and iPhone 6s. Performance is also aided by a new storage controller that improves both read and write speeds.
For a closer look at how the iPad Pro and its A9X processor perform, see AppleInsider's full review of the 12.9-inch tablet.