Apple unable to repair iPhone of teen lost at sea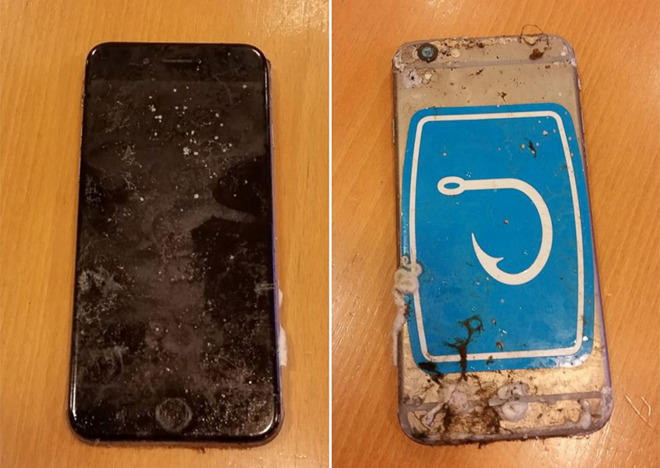 AppleInsider is supported by its audience and may earn commission as an Amazon Associate and affiliate partner on qualifying purchases. These affiliate partnerships do not influence our editorial content.
A team of Apple engineers worked "around the clock" to return missing Florida teen Austin Stephanos' iPhone back to working order after it was submerged in sea water for some eight months, but on Wednesday the device was deemed unrepairable.
An attorney for Austin's father, Blu Stephanos, said a dedicated Apple forensics team disassembled the damaged iPhone, cleaned its components and performed a chemical report as part of an exhaustive diagnostics and repair process, according to ABC News affiliate WPBF 25. The device was sent to Cupertino for examination in April.
"Although they were unable to restore the phone to a functional state, I want to thank Apple, Inc. for their hard work and generous assistance," Stephanos said in a prepared statement. "If the FBI turned to Apple when they needed help, I see no reason to doubt that every possible means was employed to get Austin's phone working again. It's our understanding that Apple had a team assigned to the iPhone around the clock, and for that we are truly grateful."
Austin and his shipmate Perry Cohen, both 14 years old, went missing last July during a fishing trip off the coast of Jupiter, Florida. The U.S. Coast Guard found the pair's 19-foot boat in an initial search and rescue operation last year, but the vessel was set adrift before salvage teams were able to tow it ashore. In March, a Norwegian supply ship rediscovered the boat 100 miles off the coast of Bermuda. Stephanos' iPhone 6 was later found in a stowage compartment.
Investigators had hoped the device held clues as to the missing boys' whereabouts, though concerns were raised regarding whether or not to subject the sensitive electronics to potentially risky data recovery techniques. In the weeks following the phone's recovery, the Cohen family sued Stephanos and the Florida wildlife commission in a bid to keep the iPhone in government hands.
Ultimately, both families reached an accord to send the device to Apple.
"We learned yesterday that Apple went as far as they could to try to get Austin's iPhone working, which, as Apple advised, was the first step in the process of retrieving information that might help us understand what happened to the boys," Pam Cohen, Perry's mother, said in a statement. "Apple also made it clear that getting the iPhone to power up was its only commitment to Blu Stephanos, which differs from what we heard from his attorney in court. For the generous efforts by Apple's engineers, who we understand worked tirelessly to try to help us, we are so very grateful."
While the examination is complete, there appears to be disagreement as to where the phone will end up. In his statement, Stephanos suggested he would take receipt of the phone as a memento of his son, but the Cohens seem intent on exploring other options.
"According to Apple, there are other experts in the field who may be able to pick up where Apple left off, to continue the work," Cohen said. "Apple has offered to securely hand the iPhone off to an expert in this technology if the families can agree on such an expert. We look forward to working cooperatively with Austin's family toward this transition. We are not giving up on the iPhone's potential for evidence until all viable efforts have been exhausted."