Samsung's new Galaxy Note 7 largely incremental, except for iris scanner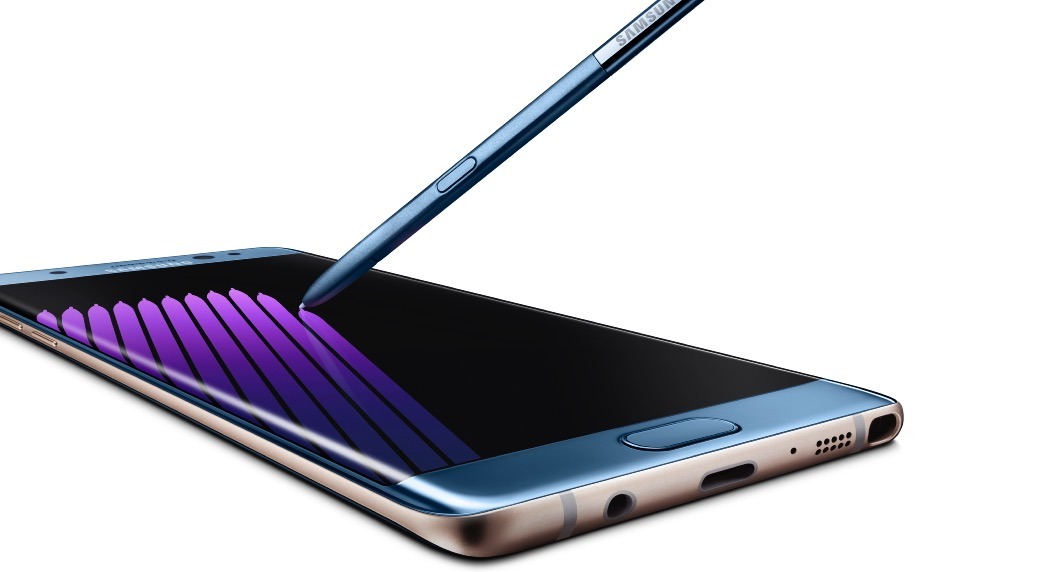 Samsung on Tuesday took the wraps off of its Galaxy Note 7 phablet, featuring identical internals to the company's Galaxy S7 smartphone, with the exception of a new iris scanner — a feature rumored to make an appearance in next year's iPhone [updated].
The U.S. Galaxy Note 7 is a 5.7-inch device with a resolution of 2560x1440 pixels, and is powered by the Snapdragon 820 quad-core processor, with 4GB of RAM and an Adreno 530 GPU. The international model will have a different processor.
Default storage is 64 gigabytes, with MicroSD card expansion possible, up to 256 gigabytes.
The rear shooter is a 12-megapixel "DualPixel" camera, the same as in the Galaxy S7. A standard headphone jack is included, as is a USB Type C port.
Samsung has also made improvements to the smart pen, with waterproofing and a change to the tip of the stylus to better mimic a ballpoint pen.
The highlight feature of the device is further biometric identification beyond just a fingerprint detector, with the inclusion of an iris sensor through the 5-megapixel front-shooting camera. Beside just device unlocking, Samsung has implemented a secure folder in Android 6.0.1 "Marshmallow" allowing users to segregate applications and documents beyond just passcode security.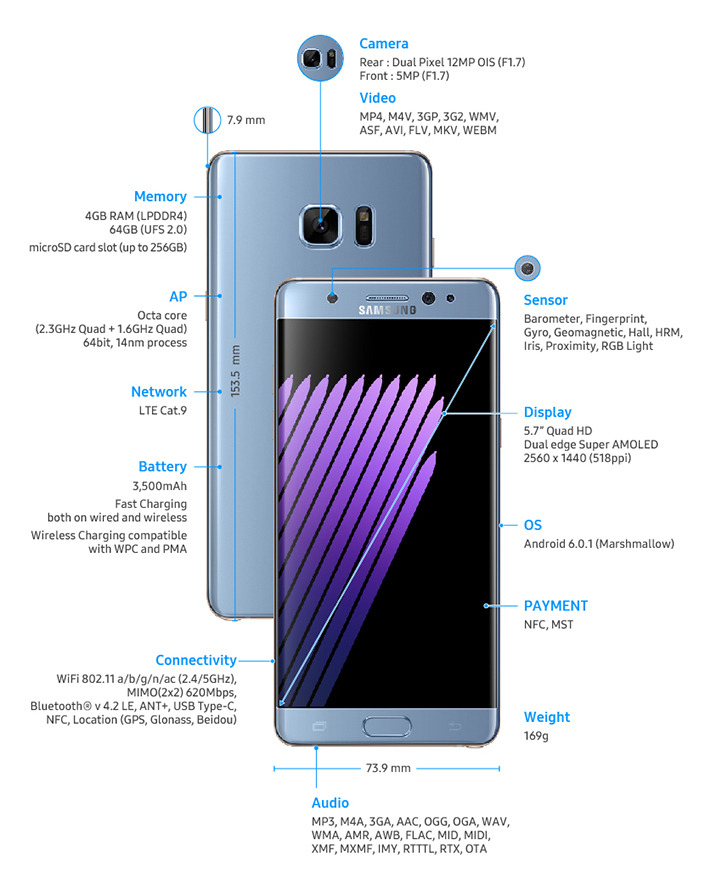 While not yet fully implemented in the operating system, Samsung's iris scan technology will ultimately be used for Samsung Pay authentication.
Samsung has protected the device to IP68 standards, meaning that the phone is sealed against dust intrusion, as well as protected from immersion in water to a depth of 1.5 meters or submersion for up to 30 minutes.
Update: The Galaxy Note 7 weighs 169 grams. Samsung's initial press release stated a different weight, and this story has since been corrected with the accurate weight.
In comparison, the 4.7-inch iPhone 6s weighs 143 grams, with the 5.5-inch iPhone 6s plus coming in at 192 grams. An iPad mini with a 7.9-inch screen weighs 304 grams.
Rumors have suggested Apple could introduce an iris scanner to next year's iPhone revamp. The 2017 revision, potentially commemorating the 10-year anniversary of the iPhone, is said to feature an all-glass chassis with components such as a Touch ID sensor, and front-facing camera which would be used for an iris scanner, obscured underneath an OLED display.
Other reports, however, have suggested Apple may not roll out iris scanning technology in the iPhone until 2018.
The Galaxy Note 7, meanwhile, will ship this month, on August 19.
Apple is expected to unveil this year's iPhone upgrade a few weeks later, in September. Reports have suggested that preorders could begin on Sept. 9, ahead of a launch later in the month.